My UPD8
You need to login before you download the free activities. You can register here.
Obesity and cancer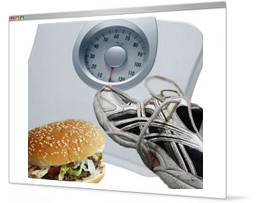 Type: Activity
Learning Strategy: Communication
Topic: Cancer
Cancer Research UK (CRUK) has highlighted that few people realize that obesity is the second biggest risk factor for some types of cancer. Poor diet and lack of exercise mean that obesity is reaching epidemic proportions in the UK - alarmingly, that includes children.
CRUK published a major survey on the level of public awareness about the links between cancer and obesity. The main findings are:
The relationship between our diet and cancer risk is very complex and currently we don't know exactly which dietary components are good for us and which could increase our chance of developing cancer. In order to address this, Cancer Research UK is providing core support for the two UK arms of the largest study of diet and health ever to be undertaken. EPIC (European Prospective Investigation into Cancer and Nutrition) is a study of over 500,000 people in ten European countries and is designed to produce detailed and reliable information on diet and cancer.
The results of EPIC could have huge implications for cancer prevention. Initial analyses will focus on the common cancers - breast, lung, colorectal, prostate and stomach cancer - which collectively account for over 140,000 cases of cancer every year in the UK along with over 75,000 deaths. However, the size of the study means that researchers will also be able to investigate the role of dietary factors in rarer cancers.
As well as bringing benefits to the UK, the study will obviously have far-reaching effects with the potential to lower cancer incidence on a global scale. The results of the study will be presented at international conferences and published in journals that are available to researchers and health officials throughout the world.
In this activity students design a campaign poster to tell young people about the links between obesity, diet, exercise and cancer. The activity is produced in partnership with CRUK.

Published: 22nd January 2005
Reviews & Comments: 10
Learning objectives
Students will know
that obesity is an important risk factor for cancer
how to prevent obesity through diet and exercise

Try the activity
You will need Acrobat Reader installed to open the activity sheets.
Curriculum link
11 - 14 (KS3)
Fit and healthy QCA 9b: ways in which a diet can be unhealthy; how overeating affects health; nutrients needed for healthy diet; effects of exercise on the body
Food and digestion QCA 8a: how to combine foods for a balanced diet
Running the activity
Page 1 is a 10 minute starter activity 'should we worry about fat?'. It sets the context and gets students to calculate body mass indexes (BMI) for an Eastenders star. You will obviously want to set ground-rules before discussing this sensitive subject, and might like to focus on the evolutionary angle to make the subject less threatening (why were our bodies designed to store fat? Why is this not helpful to us today?). You can project page 1 or print it onto transparency.

Page 2 introduces the main activity and states what student posters should include. You can project page 2 or print it onto transparency.

Page 3 includes information for students to use to make their poster. It covers the links between obesity and diet, exercise and cancer. Students could complete the posters in 30 minutes if they make good use of their time. If more time is available, excellent information is available on the websites below. You might like to encourage more able students to calculate, for example, how long you have to swim for to transfer the energy from a bag of crisps, and include this information on the poster.

Possible plenary: display the posters and ask students to decide which are best, and why.

Possible follow-up work:
Diet diary: students keep a check what they really eat
Exercise diary: they check if they meet the hour a day guideline.
Know your own BMI: students calculate their BMI.

Web links
News links
Useful links to related news
Nutrition information
Straightforward information, and good ideas about how to eat well and prevent obesity
Reviews & Comments
Write your online review to share your feedback and classroom tips with other teachers. How well does it work, how engaging is it, how did you use it, and how could it be improved?
Obesity and cancer review
Mar 24th, 2013

I cannot download the student Adobe file either. Really annoying.
Reviewer: RJ Heath
Obesity and cancer review
Mar 14th, 2013

I cannot dowload the student activity sheet for obesity and cancer. the teacher guide downloaded fine.
Reviewer: maureen murtha
Obesity and cancer review
May 16th, 2010

Used this with sets 3 and 4 in year 8 and it worked fantastically. They were realy engaged with the activity and worked really hard to create thier own presenations. The choice of three meant they were all very different and the poster resource pack was very accessible.
Reviewer: Beth Harrop
Obesity and cancer review
Nov 20th, 2009

Very good resource.
I used it to provide my BTEC group with some information about what effects the body. They really engaged with it
Reviewer: Helen Gerstner
Fit and Healthy
Jun 7th, 2008

Motivational and engaing. Pupils in the main enjoyed the task and acesses the ideas well.
Reviewer: Allison Clark
obesity and cancer
Oct 14th, 2007

a very useful starter. it makes pupils aware of how diet can not only affect how their body looks but can cause damage internall, leading to serious illnesses
Reviewer: safiya addo
cancer and obesity
Jul 12th, 2007

the pupils really took to this exercise. some brilliant posters produced, but theyalso took in the serious message i was trying to get across. hopefully some habits will change after completing this exercise
Reviewer: Shaun Woodhead
obesity and cancer
Feb 7th, 2007

I taught this lesson to a poorly motivated year 10 health and social care class. It went down really well. They all uderstood BMI and the risks from becoming obese. All produced really good posters , a number of them gave up their break to complete it
Reviewer: maria blackwell
Obesity & cancer - useful as KS4 starter
Oct 8th, 2006

Having used this as a lesson focus for my year 9, I then introduced a lesson on the aqa GCSE B1a 2.2 topic; weight problems with it. Foundation classes found it a great help for calculating the BMI (thanks to Kat Slater!). Very useful indeed.
Reviewer: tracey bolt
obesity and cancer
May 12th, 2006

i taught this after having done the healthy eating upd8 and some work on cancer - it was great to see them discussing how many people they know may get cancer because they are obese. it can only be a good thing if eating habits are changed as a result
Reviewer: debra johnson


200 lessons and assessments from as little as £4.95
Related Activities
Biology / Food & digestion
Hot Topics / Health
QCA / 8A Food & digestion
QCA / 9B Fit & healthy
Ideas about Science / Communicating science
Learning Strategy / Communication