My UPD8
You need to login before you download the free activities. You can register here.
Love on the brain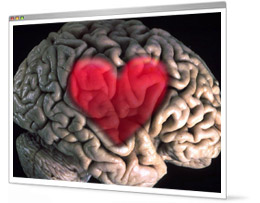 Type: Activity
Learning Strategy: Communication
Topic: Brain & behaviour
This activity celebrates Valentine's day. Researchers found four areas of the brain that are activated when you fall madly in love. Two other areas – linked to depression and sadness – are deactivated at the same time. In this activity, students discover the brain's 'love locations', look at the brain as an organ and remind themselves about respiration. The end result? A truly original Valentine's card!
Published: 3rd February 2005
Reviews & Comments: 11
Learning objectives
· Students will know that certain parts of the brain are active in love
· Students will look at the brain as an organ and as a collection of cells that respire

Try the activity
Please login to download activities
Curriculum link
· 7a cells – cells are grouped into tissues; tissues make up organs; specialized cells
· 8b respiration - aerobic respiration; oxygen and glucose are transported in the blood
Running the activity
Suggested time: 20 minutes

Possible starter:
Show page 1 - either projected or as an overhead transparency. This page shows the areas of the brain that are activated and deactivated by love. Ask students how they think scientists identified these areas.

Main activity:
Show page 2. This information sheet briefly describes the research process, the brain as an organ, respiration and MRI scanning. Then ask students to do the activity at the bottom of this page – to design a Valentine's card based on some of the information given.

Web links
News links
For a straightforward report of the research, see this website
This article is more detailed, and includes more background information about the research:
This website has flashing graphics showing the activated areas of the brain.
Reviews & Comments
Write your online review to share your feedback and classroom tips with other teachers. How well does it work, how engaging is it, how did you use it, and how could it be improved?

It is a nice activity, but simple. The information could be used for a more in depth activity.
Reviewer: Onno Kalverda

Made a nice homework with y11 for 21st century module B6 Brain and Mind. To add to the challenge I insisted on rhyming verse inside the card.
The only trouble was, many of them took the Valentine's tradition of not putting names on too far, so when I marked them I didn't know whose was whose!
Reviewer: Steve Hood
Polar Bears in Trouble
Mar 24th, 2009

This activity is ideal for the new Welsh Nat. Curiculum. The skills can be assessed as well as including a bit of content (in the context of the effect of man on the environment). 'Worked well with lower ability pupils in Year 9.
Reviewer: nigel graham
Love on the brain review
Sep 3rd, 2008

Tried this with some EAL 11 year olds. They got stuck in but the boys wanted to prove how unsentimental they were and the romance got in the way of the science for everyone else.

They found it quite amusing though!
Reviewer: Kelly Draper
Love on the brain review
Jun 9th, 2008

Worked well with my Year 7 groups, especially after completing a unit on organs and it happened to coincide with February 14th!
Reviewer: H Mould

I think this is brilliant and engaging. Its effective for the lower ability students and they enjoy it too!
Reviewer: sibly rahman
Love on brain
Feb 12th, 2008

Excellent. A brilliant topical activity. Worked well with low & high ability year 9's
Reviewer: kantha choudhury
Love is all around
Feb 16th, 2006

A great way to get kids interested in how the brain works. The idea of discusiing love around valentines day was popular.
Reviewer: shelby jones
Love on the brain review
Feb 13th, 2006

It's a total winner, get it downloaded and in the class tomorrow or you'll have to wait a year.

Accompany it with squirmish chat about being in love and show some MRI scan movies from the net.

Kids love composing the cheesy slogans and facts for the inside of the card.

Year 7/8/lower ability Y9/..and Y13 biology. Sorted.
Reviewer: John Lees
Love on the Brain
Dec 16th, 2005

I really liked this activity as it approached the topic from a new angle. The students enjoyed the activity too!
Reviewer: kirstie stapleton
Love on the Brain
Jun 18th, 2005

COMBERTON VILLAGE COLLEGE

This activity was very topical just before Valentines Day and worked extremely well with my low ability Year 9 class. We spent an entire 50-minute lesson on the activity as pupils needed the time to make high quality valentines cards. Obviously, if you were pushed for time it could also be used as a homework/own learning extension task at home. These cards would also make a very colourful and attractive display for the lab.

My Year 9 class started off around my teaching bench at the front of the lab and I began by projecting the introductory slide showing the labelled cross-section through the brain. I talked about which areas of the brain get extra active when you fall madly in love. At first there were lots of giggles and whispering but it promptly stopped when I posed the challenging question: How do think scientists might have carried out an investigation to find out this information about which areas of the brain are affected by love? The first answers they come up with included dissecting the brains of people to find out. Quickly, the class realised that a scientist could only use the brains from dead people anyway. One pupil asked how it would be possible to know if a deceased person was in love or not. This short discussion was a great example of where pupils had to think through their initial responses.

I introduced the second slide and explained the science behind the brain study, carried out by London based scientists. Pupils were extremely interested in the 3-D MRI scan of the brain with the active parts highlighted on the scan. Two of the pupils said that they have had older family relatives who had been scanned by a MRI scanner in order to diagnose different medical conditions. It was great to see pupils connecting with this activity in a personal and emotional way - this is often when the best learning experiences occur!

Pupils then started making their own scientific valentines cards using the images from the third activity sheet. I provided them with lots of different coloured card and paper but, not surprisingly, most of them chose the red and pink coloured card for their designs. They spent about 30 minutes in total making some very creative cards. When I asked some of the pupils where they had learnt these particular creative techniques for card design they replied saying they had learnt about card design and presentation in a recent Art lesson. This was a nice example of cross-curricular skills being utilised in a science lesson.

The love on the brain valentines card activity is a great kinaesthetic way for pupils to learn about science in an active way and it also allowed them to both connect with and personalise the activity. Not surprisingly, they all wanted to take their finished cards home with them. I kept them on my desk as a nice display until the end of the day when, every pupil came back to collect them!

I gather a few pupils even sent them to their valentines!!
Reviewer: Richard Waller


200 lessons and assessments from as little as £4.95
Related Activities
QCA / 8B Respiration
QCA / 7A Cells
Biology / Brain & behaviour
Biology / Cell structure & function
Learning Strategy / Communication