My UPD8
You need to login before you download the free activities. You can register here.
Water for All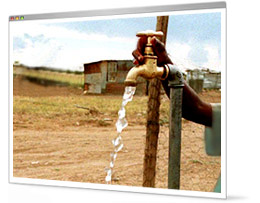 Type: Activity
Learning Strategy: Communication
Topic: Water pollution
World Water Day is on 22 March 2007. This activity gets students thinking about the water they use and how it is made safe to drink. They also learn about pathogenic micro-organisms in dirty water. Students then plan a 'Children in Need' type TV programme to persuade people to take action to help supply clean water to all.

Please go to www.scienceacross.org to find out how your students can communicate with others in schools worldwide to share their learning about water.

Published: 6th March 2007
Reviews & Comments: 13

Learning objectives
Students will:
• Learn about some pathogenic micro-organisms in water and their effects
• Discover how water can be made safe to drink

Try the activity
You will need Acrobat Reader installed to open the activity sheets.
Curriculum link
11 - 14 Environmental chemistry (KS3 QCA module 9g)
• Consider how the atmosphere and water resources are affected by natural processes and the activity of humans
• Consider how environmental conditions are monitored and controlled
Running the activity
Page 1 sets the context. It gets students thinking about their own water consumption and asks them to compare it to that of a rural Ethiopian, Emebet. Tell students that 22 March is World Water Day and that they will be devising a TV programme to encourage viewers to take action to help supply clean water for all.

Page 2 is a set of cards describing pathogenic micro-organisms and other unwanted substances that might be in Emebet's water. Ask students to study the cards and rank them in order of danger. Of course there is no right answer here – the purpose of this activity is to get the students to read their cards carefully and to think!

Display page 3. This describes different methods of cleaning up water, depending on the source.

Page 4 sets the task. If internet access is available students can check Water Aid's website for suggestions of action the public can take.

Web links
News links
A film showing some of the benefits of a new clean water supply to a village in Tanzania.
This includes some useful downloadable resources – including games and moving pictures of some nasty bugs! It also suggests action people can take to help supply clean water for all.
Reviews & Comments
Write your online review to share your feedback and classroom tips with other teachers. How well does it work, how engaging is it, how did you use it, and how could it be improved?

I did this activity with my Y9 class as part of our "Water Week" in school, with a variety of charity activities occurring to raise money for fresh water supplies in Africa.
It supported what the rest of the school was doing and gave students an insight on the positive impact science and technology can have.
They found the discussions in this lesson stimulating and enjoyable.
Reviewer: Gary Greenslade

excelelnt resource students enjoyed it
Reviewer: Ashif Dhanani
Water for all
Apr 11th, 2009

The pupils loved this activity and got very into every aspect. Considering I work with some tough pupils, this was amazing, let alone the extra questions they came up with off their own backs!
Reviewer: Karen Riley

i have downloaded amny activities frm this some are really good some not that good for bottom set,however this site has lots of innovative ides
Reviewer: viji varghese
Water for all
Jun 16th, 2008

Excellent resource, highlighting an ongoing tragedy. It really affected my year 9 students who are generally good at empathatic activities.
Thanks
Reviewer: Cathie Serrao
ks3 science
Mar 11th, 2008

some great tips and uses for starters
Reviewer: elizabeth burak
water for all
Oct 3rd, 2007

I used this activity as part of Year 9 Environmental Chemistry unit. It proved an excellent follow on to the previous practical of looking at properties of pure / impure water and by laminating each hand out it gave a superb opportunity of group work and peer assessment as each group explained their advertising campaign. Thank you, all students were engaged ,and as well as the science the element of citizenship that came through during this lesson was most rewarding.
Reviewer: jenny bashford
water for all
May 8th, 2007

I have been using water for with my PSHE groups throughout the school. very engaging and the links are good. IO have also used it as a esource for and Upper School assembly.

Makes a good starter for my science groups.

I have used lots of your materials . and pass onto others in the sci dept as often as I get them.

Andy Price
Asst headteacher
Reviewer: andy price
Water for all
Apr 25th, 2007

I used this activity on the actual world water day. Australia is currently gripped in the worst drought in its history, but the year 7 students became aware of how lucky they still are for having clean running water when they open a tap. One of so many useful activities I have used!
Reviewer: Charon Joubert
Water for all
Mar 26th, 2007

I got my Year 9 group to try this activity and extend it to do as an assembly in front of the rest of the school. It worked very well and they really enjoyed it. It made the rest of the school very aware of the problems in getting clean water around the world.

Thanks Lisa Pawson, St Stephens International School Khao Yai, Thailand
Reviewer: Lisa Pawson
Water for All review
Mar 14th, 2007

I am a student teacher and have found the activities on this site so useful in stimulating pupils as they are so up to date and topical. Really would recommend them to anyone!
Reviewer: claire beddoe

I have been encouraging the science dept. to use your super up to the minute resources. They are great for stimulating young minds and bang up to date. Thanks
Chris McLean
Reviewer: Christine McLean
water for all
Mar 12th, 2007

a very excellent representation with valuable information. wish you more succeess. we are very grateful to all who work out this activities
Joozar Sharafali
YISchool
Head of Science department, Sanaa, Yemen.
Reviewer: joozar sharafali


200 lessons and assessments from as little as £4.95
Related Activities
QCA / 8C Microbes & disease
QCA / 9G Environmental chemistry
Ideas about Science / Communicating science
Chemistry / Water pollution
Biology / Infectious disease
Hot Topics / Health
Learning Strategy / Communication