My UPD8
You need to login before you download the free activities. You can register here.
Acid rain: Britain recovers?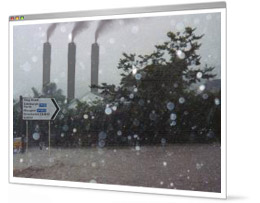 Type: Activity
Learning Strategy: Data work
Topic: Acids & alkalis
According to a recent report, Britain's wildlife is finally beginning to recover from the ravages of acid rain. Just 20 years after international agreements forced countries to clean up smoke stack emissions, habitats are again able to support the wildlife they once did. This data analysis and evidence sorting activity asks students to consider these questions: did Britain deserve the title 'dirty man of Europe' and 'does the evidence show that the acid rain crisis is really over'?

Published: 24th November 2005
Reviews & Comments: 45
Learning objectives
Students will:
∑Analyse data to decide whether Britain deserved the title 'dirty man of Europe' with respect to exporting acid rain
∑Sort and evaluate evidence to decide whether the claim that 'the acid rain crisis is over' is justified

Try the activity
You will need Acrobat Reader installed to open the activity sheets.
Curriculum link
Acid rain – are claims that 'the acid rain crisis is over' justified.
11 – 14(KS3)
Environmental chemistry QCA 9G
• Know that dissolved oxides of sulphur in the air can arise from human activity and that they increase the acidity of rain, damage living organisms.
• Know how emissions of oxides causing acid rain can be reduced.
GCSE specifications
Gateway Core Science
Module B2 Understanding our environment: Item B2g: Population out of Control?
• Explain that an increasing population will increase use of resources which will lead to an increase in pollution, including sulfur dioxide from burning fossil fuels.
• Recall that pollution can affect the number and type of organisms that can survive in a particular place.
Twenty First Century Core Science
Module C1 Air Quality: 1.2 What chemical reactions produce air pollutants?
What happens to these pollutants in the atmosphere?
• Understand that atmospheric pollutants cannot just disappear, they have to go somewhere: sulfur dioxide and nitrogen dioxide react with water and oxygen to produce acid rain.
Running the activity
Show page 1 (either projected or as an OHT). Check that students understand the newspaper article before posing the 'big questions' of the task: was it fair to blame Britain [for the acid rain crisis in Europe] and is the acid rain crisis really over?

Give each small group or individual a copy of page 2 and ask students to do the data analysis tasks on the sheet. Suggest that students use '+' and '-' signs to show net importers and exporters of sulphur pollution. The bar chart needs finishing – the five worst exporters of pollution in 1992 were Germany, Britain, Hungary, Poland and Spain. Get students to discuss the title of the sheet 'who was to blame?' – was it fair to call Britain 'the dirty man of Europe'?

Then ask groups or individuals to sort the statements on page 3. In small groups – or as a plenary – get students to decide 'is the crisis really over?' Of course there is no one 'right answer' here – the important outcome is to produce a reasoned argument based on the evidence given. It is worth pointing out that, even though levels of acid pollution in Europe have fallen overall, levels of this pollution worldwide – particularly in emerging economies such as China and India – are increasing.

online consultation.But before you go, please answer one question:

Web links
News links
This article reports the findings of the study
This link gives recent information about the acid rain debate
Acid rain fact sheet.
Use this site to get up to date information on the air quality in your area.
Reviews & Comments
Write your online review to share your feedback and classroom tips with other teachers. How well does it work, how engaging is it, how did you use it, and how could it be improved?

Tried this with lower groups and was ok but not great
Reviewer: chris walters

Didn't know where to find the answers to the worksheet which is disappionting.
Reviewer: Lucy Peterson

I used this as a cover lesson. I'm told it went well but the evidence from students seems fairly poor. More specific tasks with more direction would be useful.
Reviewer: n baker
Acid rain: Britain recovers? review
May 11th, 2011

Used this with year 7s and it stimulated good debate. I adapted some material and I didn't do the graph, but they did the numbers and managed negatives ok. Overall a good lesson, excellent materials.
Reviewer: Helen Lloyd

I used this with a lower ability year 8 group and it worked really well and really enlivened the topic. To make it accessible though we went through each section a stage at a time so that each task was very short and manageable. Ended with a great discussion afterwards.
Reviewer: Julia Phillips

An excellent activity well received by the students.
Reviewer: Astra Belille

I used this as a basis for discussion for a group of adults on an Environmental Studies course and found it stimulated alot of debate.

Need to up date the links as you can not get to the Time article unless you have a subscription.
Reviewer: Sue Phillips

I simply love the acitivity :) cant wait to try it in class
Reviewer: Muffet Ali

I really liked the activity. I divided the class into groups and read through the original article about acid rain with them. Then they made posters with the table, bar chart and information cards. The year 8 group enjoyed the activity. It was good for creative thinking, problem solving and group work.
Reviewer: Tina Quick
biology aqa gcse science
Mar 3rd, 2010

v good activity,however, graph 'zig zag' interferes with plotting. Initiated much discussion. used with year 9.
Reviewer: lucy baddeley

Much needed activity, to 'break up' an otherwise theoretical topic. Very good
Reviewer: Robert Nolan

Very good resource. Used it with the Year 9s.
Reviewer: William Stanley

Informative and thought provoking activity that addressed literacy, numeracy and data analysis skills. Well worth doing
Reviewer: roisin cassidy
Activity Acid rain
Apr 22nd, 2009

Used with Year 9, an excellent introduction to the topic and a good basis for getting students to start thinking independently.
Reviewer: Michelle Ainge

I would recommend this pdf.
It's a nice activity when tied in with a neutralisation reaction and puts it into context.
Students may need help with the graph as there are negative plots.
Reviewer: A TERRULI
thnks again
Feb 3rd, 2009

these activites are excellent and thought provoking ones.
Reviewer: viji varghese
C1 Air Quality (21st Century)
Feb 1st, 2009

Thanks goodness for an interesting and user friendly activity for this topic. I've found it really hard to get the students interested in this topic. Looking forward to using this one
Reviewer: JULIA WHITEHEAD
Science (murder in the park)
Nov 26th, 2008

I think it is very good as a review of the topic chemical patterns. Pupils know about flame testing and have done electronic configuration. This will give pupils the opportunity to work independtly and apply thier knowledge on the topic.
Reviewer: Susan Ajetunmobi
Acid rain: Britain recovers? review
Sep 9th, 2008

I think the cardsort is much better than the graph exercise, personally.
Reviewer: Kelly Draper

I QUITE LIKE THE TEST IT WAS VERY VALUABLE FOR LEARNING WITH THE STUDENTS IN MY YEAR 10 CLASS
Reviewer: Beau Ingram
Acid Rain Britain recovers?
Dec 17th, 2007

I have used this with KS4 AQA C1a Products from rocks. A nice change, very well presented, accessible and differentiated. Year 10 and 11 enjoyed finding out that Britain wasn't the worst and the evidence section was really challenging. Used a map of Europe to extend the explanation which meant it went further than 'no Germany was worse'. I used it also with KS3 as part of environmental chem also went really well.
Reviewer: Jennifer Mayer

Y10 top set...
I like the copy and paste sheet it got them to think about what they were reading. Evaluating info is relevant to c/w.
Not to keen on the graph activity but at least it got them exercising their maths muscles.
Reviewer: Kimberley Carter
Acid rain: Britain recovers? review
Oct 1st, 2007

Did this with a mixed ability year 9 group as part of the environmental chemistry unit. They liked the newspaper intro format, only a few really struggled with the numbers while others raced through! The only thing I would say is that discussion at the end was very limited "so DID Britain deserve the title Dirty man of Europe?" "No, Germany was worse" end of! That might just be my lot though- I would probably use it again but see if I could split the class into groups who have to argue for and against perhaps.
Reviewer: Hannah Briden

A useful coverage.

I used it with Y9 who are starting the C21 Science Core straight after their SATs
Reviewer: Stephen Brian

This activity has just got me an "outstanding" when the deputy head did a lesson observation on me today. I used it as the main part of a year 10 revision lesson on acid rain, the starter being a pollution keyword task of my own and the plenary an exam question on acid rain. The students were on task and it was just the right level of challenge. Thank you.
Reviewer: averill jewell

I tried it for a lesson that was being observed.
I felt it suited my pupils as there was a mix of activites; graph drawing, calculations and sorting evidence.
Bit rushed as I started my lesson with some white board questions - too much!
I think its a great activity but the observer, a scientist also made the comment that the data is very unreliable. How can you correclty measure acid rain levels or even SO2 levels? How can you decide which country they are released from.
Just be warned, for higher ability maybe this could be a plenary discussion; that collecting scientific evidence can be difficult!!
Good luck
Reviewer: emer mc dermott

I have used this with many classes since it came on upd8. However this year with 2 year 10 classes it has opened up the discussion even more. Why? We have more EAL students, (Poland, Portugese, Norway) and their contributions made the session even more interesting. The challenge as to why small amounts of pollutants from one country should result in them recieving huge amounts from somewhere else really did widen the debate.
The use of IWB and the reduction in photocopying is still an issue.
The students prefer colour copies but this is more costly. Using the IWB for as much as possible of the info is good.
Again a good thinking exercise for us all.
Reviewer: Jo Clark
Interview lesson!
May 7th, 2007

I will be using this for an interview lesson! Wish me luck and I'll let people know how it goes......if in not crying into a bottle of wine having not got the job ;-)

I am thinking of doing a very quick demo-dripping strong acid onto different rock samples so the pupils can see what effect it will have, and describe it as being a chemical reaction-then lead on to a quick slide show onto the effects of acid rain (corroded statues and dead fish...ect) Then lead into the activity. I think ill just get pupils to do the data handling part, and then we can discuss whether britain is to blame as a plenary.....

Fingers crossed people!
Reviewer: Amie Tachauer
Acid rain: Britain recovers? review
Mar 28th, 2007

Terrific!

Used with 33 top set Year 7 pupils. They worked through the activity as per the teacher notes until the summary discussion.

We sat in a circle round the lab and had a 'Community of Enquiry' type discussion. The questions were given rather than designed by the pupils but that aside we followed the Community of Enquiry format to great effect.

The standard of the pupils' responses was super.

It is the first Upd8 activity I have used and I'll definitely be looking for more.

Thank you
Reviewer: Marianne Good
Acid Rain, Britain Recovers?
Mar 21st, 2007

The presentation of the activity is great - short, snappy, to the point. I have used it with a yr11 group who found it interesting as the activities are varied and the outcomes are clearly stated. I used the first part of the activity with my KS3s during a revision session looking at evidence and found it very useful as it is so topical. I will definitely use it again.
Reviewer: Jennifer Mayer
Thanks for another fantastic resource!
Nov 23rd, 2006

As a student teacher it's great to find these time saving resources. I used this activity with a high achieving year 9 class. Despite some difficulty grasping the implications of the negative values in the table it was well received and gave them some practice at plotting values on a bar chart without worrying too much about axis labelling. To save a bit of time (and mess) have them label each box on the final activity with either A,B,C, or D then stick the page in their books.
Reviewer: Douglas Walker
Acid Rain: Britain Recovers
Nov 10th, 2006

This was really succesful. I used it with a mixed ability Y9 group and supported some of the least mathematically able with the data handling. The pupils initially found the data handling confusing but were fine once they had thought about it a little. The sorting task at the end made them think quite carefully about the information they were give and I overheard some great discussion as I circulated the class.
Reviewer: lindsay crew

I used this after some starter activities and it worked great, the pupils really liked the idea that they could pin the blame on someone else, some pupils struggled with the maths but all it needed was alittle extra support. I was observed this lesson and got good feedback!
Reviewer: Georgia Alcock

Activity worked well but some of the weaker students struggled with the mathematical content.Students liked the idea of pointing the finger at the main culprits for pollution.
Reviewer: paul Bailey

great activity but I agree with the powerpoint comment. Pupils of all abilities in my second year classes were actively engaged and thouroughly enjoyed the exercise.
Reviewer: la connelly

This is a good activity to get pupilsdebating. I have used it with a SEN group and another bottom set group and everyone was engaged.The data analysis was a bonus to get the debate going.
Reviewer: MARION WILLIAMS
Acid Rain with yr 7
May 15th, 2006

I used a modified version of this for a top band yr 7 class (acids and alkalis topic).

They enjoyed the groupwork and it meant there was differentiation by task as well as outcome.

They also loved being told they had completed work designed for year 9 - they love to think they are really brainy, bless them!
Reviewer: Daniella McCarthy
Acid Rain: Britain Recovers
Mar 25th, 2006

This worked well with my medium/low ability Y9 class. They where engaged throughout. I adapted the calculations to make it a sorting card exercise for those who would not have been able to complete the mathematics. It stimulated good class discussion.
Reviewer: karen stainthorpe
Acid Rain activity
Feb 24th, 2006

I used this activity with two different year 9 classes - one of which was the very bottom set. I strted with a demo of Sulphur burning in Oxygen (gas jar) and then adding UI solution to get their initial thoughts - explaining that if rain ever got that acidic we would be told to stay indoors!!! Still it made them think. The bottom set struggled with the calculations at first but it provided a discussion. With both sets they were keen to see who is 'dirtiest' and to talk about how and why. Also lead to discussion about countries like China and their rsing impact on the problem globally. Concluding with the idea of no single right answer and that whilst we might think our contribution is insignificant - together they add up greatly - this was relating to not leaving pcs and tvs etc on standby. Very thought-provoking!
Reviewer: Terri James
Acid Rain activity
Feb 8th, 2006

I used it with an SEN year 9 group and it went down a treat. Once they got the hang of the calculations, with a bit of explanation they got quite enthusiastic about finding out who were the 'dirtiest and cleanest' countries.

The grouping activity was good in that they had to actually read and understand the cards as it wasn't immediately obvious which group they belonged to but the language made them accessible.

I ended the lesson with the question 'What could you do to reduce acid rain'? Students had to think of the things that they did that increased the use of fossil fuels and come up with 3 things they could easily do every day.
Reviewer: Bec Hockley
Acid rain: Britain Recovers
Jan 16th, 2006

I used this activity with a lower band class. They had great difficulty with the minus idea. It took much effort to convince them that this was data with significance. Completing the graph also proved a little difficult. Even with these problems it is an activity I would try again.
Reviewer: Paul McCrossan
Getting Used to There Not Being A Right Answer
Dec 22nd, 2005

I used this activitywith a top set Y9 instead of my usual 'Is Pollution Worse Now?' lesson in the Environmental Chemsitry unit of work. The group were introduced to the activity as a class, before breaking into pairs to complete the data analysis tasks on the sheet (great excitement that Germany exported more pollution than the UK) before pairs joined up into groups of four to sort the statements on page 3. The plenary of arguing whether the crisis is really over was hard work as pupils are still getting used to the idea that there isn't always a right answer - enjoyable and perfect preparation for the change in teaching style we will need as we look to move to 21st Century Science at KS4 in 2006.
Reviewer: STEVE NIXON

I used this with a year 9 class (during a lesson in which I was observed!) and it was fantastic - I was able to get the children working in small groups self-differentiating themselves by task and everyone really enjoyed the lesson and the children were iinterested in figuring out the answers to the problems.
Reviewer: S Cook
Acid rain: Britain recovers? review
Dec 5th, 2005

Acid Rain Dec 2nd, 2005 1 Star

Reviewer: carrie bonham
This was a great sheet to give to a year 10 class who do not find things easy! They were all engaged in the activity for a good 30 mins & found the sheets useful. The comments from the class were that they could understand the aspects of acid rain & can see where it features in everyday life. Well done a great class activity!
Reviewer: philippa Hulme
Various, eg Acid rain
Nov 27th, 2005

If the material was set up as a powerpoint presentation I could use it most effectively with my projector.
Reviewer: Debbie Wyke


200 lessons and assessments from as little as £4.95
Related Activities
Ideas about Science / Interpreting evidence
QCA / 9G Environmental chemistry
21st Century / C1 Air quality
Gateway / B2 Environment
Learning Strategy / Data work