My UPD8
You need to login before you download the free activities. You can register here.
Attack of the giant viruses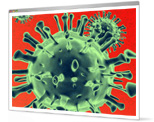 Type: Activity
Learning Strategy: Case study
Topic: Infectious disease
Scientists have discovered a giant 30 000 year old virus still alive under the permafrost. As the world warms, others will be uncovered. Could such an ancient virus wipe out the human race? In this activity, learn how to interrogate sources to separate science fact from fiction.

The Attack of the giant viruses activity comes from ENGAGE, the EU-wide project from the upd8 team.
Visit the ENGAGE website to download the materials.
Published: 5th November 2014
Reviews & Comments: 0
Learning objectives
In this lesson students will:
Apply knowledge of microorganisms to check the facts in a newspaper report
Evaluate how trustworthy scientific reports are in the media

Try the activity
Please login to download activities
Curriculum link
England National Curriculum KS3:
Working Scientifically: Interrogate media reports to evaluate how trustworthy they are
Biology: Cells and organisation
GCSE Combined Science subject content:
Working Scientifically: Development of scientific thinking: evaluate associated personal, social, economic and environmental implications
Biology: explain how communicable diseases (caused by viruses, bacteria, protists and fungi) are spread in animals and plants
Reviews & Comments
Write your online review to share your feedback and classroom tips with other teachers. How well does it work, how engaging is it, how did you use it, and how could it be improved?


200 lessons and assessments from as little as £4.95
Related Activities
Hot Topics / Health
Hot Topics / Disaster
Biology / Infectious disease
Topics / Microbes & disease
Ideas about Science / Interpreting evidence
Ideas about Science / Communicating science
Learning Strategy / Case study