My UPD8
You need to login before you download the free activities. You can register here.
GM decisions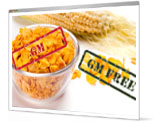 Type: Activity
Learning Strategy: Case study
Topic: Genetic engineering
Following a EU rule change, the growing of GM crops across Europe will increase in many countries. It looks likely that GM foods such as breakfast cereals may be on our supermarket shelves within a year – but will many people choose them over GM-free alternatives?

In this activity students apply their knowledge about genes to learn why crops are genetically modified before evaluating health risks to decide which cereal they would buy.

The GM decision activity comes from ENGAGE, the EU-wide project from the upd8 team.
Visit the ENGAGE website to download the materials.
Published: 24th February 2015
Reviews & Comments: 0
Try the activity
You will need Acrobat Reader installed to open the activity sheets.
Reviews & Comments
Write your online review to share your feedback and classroom tips with other teachers. How well does it work, how engaging is it, how did you use it, and how could it be improved?


200 lessons and assessments from as little as £4.95
Related Activities
Ideas about Science / Risk & safety
Ideas about Science / Benefits/drawbacks
QCA / 9A Inheritance & selection
Hot Topics / Genetics
Biology / DNA
Topics / Variation & inheritance
Learning Strategy / Case study