My UPD8
You need to login before you download the free activities. You can register here.
False diamonds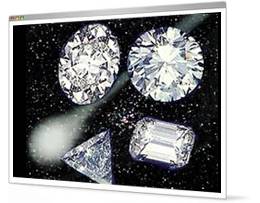 Type: Activity
Learning Strategy: Case study
Topic: Bonding & structure
Moissanite - a beautiful gem of formula SiC - is an increasingly popular diamond substitute. Tiny amounts of the natural mineral are found in meteorites, but labs now manufacture synthetic moissanite very cheaply. In this activity, students advise police officers who suspect that local jewellers are misleadingly selling moissanite rings in place of diamond. In so doing students reinforce their understanding of elements and compounds, refraction and density.

This activity is produced in partnership with the Royal Society of Chemistry. For further chemistry teaching resources, please visit the RSC LearnNet website at http://www.chemsoc.org/networks/learnnet/

Note: we do not intend to create any negative impression about Moissanite through this activity. Moissanite is a beautiful gem stone in its own right. Neither are we implying that reputable jewelers misrepresent what they are selling.
Published: 20th January 2005
Reviews & Comments: 13
Learning objectives
Students will describe and explain some differences between diamond (an element) and moissanite (a compound)
Try the activity
You will need Acrobat Reader installed to open the activity sheets.
Curriculum link
11 - 14 (KS3)
atoms and elements QCA 8e: elements are made of only one type of atom
compounds and mixtures
QCA 8f: distinguish between elements and compounds and how they are represented by symbols and formulae
Light 8k: refraction and dispersion
Running the activity
Suggested time: 20 minutes if each student prepares just one briefing; up to 50 minutes if each student prepares all three briefings.

Possible starter: Show students page 1 - why does it matter if jewellery shops are misleadingly selling moissanite in place of diamond?

Page 1 sets the context - police officers planning to raid jewellery shops to see if they are misleadingly selling moissanite rings in place of diamond. The tasks are set here, too. This page can be projected or printed onto transparency.

Page 2 gives the structures and formulae of moissanite and diamond. It suggests that students make models of the two substances. To make diamond, pupils need around 15 model atoms of the same colour (e.g. molymod, ball and spoke models, plasticine). For moissanite, they will need model atoms of two colours. Ideally, the 'silicon atoms' should be bigger than the 'carbon atoms'. This page can be photocopied for students.

Page 3 includes information about the physical properties of moissanite and diamond, and can be photocopied.

For briefing 1, students may advise police officers to look for stones that look more brilliant and give a greater range of colour flashes than diamond. For briefing 2, the advice might be to use a device to measure heat conduction or to examine whether the gem floats or sinks in an oil of density 3.4 g/cm3. The police scientist could also try scratching the two substances with diamond. For briefing 3 students will need to use the information on page 2 as well as - if possible - making models.
Web links
News links
Detailed data about moissanite - useful for teacher reference
More data, and links to other moissanite sites
Reviews & Comments
Write your online review to share your feedback and classroom tips with other teachers. How well does it work, how engaging is it, how did you use it, and how could it be improved?

I found this activity interesting and fun. My pupils loved it.
Reviewer: Linda Rodrigues
Elements and Compouds
May 21st, 2011

A great activity. I will try it out with my middle set year 8 group
Reviewer: Shama Sultan
Newton Metres
Oct 20th, 2010

Fast Cars
Great resource but could you change the torque units on the graphs to read Nm instead of nm (nanometres) please?
Reviewer: Nick Wiffen
false diamond activity
Jul 26th, 2010

thanks. great resource
Reviewer: is seetai
False diamonds review
Mar 19th, 2010

A really interesting activity that had ALL of the students hooked.
Reviewer: Chloe Eagers
false diamonds
Jan 6th, 2010

fab resource - loads of new ideas and approaches to engage pupils further into the application of science which is always a challenge for teachers!! Thanks Upd8.
Reviewer: Elaine Bush

Currently writing new scheme of work, incorporating APP that is relpacing SATs, this activity is excellent for assessing AF1,2,3 and 5.
Reviewer: Xue Han
Difficult....
Oct 1st, 2007

This was a great sheet, but sadly I left it for someone to use when I was absent. More guidance was needed from the teacher and it went a bit pear shaped. Looking forward to trying it again properly!
Reviewer: Mary Butler
False diamonds review
Oct 2nd, 2006

Used this with a medium ability year 9 class. They enjoyed the model bulding but found the data a bit hard to deal with.
It took a lot of time for limited outcomes. Not sure I would use it again.
Reviewer: Jill Cadwaladr
Atoms and Elements: False Diamonds Activity
May 24th, 2006

I did this activity with a low ability group of Year 8 students. This group of students usually focuses well, and they enjoyed this activity. I put the starter page onto a PowerPoint slide. Next time, I will supply the students with the briefings written out as bullet points, so that they are clearer what to do.

The diagrams of the molecules of diamond and moissanite were not easy for the students to see in three dimensions, so the models were of questionable accuracy.

The students worked in three groups and each did the briefing as a short presentation. They produced posters and one group did a few PowerPoint slides.

I would recommend this for Year 8. We just managed to fit it into an hour's lesson.
Reviewer: Kate Balfour
False diamonds
Dec 7th, 2005

This was an excellent activity which I used with a year 8 middle group. They had good chance to apply the knowledge they had gained from elements and compounds. As there are 3 briefings involed and each differs in difficulty, each group of 6 was split into higher ability, middle and lower.

Some of the data is quite complex and time was taken over giving instructions and a writing frame on how to write the briefs.

It's an activity I'd love to do again but would maybe spend two lessons rather that just one.
Reviewer: MEGHNA GANDHI
False diamonds
Oct 28th, 2005

Not being one to better a really good review and how to run this lesson read Richard's report. The value of an ASE conference got me back into using UPD8 so thanks to Richard really. I used this with my top set year 8 group, and they loved it. They found making the model a real challenge, I would probably have one started to show them how to do it. I could have spent one hour doing the model, however I had to move them on. One hour is not long enough to do the model, to do the scenarios and plan what they are going to say and then present. I did make one change which was the poilce suspected that a market stall may be selling fake diamonds. As a homework task I have asked them to produce a newspaper article as if they were in the courtroom and they now knew that fake diamonds were being sold.
Reviewer: Paul Andrew
UPD8 REVIEW FOR FALSE DIAMONDS ACTIVITY
Jun 18th, 2005

COMBERTON VILLAGE COLLEGE

I found this activity worked really well for 2 of my Year 11 Chemistry sets. One class was a higher ability set and the other class was a foundation ability set. At Comberton VC we follow the OCR Double Award B Staged Assessment GCSE Science course and this activity nicely fits into the Y11 Chemistry topic "Carbon Chemistry" where it can be used to give a great forensic context to the structure of Diamond. I have now put this activity into our Y11 Chemistry Scheme of Work to use again next year and I have shared it with the other Chemistry Teachers in the department. They were very impressed and wanted to use this activity with some of their classes.

I really like the idea of 3 different explanation-type police scenarios with this activity. I found that the Y11 students really had to think in detail about the evidence and consider how the data could be used.

I started off by projecting the first slide and explaining the background of the activity to the class. The very idea of something illegal with a forensics twist really grabbed their attention straight away. The opening slide is well presented and visually attractive which is always a good hook into an activity.

Once the students had got the idea of what to do they started by using the modelling kits to make model structures of both Moissanite and Diamond. I gave one copy of the molecular structure sheet to each group for reference. Their models helped them to visualise these molecules in 3-D and it was a very good kinaesthetic activity for them. The students took about 10 minutes to make both models. Many of the groups felt that the models could be used by the police inspector for the third scenario, in court to help explain to the judge the differences between each Moissanite and Diamond.

Each group had a photocopy of the data sheet for reference and a tight deadline of 20 minutes to write bullet point answers for each of the three briefings. In each case they had to use the appropriate scientific language and the correct facts. There was a real buzz of activity in the lab with lots of different ideas and arguments generated by each group.

At the end of the activity I asked different groups to present their findings for each of the scenarios to the rest of the class. They communicated their ideas with real confidence. All of the students said they really enjoyed the whole activity by building models and considering the evidence whilst working to a tight deadline. Interestingly, a number of students want to go on and study forensic science as a potential career!!
Reviewer: Richard Waller


200 lessons and assessments from as little as £4.95
Related Activities
Ideas about Science / Data collection & analysis
QCA / 8F Compounds & mixtures
Chemistry / Bonding & structure
Learning Strategy / Case study