My UPD8
You need to login before you download the free activities. You can register here.
Top Dog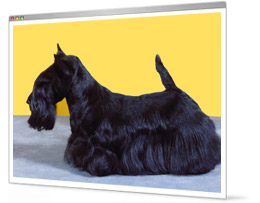 Type: Activity
Learning Strategy: Case study
Topic: Inheritance of characteristics
With Crufts behind them for another year, breeders and judges are now preparing for smaller dog shows all over the UK. Many of these rely on the strict selective breeding of pedigree dogs. This can lead to chronic genetic problems and diseases. Is pedigree breeding ethically acceptable? This activity gives students a chance to decide for themselves.

This activity is designed to be used in conjunction with Simpletons: a tool for teaching ethical thinking. We suggest using Simpletons to teach students how to think from different ethical perspectives. Top dog then allows students to practise the same ethical styles in a different context.

11-16 How Science Works:
4b: consider how and why decisions about science and technology are made, including those that raise ethical issues.
Published: 19th March 2007
Reviews & Comments: 23
Learning objectives
Students will:
• Learn about selective breeding in the context of dog breeds
• Learn to apply different ethical approaches to making a decision about pedigree breeding of dogs

Try the activity
You will need Acrobat Reader installed to open the activity sheets.
Curriculum link
11-14 Variation, classification and inheritance QCA module 9A
• 4c: Selective breeding can lead to new varieties
14 – 16 How science works: data, evidence, theories and explanations
• 4b: consider how and why decisions about science and technology are made, including those that raise ethical issues.
14 – 16 GCSE specifications
Edexcel additional B2 2.14
• Explore evidence for the uses of selective breeding.
OCR Gateway additional B3g – new genes for old
• Research examples of animal breeds that have been produced by selective breeding
Running the activity
changed considerably as a result of selective breeding. Tell students that they will consider whether pedigree selective breeding is ethically acceptable.

Display page 2 describes the science of pedigree breeding.

Give each student – or pair – a copy of page 3. Ask each student to complete the speech bubbles, bearing in mind the ethical approach of each person. It may help to remind students of the ethical approach of each 'Simpletons' character ('Hiram' – utilitarian; 'Lucy' – rights-based; 'Madge' – care-based; 'Brad' – self-centred) and ask them what that character might say. Students then choose the view they most closely agree with. Then get students into small groups – each representing a variety of views – and ask them to debate the issue for a TV-style discussion, or lead a whole-class discussion on the question: Is pedigree dog breeding cruel?

Note: this activity assumes that the ethical approaches described in the Simpletons activity can be applied to animals besides humans (a whole debate in itself!).


Web links
News links
Recent news about Crufts – useful background
More on Crufts – useful background
Canine genetics – this link is part of a very useful site for teachers and more able students
Interesting informatoin on the Siberian Husky
Reviews & Comments
Write your online review to share your feedback and classroom tips with other teachers. How well does it work, how engaging is it, how did you use it, and how could it be improved?
link not working
Jan 22nd, 2015

i can download the activity but not the teachers notes
Reviewer: mitchell standing
PDF link not working
Nov 16th, 2014

Reviewer: gideon lyons
link not working
Jul 10th, 2014

Is this link working? I am logged in and can open the teacher's notes but not the activity.
Reviewer: Catherine Brown
Top Dog review
Jan 15th, 2014

Linked checked working. Please remember you need an account and to be logged into download. Ed
Reviewer: Lesley Creel
Top Dog review
Jan 22nd, 2013

Very good will use it for a mixed ability group.
Reviewer: MARION WILLIAMS

An excellent and fun lesson, the pupils really enjoyed their debate

Thanks
Reviewer: Zahid Butt
Incorrect pictures
Jul 12th, 2012

I hope that the incorrect dog breed will be corrected.

The picture is a Basset Hound rather than Bloodhound, although they share some facial characteristics they are quite different dog in size and shape.

A good activity but a shame the basic information is incorrect.

This was something pointed out to me by students as well as noticing it as soon as I viewed the resource.
Reviewer: charlotte richards

Nice little activity.
Doesn't take too long and is good for the lower groups. Some of my year nine were able to think up some really good arguments.
NB I didn't use the Simpsons thing; I just asked the students to say how four different people might respond.
Reviewer: W Davies
Facts wrong
Nov 14th, 2010

I've always found the activities on upd8 great to use but I'm rather disappointed with the science facts in this activity and the bias.

Possibilities have been presented as facts - particularly for the Chow Chow and Bulldog. Should a science website be perpetuating the myth that Bulldogs can't self- whelp or that every Chow Chow gets entropian .I dislike the definition of pedigree breeding as being the breeding of 'closely' related dogs when in fact you've descibed line -breeding (in-breeding). Pedigree breeding by definition is simply the breeding of one KC registered Bulldog to another and although some breeders carry out line breeding(!!) most know that it would only be storing up problems for the future and wouldn't do it.

This was clearly not devised by someone that knows about dogs.
Reviewer: Irene Nickerson
Shaping Life
May 20th, 2010

Good activity - provoked lots of discussion with my Y8's. The lesson actually ran over as they debated selective breeding and all wanted the last say!
Reviewer: Sarah Robinson

it was fun all the way ...for the kids and me...and ofcourse the learning outcome was fantastic
Reviewer: SHAILA PRASAD
Variation and inheritance
Dec 13th, 2009

This looks like good material to stimulate a discussion. i will use it with a year 9 group.
Reviewer: Royston Adams

very useful with my year 9 class and led to good debate and opinions
Reviewer: sophia bidwell
selective breeding
Mar 19th, 2009

this worked really well as an activity with my year 8 class. got them thinking about the ethical implications of what selective breeding may involve.
Reviewer: Natalie Yarnell
selective breeding
Feb 12th, 2009

got kids very interested, as theyall have dogs/know somebody with a dog and have lots of opinions on the subject
Reviewer: ana teresa cerdan-malo

Good activity.
I adapted it a little with starter & plenary, so its a lot to fit in to a 50min lesson but the kids found it enjoyable and challenging.
Reviewer: Paula Heaney
Top Dog review
Jun 12th, 2008

This worked really well with my lower ability group. It really got them thinking about ethics.
Reviewer: sophie fossett
Inheritance and selection - year 9
Jun 10th, 2008

My students really enjoyed this approach. The less able ones where immediately stimulated by the dog theme and both classes really enjoyed the group work. We shall undoubtedly teach this again to our KS3 classes.
Reviewer: Phil Matthews
Top Dog review
May 16th, 2008

I used this with my year 10 class and it provoked a very interesting discussion. Pupils were able to appreciate the advantages and disadvantages of selective breeding.
Reviewer: Natalie Chapman

Hi I'm a student.
Can someone post some answers for the pedigree ethics activity. The link articles do not give you a real insight into the different opinions.
Thanks.
Reviewer: blank blank
Top Dog review
Oct 7th, 2007

Adapted this with my Y9 - they loved it. It really did get them thinking; only wish we'd had more tiime to explore, in greater depth, the moral issues surrounding selective breeding. Great stuff.
Reviewer: Dawn Jepson

Haven't used this yet but though it looked really good. Have written it into the scheme of work for GCSE Additional Science B3 (OCR) so we will see next year how well it works!
Reviewer: Katherine Swinson

i used this with my year 10 entry level science class and we had a very interesting ideas forwarded about the science and ethics behind selective breeding even though they are very low ability. i extended it by them choosing a particular animal to selectively breed.
Reviewer: debra johnson


200 lessons and assessments from as little as £4.95
Related Activities
QCA / 9A Inheritance & selection
Ideas about Science / Benefits/drawbacks
How Science Works / Decisions & ethics
Biology / Inheritance of characteristics
Biology / Variation
Learning Strategy / Case study