My UPD8
You need to login before you download the free activities. You can register here.
Chocolate money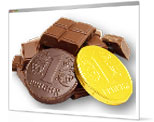 Type: Activity
Learning Strategy: Case study
Topic: Reproduction
Europeans love chocolate – we eat over half the world's supply! The bad news is that we are eating more cocoa than can be produced and soon chocolate may become a rare and precious commodity as farmers struggle to meet demand. In this activity students apply their knowledge of pollination to discuss why cocoa yields on a plantation are decreasing. They then find out who funds scientific research by taking roles in a funding meeting – can they work out a deal where all parties will benefit?

The Chocolate money activity comes from ENGAGE, the EU-wide project from the upd8 team.
Visit the ENGAGE website to download the materials.
Published: 15th January 2015
Reviews & Comments: 0
Try the activity
You will need Acrobat Reader installed to open the activity sheets.
Reviews & Comments
Write your online review to share your feedback and classroom tips with other teachers. How well does it work, how engaging is it, how did you use it, and how could it be improved?


200 lessons and assessments from as little as £4.95
Related Activities
Biology / Reproduction
Difficult & Dull / Plants
QCA / 7A Cells
QCA / 7B Reproduction
Ideas about Science / Scientific methods
Learning Strategy / Case study