My UPD8
You need to login before you download the free activities. You can register here.
Emergency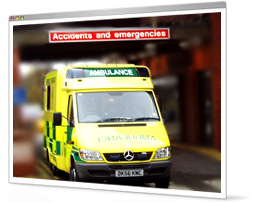 Type: Activity
Learning Strategy: Communication
Topic: Tissues & organs
Imagine you're working in Accident and Emergencyt. You have to make fast diagnoses and decide life-saving treatments This activity focusses on the medical careers students could pursue, by applying knowledge about cells and organs, and science skills. Students take on the role of hospital medical professionals (Family Liaison Officers) who have to research various aspects of cell biology and then explain the injuries using this knowledge.

A Department for Children, Schools and Families initiative to promote subject choice and careers in Science, Technology, Engineering and Maths (STEM) delivered by the Centre for Science Education at Sheffield Hallam University and VT Enterprise.

Get other STEM careers resources by sending an email to [email protected]
Published: 21st October 2009
Reviews & Comments: 2
Try the activity
Please login to download activities
Curriculum link
KS3 Science National Curriculum
Key Concepts: Applications and implications of science: 1.2 a, b (applying science to developing technology, ethical implications)
Key Processes: Communication: 2.3 a (communicate scientific information)
.
Range and Content: Organisms, behaviour and health, 3.3 a,c (cells, tissues, organs and body systems)
Personal, learning and thinking skills: Self Managers & Team workers
Careers element - Equality & Diversity (images of people at work)
STEM Leadership Qualification: Unit 13: Level 2 Learning with Colleagues and Other Learners
Running the activity
There has been a road traffic accident and a family is brought into hospital accident and emergency department. The father was driving the car and seems to have a broken leg, the son (aged 16 years) has a serious gash on his head and losing a lot of blood, his sister (aged 8 years) escaped injury and the mother is semi-conscious and her condition is complicated by the fact that she is 6 months pregnant.

The paramedics who bring the family in and the triage* team in the hospital write up their notes and you need to interpret this information so that you can explain to each family member their condition and suggested treatment.

This activity shows the practical applications of classroom science by illustrating the various career routes possible with the knowledge and skills learned.

Pupils take the role of hospital medical professionals (Family Liaison Officers) who have to research various aspects of cell biology and then explain the injuries using this knowledge.
They can work in small teams or individually on different aspects of the cell biology, but then write their own explanation of the different injuries.

An optional additional activity would be to have the pupils work in pairs and when they have completed their notes to then explain what they have been doing to each other as if their partner is the person that their notes are for e.g. they are explaining the father's condition to his daughter (their partner). The partner can then rate the explanation and compare what they have heard to the original medical record.

The activity offers the opportunity to assess pupils' understanding and application of cell biology, their problem solving, team working and communication skills.

Web links
News links
The Association of the British Pharmaceutical Industry site covers biotechnology, DNA sequencing, Human Genome Project, careers website
exploring options, including careers in medical research
Prime site for all health/medical related careers. Look in Resources for Education. There are a number of teaching resources that are useful for careers education and PSHE
The sector skills council for health sector - labour market information and qualifications and learning pathways.
A website that looks at allied heath professions and includes a number of teaching resources and job role descriptions
Millie Johnstone and Nikki Ross, Lead Nurses in Accident and Emergency
Geri project works to combat stereotyping in careers. The resource pack called Want to do Something Different can be downloaded free and includes gender statistics and stories of four male healthcare workers. You can also search for male role models in healthcare.
Reviews & Comments
Write your online review to share your feedback and classroom tips with other teachers. How well does it work, how engaging is it, how did you use it, and how could it be improved?
Using WIKID when not following the full SoW
Oct 7th, 2012

I really liked this activity and the use of 'real life' to engage and assess the kids. I used the Wikid resources which I amended to include an exampler model of what to include in their work. However, when observed, I was told that the kids were not fully sure how to complete the work effectively.

I think that using a model helped the students although this activity is quite difficult for students to carry out effectively when they have not been following the A&E unit. I would also suggest Wikid further develop their LOs to make them more specific and testable as 'to understand' LOs are no longer viewed as being effective.
Reviewer: Heather Birtwistle

good activities for a range of abilities, encourages logical reasoning and extended writing which is idea for new 6 mark questions

dr nick parmar
Reviewer: nick parmar


200 lessons and assessments from as little as £4.95
Related Activities
Ideas about Science / Communicating science
QCA / 7A Cells
Biology / Tissues & organs
Biology / Cell structure & function
Learning Strategy / Communication