My UPD8
You need to login before you download the free activities. You can register here.
The Day After Tomorrow: The Prequel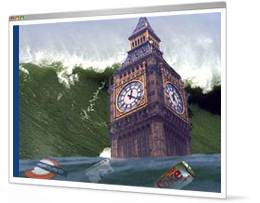 Type: Activity
Learning Strategy: Communication
Topic: Atmospheric pollution
This summer's massive disaster movie 'The Day After Tomorrow' goes on global release on 28 May. It dramatically (if not entirely accurately!) brings home the tremendous dangers and costs of global warming. This UPD8 activity shows how global warming causes flooding, and gets students to devise a British flood strategy. Students then present their strategies as manifestos aimed at winning votes in upcoming elections. Watch out for our second film tie-in activity, which will coincide with the movie's release!
Published: 23rd January 2005
Reviews & Comments: 9
Learning objectives
Students will know the cause of global warming, and will consider some strategies for addressing its effects.


Try the activity
Please login to download activities
Curriculum link
11 - 14 (KS3)
Environmental chemistry QCA 9g - describe environmental issues and their implications.
Running the activity
Suggested timing: 30 minutes
Possible starter: show the trailer to 'The Day After Tomorrow'
http://www.thedayaftertomorrow.com/trailer2/index.html

Main activity: Display page 1, either as a transparency or using a projector. This page sets the scene, and describes the cause of global warming as well as the impact of its associated flooding. Allow groups time to absorb the information and for brief discussion. As you circulate, you might like to refer to the film trailer and ask questions such as:

Will it happen here?
Do warnings help?
Is there evidence that the Earth is warming up?

If possible, have an online link to the Environment Agency website which has maps for flood risk and much more information.
Then display page 2, which sets the task. Student groups take the roles of political parties. They choose the best strategy to cope with - or prevent - global warming and flooding, and decide how to fund this strategy.
Students record their decisions on page 3, a manifesto template. Each group needs a photocopy of this sheet.

Possible plenary: Display the manifestos. Get the class to vote for the best - who wins the election?
This activity links well with PHSE and citizenship, and could form the basis of a class or year assembly. If your school is in an area likely to flood, you might ask your local action groups, Council representative, newspaper or MP to visit and talk, or present a prize for best manifesto.

Web links
News links
includes a trailer to the film
contains much useful information, flood map and warnings, images etc
for the latest news reports and media coverage
Reviews & Comments
Write your online review to share your feedback and classroom tips with other teachers. How well does it work, how engaging is it, how did you use it, and how could it be improved?

I was just browsing , l have not yet used one jet to give a review.
Thanks
Moses
Reviewer: GERRY MOSES
The Day After Tomorrow: The Prequel review
Feb 4th, 2009

I found The Day After Tomorrow's trailer on YouTube at the following link:

http://www.youtube.com/watch?v=Ze8Gshk53Y8&feature=related

If you have RealPlayer it gives you the option to download clips from YouTube, so you don't have to load up the page to show it to your students.
Reviewer: Rebecca Norman
The Day After Tomorrow: The Prequel review
Jan 8th, 2009

Great activity
Reviewer: J Robertson

Can anyone tell me how to access the film trailer for The Day After Tomorrow? I've cut and pasted the link as it states in the activty description but I can't get hold of the trailer. Any ideas?
Reviewer: Rebecca Martin
The Day After Tomorrow: The Prequel review
Nov 2nd, 2007

I've used this one before, the prequel had an amazing effect. I am now at a different school and I am having problems accessing it. The downloaded clip is not accepted on the school system and I can't seem to get directly to the prequel to show from the site.
Any ideas anyone because I really would like to use this brilliant attention grabber again.
Reviewer: Gill Mulliss
Physics and fashion.
Feb 9th, 2006

I have just told everybody in my department about these mega fantastic resources. My mentor came to see me teach magnets and I used the Physics and fashion resource, and she thought it was a brilliant activicty and gave an excellent feedback. All the children were engaged and enjoyed, and they learned both about magnets and about modelling in one.
Reviewer: elena benjamin
The day after tomorrow upd8 activity
Jun 19th, 2005

I used this activity with a low ability group, and found it to be very successful at grabbing the pupils attention. I adapted it to our current SoW which relates global warming to deforestation and pollution. Instead of getting the pupils to plan a flood warning system, I had them role play so one sert of students are the multinationals who need the land for grazing cattle, the native indians, the scientific community and general public. The activity is an excellent one, which I will definately use again. It can be easily be adapted to the context in which you wish to teach and for both KS3 and 4. Well Done Upd8 team, keep up the good work!!
Reviewer: Jaswinder Kaur
Flood alert
Apr 19th, 2005

I used this with a year 9 higher ability class, who thoroughly enjoyed it. They welcomed the opportunity to use constructive talk with one another and had detailed (and occasionally heated) discussions about the strategies that they thought were best.

All the students were able to grasp the science relating to the activity and to weigh up the alternatives. They appreciated that some of the ways of paying for their strategy could not be implemented because they would be too unpopular, even though they felt that they were the 'right' solutions to the problem.

The activity was a very useful combination of citizenship and science. It took about thirty minutes and at the end, students had to present their ideas to me. I took the role of a voter and rewarded the winning party with my 'vote' - a praise card each.
Reviewer: Mark Gale
Day After Tomorrow
Mar 20th, 2005

I combined the activity of the Prequel with the main activity to create a whole 55 min lesson for some Year 7 pupils who were off timetable. I felt it linked particularly well with Year 7 Energy Resources.
The pupils were very interested and motivated. One word of warning - the video trailer for the film cannot be displayed using a data-projector (this is blocked under a copyright restriction).
Reviewer: Anne Brown


200 lessons and assessments from as little as £4.95
Related Activities
QCA / 9G Environmental chemistry
Hot Topics / Disaster
Chemistry / Atmospheric pollution
Earth Science / Atmosphere & climate change
Learning Strategy / Communication