My UPD8
You need to login before you download the free activities. You can register here.
Car wars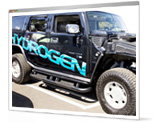 Type: Activity
Learning Strategy: Case study
Topic: Energy resources
In our imagination, it is 2020 and students are about to get their first car. Increased carbon dioxide emissions have led to huge financial incentives to buy renewable. Filling stations now provide hydrogen and biodiesel fuels, and recharging points for electric cars are commonplace. So students have a choice – to buy an electric car, a hydrogen fuel cell car, or one which runs on biodiesel. But which is best? Students consider the options and choose a winner and two binners (losers)

The Car wars activity comes from ENGAGE, the EU-wide project from the upd8 team.
Visit the ENGAGE website to download the materials.
Published: 5th November 2014
Reviews & Comments: 0
Learning objectives
In this lesson students will:
Apply knowledge about atmospheric carbon dioxide
Evaluate solutions to the problem of increasing carbon dioxide emissions from cars
Present and support the benefits of one chosen solution to the problem
Try the activity
You will need Acrobat Reader installed to open the activity sheets.
Curriculum link
England National Curriculum KS3:
Working Scientifically: Analysis and evaluation – evaluate data and present reasoned explanations.
Chemistry: Earth and atmosphere – the production of carbon dioxide by human activity and the impact on climate.
GCSE Combined Science subject content:
Working Scientifically: Development of scientific thinking – explain everyday and technological applications of science; evaluate associated personal, social, economic and environmental implications; and make decisions based on the evaluation of evidence and argument.
Chemistry: Earth and atmospheric science – carbon dioxide as a greenhouse gas.
Reviews & Comments
Write your online review to share your feedback and classroom tips with other teachers. How well does it work, how engaging is it, how did you use it, and how could it be improved?


200 lessons and assessments from as little as £4.95
Related Activities
Topics / Environmental chemistry
Chemistry / Fuels
Chemistry / Atmospheric pollution
Ideas about Science / Benefits/drawbacks
Learning Strategy / Case study