My UPD8
You need to login before you download the free activities. You can register here.
Fireworks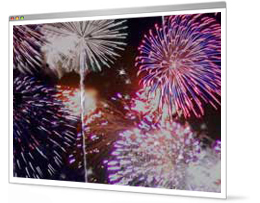 Type: Activity
Learning Strategy: Group discussion
Topic: Fuels
Fireworks use fast-burning fuels to release fabulous bursts of energy. But why do they burn so brightly and how is the energy release controlled?

In this data sort activity pupils explore the chemistry of sparklers, bangers and rockets and learn why fireworks are so difficult to put out once they catch fire.
Published: 4th January 2005
Reviews & Comments: 16
Learning objectives
Students will appreciate that fireworks burn well because they contain their own oxygen supply and will apply this knowledge to fire fighting.
Try the activity
You will need Acrobat Reader installed to open the activity sheets.
Curriculum link
Chemical reactions QCA 7F:
Students should be taught that burning requires oxygen; new substances are made in reactions; compounds contain more than one type of atom joined together and fuels burn to release energy.
Using Chemistry QCA 9H:
Students should be taught that chemical reactions make new products and are a source of energy.
Running the activity
Timing: starter - 5 minutes; main 20 minutes; plenary 5 minutes.

Starter activity: Project the image on page 1 which provides the context for the activity. It shows a fire fighter watching a fireworks display. Pupils could be asked to suggest why fireworks burn so brightly.

Main Activity: Page 2 shows how aerial fireworks work and sets the task. Students work in groups of 2 or 3 to select facts about fireworks that would be most relevant to fire fighters. Then they arrange these in order of importance. The data they need is supplied on page 3 as cards to be cut out and sorted. Each group will need their own copy of these.

Plenary: Students should compare the key facts they selected and the order of importance they came up with.
Web links
News links
A very comprehensive site which provides useful diagrams and videos.
A good summary of the history of fireworks, the different types of firework and how to use them.
A firework safety code.
Reviews & Comments
Write your online review to share your feedback and classroom tips with other teachers. How well does it work, how engaging is it, how did you use it, and how could it be improved?
Fireworks review
Nov 5th, 2013

Great resource for the 5th November activity.
Reviewer: Lindsay Turner

Excellent activity
Reviewer: Olivia Rodríguez

In the week preceeding Nov 5th I used the activity with all the pupils in Years 6-8. It was a great sucess and gave rise to much discussion regarding chemical reactions and firework safety. The rockets, stuck to the walls and cross beams, really brighten up the lab.
Reviewer: Lauren Hutchings

Pupils enjoyed the activity. It kept them engaged and helped them to learn new fact about fireworks. The firework itself can be a bit trick to make, especially the cone.
Reviewer: Nicole Killen

I am leaving this with year 8 for a cover lesson. It will provide stimulating and useful work.
Reviewer: rachel naylor

Amazing activities, promotes both participation and learning. Works brilliantly for all abilities.
Reviewer: anusha simha
Fireworks review
Sep 28th, 2009

Reviewer: Apichart Koykume
Fireworks review
Sep 28th, 2009

Reviewer: Apichart Koykume

Good resource for completing an APP. Can be used for AF1 and 2
Reviewer: raj singh

This website has some fantastic ideas, THANK YOU
Reviewer: reps begum
Fireworks review
Dec 15th, 2007

My Y7 loved the activity as it linked with the Simple Chemical Reactions topic they were doiing. Although they enjoyed making the fireworks they were quite difficult. It had worked better with a Y9 class previously.
Reviewer: Ann Roche
Paper fireworks
Oct 17th, 2006

This is a brilliant activity! The worksheets are well prepared and the idea behind the task is great. It's especially good to do in the weeks coming up to bonfire night.
Reviewer: Hannah Kwaszenko

I used this activity with a year 9 and 10 class who were studying chemical reactions. They really enjoyed it and the resultant fireworks were very colourful and impressive. The students commented on how much they enjoyed the activity. I thought the activity sheets and teacher notes were well set out and easy to use.
Reviewer: Sue Gibson

I used this as a homework assignment for Year 7. It went down very well with all pupils producing a firework- some had even made extra large versions from all sorts of different materials instead of using the template. They look great displayed around the lab and helped pupils think about the practical applications of the chemistry we were learning about.
Reviewer: Claire Brown

I used this with a middle ability Y8 group, near fireworks night. The class realy enjoy making things, I dont think the realised that they were learning! this was good to refer back to later in the topic. the handouts were very useful as they contained the required information without being daunting for the students.
Reviewer: Jennifer Wallington

Actually used this with year 9 as I was doing chemistry section (displacement - so had done potassium --> lilac flame / sodium --> yellow flame etc) in early November and we were also doing some fllame tests in honour of Guy Fawkes. Was quite a useful exercise as it revised things like the fire triangle and oxidation reactions etc from years 7 and 8 as well as reminding them of fireworks safety.
Reviewer: Kay Budge


200 lessons and assessments from as little as £4.95
Related Activities
QCA / 9H Using chemistry
Chemistry / Fuels
Learning Strategy / Group discussion