My UPD8
You need to login before you download the free activities. You can register here.
Stromboli erupts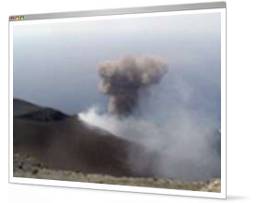 Type: Activity
Learning Strategy: Group discussion
Topic: Plate tectonics
The Stromboli volcano, on a tourist island off the coast of Italy, has erupted over the last week. Ash and huge chunks of lava have been spewed out, injuring residents and causing major floods. We take students closer to the action with a 10 minute 'Big Brother' style activity - to learn about the science and the scientists involved.
Published: 23rd January 2005
Reviews & Comments: 5
Try the activity
Please login to download activities
Curriculum link
KS3 8h The rock cycle: how lava can be blown out of volcanoes
Running the activity
The first page describes the effects of the eruption are. You could copy the sheet onto a transparency. The idea of the activity is that, although inhabitants want to remain to protect the island, only the most important will be allowed to stay. The rest will be voted (and evacuated) off - Big Brother style. Nominate 8 pupils to play the characters. Each takes a card from page 2, which gives a reason why the character should stay. Ask pupils to say in their own words why they should not be voted off. The reasons bring out the science involved, and the role of the scientists. Get the class to discuss and vote off, say, 3 characters. Repeat and find the two 'winners'. Note: In reality, all remaining inhabitants of Stromboli have now been evacuated, because of fears of further eruptions.

Web links
News links
See the BBC News website for up to date information
Reviews & Comments
Write your online review to share your feedback and classroom tips with other teachers. How well does it work, how engaging is it, how did you use it, and how could it be improved?

This activity worked really well. It got the students thinking and realising that opinions may differ but each has their value
Reviewer: Susan Houlbrook

I used this with year 8 pupils. Pupils were engaged throughout the lesson.
Reviewer: Ghanniy Oyedele

Good starting point for discussing volcanoes. Always good to have an argument in class that you have started deliberately. Good fun!
Reviewer: Mary Butler
Stromboli erupts review
Feb 26th, 2007

My 2 year 9 classes really enjoyed this activity, although the idea of arguing their case was a little tricky for them, it was nice to see them involved.
We got lots of useful reasons why each person should or shouldn't stay on Stromboli from the voting audience.

It was a nice recap on part of the rock cycle and a good lesson starter for 10 minutes.

Clare Maltby
St Martin's School
Reviewer: CLARE MALTBY-WEHNER
upd8 review
Jun 11th, 2005

I have written this activity into our Year 8 topic called Geological Science. It is a very interactive activity based around a balloon debate format. The Y8 pupils get alot out of the dicussions and related arguments about who should go and who should stay. I have had plenty of good feedback about it from other teachers in my department as well.

I have found it important to write upd8 activities into schemes of work so that the activities are shared and used again when other teachers teach this topic.

Richard Waller, Comberton Village College, Cambridge
Reviewer: Richard Waller


200 lessons and assessments from as little as £4.95
Related Activities
Earth Science / Plate tectonics
Difficult & Dull / Rocks
QCA / 8H The rock cycle
Ideas about Science / Risk & safety
Learning Strategy / Group discussion