My UPD8
You need to login before you download the free activities. You can register here.
Disgust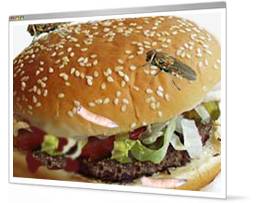 Type: Activity
Learning Strategy: Group discussion
Topic: Health & fitness
A large-scale study on disgust has captured the public imagination. But what disgusts people, and why? In this activity students try a version of the scientists' experiment by rank ordering disgusting pictures. They then speculate: why do we find certain things disgusting? Are there gender differences? Finally, students examine the findings of the large-scale study and look at how researchers have answered these questions.
Published: 20th January 2005
Reviews & Comments: 9
Learning objectives
To explain why the emotion of disgust to a visual stimulus is probably a protective response to prevent us getting disease.
Try the activity
You will need Acrobat Reader installed to open the activity sheets.
Curriculum link
11 - 14 (KS3)
Microbes and disease QCA 8c - how diseases are transmitted
Running the activity
The activity is designed to last for about 20 minutes.
As a starter you could show students the picture on page 1, and ask them for their reactions to it. Why is it disgusting?

Page 1 is a stimulus sheet that can be projected or printed onto OHT. It shows a disgusting picture and asks 'Disgusted? How much and why?'

Page 2 includes two activities. In the first activity, students rank order 10 pictures in order of disgustingness. The second activity asks students to speculate in groups about the reasons for the emotion of disgust, possible gender differences in response to disgusting things and related issues. This page can be printed and photocopied, or projected or printed onto OHT. It looks much more disgusting in colour!

Page 3 describes the large-scale study. It quotes scientists involved in disgust studies and thus answers the questions posed on page 2.

As a plenary, you could ask students to choose one picture and say why it is a threat to health.

Web links
News links
Describing the research and results
Describing the research and results
Reviews & Comments
Write your online review to share your feedback and classroom tips with other teachers. How well does it work, how engaging is it, how did you use it, and how could it be improved?
Starter for Microbes and disease
Jan 5th, 2014

A really handy resource. Its simplicity and clear presentation made this an excellent activity as a starter activity for this unit. Will use it again, and would recommend it.
Reviewer: JOHN GORDON
Disgust review
Nov 12th, 2011

Excellent resource. Thank you.
Reviewer: Pam Knights-Cheesman

My students enjoyed the activity on disgust and it iwas a good way of engaging children. It was interesting to see reluctant learners wanting to discuss about the pictures.
Reviewer: Rekha Patil
Microbes and disease y8
Nov 16th, 2009

Special needs group with limited literacy skills allowed great discussion to take place and sense of achievement on completion of the worksheet
Reviewer: Kevin Chesters
fit and healthy
Feb 11th, 2009

Really good for promoting dicsussion in bottom set year 9.
Reviewer: Ayesha Kotze

Excellent my year 8 class loved this activity. So much discussion was generated that it took alot longer and filled a lesson (1 hour).
Reviewer: Nicole Killen
microbes starter activity
Mar 14th, 2008

excellent-used in special school as a starter activity for a Yr 9 group. Captivating all could contribute even pupils with poor literacy skills.
Reviewer: Anne Dockerty

Loved it. Really got discussion going and lots of room for cross cultural discussion of what is eaten as a delicacy in one culture being totally unacceptable in another.

I put our kids off black pudding for life!

Jean Wakefield
Reviewer: Jean Wakefield
Disgust is great
Jun 14th, 2006

I've used this activity with a number of groups. I've also used the bbc website questions as a started to a KS4 lesson on health. The website has some good pictures and we voted as a class.
For a low ability KS3 class I extended the activity slightly by getting them to produce graphs of numbers voting picture most discusting.
Reviewer: Janet Gatehouse


200 lessons and assessments from as little as £4.95
Related Activities
QCA / 8C Microbes & disease
Biology / Health & fitness
Learning Strategy / Group discussion