My UPD8
You need to login before you download the free activities. You can register here.
Ban cola?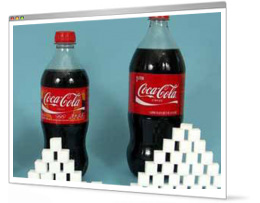 Type: Activity
Learning Strategy: Case study
Topic: Health & fitness
Now that scientists have discovered that sugar is like an addictive drug, pressure is building for action to reduce the amount of sugar that children and young people consume in sugary drinks. In this activity, students consider the evidence for causal links between sugar consumption, obesity and disease. They then weigh up arguments for and against banning sugary drink sales to under-18s.

The Ban cola activity comes from ENGAGE, the EU-wide project from the upd8 team.
Visit the ENGAGE website to download the materials.
Published: 5th November 2014
Reviews & Comments: 0
Learning objectives
In this lesson students will:
Apply knowledge about food and health
Use evidence to decide whether a correlation is causal
Evaluate and synthesise information to make a decision about a health-related issue

Try the activity
You will need Acrobat Reader installed to open the activity sheets.
Curriculum link
England National Curriculum KS3:
Working Scientifically: Analysis and evaluation – interpret observations and data, including identifying patterns and using observations to draw conclusions.
Biology: Nutrition and Digestion – the consequences of imbalances in the diet, including obesity.
GCSE Combined Science subject content:
Working Scientifically: Analysis and evaluation – interpreting observations and other data, including identifying patterns and trends, making inferences and drawing conclusions.
Biology: Health, disease and the development of medicine – diseases influenced by nutrition.
Reviews & Comments
Write your online review to share your feedback and classroom tips with other teachers. How well does it work, how engaging is it, how did you use it, and how could it be improved?


200 lessons and assessments from as little as £4.95
Related Activities
Ideas about Science / Interpreting evidence
Hot Topics / Health
Hot Topics / Diet
Biology / Health & fitness
Topics / Fit & healthy
Learning Strategy / Case study