My UPD8
You need to login before you download the free activities. You can register here.
Binge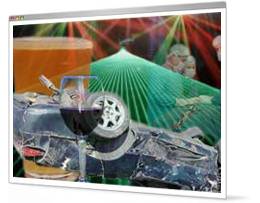 Type: Activity
Learning Strategy: Role play
Topic: Drugs
Binge drinking causes social and medical problems, particularly for young people. Most are prepared to accept these as the "price they pay" for enjoying a good night out. As the cost of alcohol drops, more gets drunk. But has the cheap drinks revolution gone too far? Oxford City Council certainly thinks so. City centre bars and clubs have been asked to stop offering cut-price drinks at the weekends. Not everyone is happy. In this discussion activity, pupils consider the issues and decide whether or not they support the council's approach.

UPD8 Live!
This activity was written by a teacher who attended our new Professional Development course, UPD8 Live! The course provides tools and techniques to help you develop your own UPD8-style activities. Paul Martin decided to build an activity around an article about binge drinking he'd spotted in New Scientist.
Published: 7th January 2005
Reviews & Comments: 17
Learning objectives
Students will be aware that the abuse of alcohol affects health.
Try the activity
You will need Acrobat Reader installed to open the activity sheets.
Curriculum link
QCA Unit 9B
Running the activity
Timing: starter - 5 minutes; main 20 minutes; plenary 5 minutes.

Starter activity: The images on page 1 can be projected as students enter the class. They contrast the obvious pleasures of a night out with friends with the increased risks drinkers may face. Pupils could be given time to discuss the issues raised.

Main Activity: A chart on page 2 summarises the physiological changes during a typical drinking session. It also sets the pupil tasks. Working in groups of 6, they discuss their response to one council's attempt to curb binge drinking. Each pupil presents the views of a different member of the community using prompts from the "character cards" on page 3. Individuals can then summarise their views by writing a letter to the local paper that supports or opposes the council's actions.

Plenary: Pupils could compare their responses with other groups or suggest alternative strategies for tackling the social and medical problems associated with bouts of heavy drinking.
Web links
News links
Five embarrassing problems caused by drink
An excellent resource with links to a wealth of articles on all aspects of alcohol consumption.
Reviews & Comments
Write your online review to share your feedback and classroom tips with other teachers. How well does it work, how engaging is it, how did you use it, and how could it be improved?
Binge review
Dec 11th, 2013

A good resource especially when used with drunk and dumd resource .
Reviewer: MARION WILLIAMS
Binge review
Jul 16th, 2012

very good activity to get kids thinking about the real impact of binge drinking.
Easily adaptable to different abilities.
Reviewer: Micaela Cuminetti

The chart shows the UK drink drive limit as being 4 drinks - enough to make you feel "dull and clumsy, could cause an accident". I think this is misleading (wrong) and potentially dangerous.

I am not sure how the "drinking time" relates to the rest of the data...?

Not up to the usual UPD8 standard
Reviewer: Anthony Jackson

looks great. activity sheet will nit open though!
Reviewer: Gemma kelly

Looks really good. Look forward to teaching it in the new term!
Reviewer: Nosheen Aziz

Good discussion for able class
Reviewer: stef lee
Binge - Resources
Mar 16th, 2010

The resources in this worked very well.
The first image was used as a starter inviting up pupils from teams up to the front to remember and draw what they remember. This worked really well.

The students really enjoyed the role play activity and this did give them the opportunity to think from different perspectives.
Reviewer: Richard Fuller
Binge review
Jan 21st, 2010

Ok as an introduction but needs additional resources along with it.
Reviewer: Rebecca Glover

Planning to use resources for 3rd set Yr10s. It looks very promising, will just have to wait and see!
Reviewer: Tom Anderson

Very low ability group but they got to grips with the ideas - just took a bit longer. Made them think about issue and how it related to them.
Reviewer: susan humphreys
fit and healthy
Feb 27th, 2009

good resource character cards worked really well
Reviewer: John Thompson
Binge review
Dec 10th, 2007

Reviewer: Chi Onyirioha
A toast to this exercise
Jun 13th, 2007

Excellent.
Brilliant resource. Role play worked really well. Done with top set Y9.
Reviewer: James Mitchell

Used this with a top set year 8 group. They really enjoyed writing the letters, and reading them to the rest of the class. It stimulated a lot of heated discussion, especially for one girl whose dad owns the local pub!
Reviewer: Joanne Rankine
Binge drinking activity
Mar 1st, 2006

I used this activity with a Y10 class. I thought it worked really well and the character cards helped them to think about the issues from different perspectives.
Reviewer: Cheryl Case
Binge worked
Dec 14th, 2005

This activity ran well in a last-days-of-term context. Rather than asking my pupils to write letters, I simply asked them to write down their basic points and then to present these to the class as a team effort.

One team asked me if they could "do it as a role play" - so we adopted this idea half way through the lesson to great effect with one group in particular. I allowed 4 - 5 mins per group for presentation / role play (had to curb some "more active" boys - but in the end all the presentations were surprisingly sober)

From my observations I am convinced that everyone learnt at least something about alcohol- the adoption of a different persona is a good approach.

Overall this made a quite a well paced and structured 50 minute lesson
Reviewer: Philip Blair
Alcohol role plays
Apr 11th, 2005

Cards worked really well and pupils all joined in. Class all showed genuine enthusiasm.
Don't think it'll stop them drinking though!
Reviewer: zOE Wood


200 lessons and assessments from as little as £4.95
Related Activities
Biology / Drugs
Hot Topics / Health
QCA / 9B Fit & healthy
Learning Strategy / Role play