My UPD8
You need to login before you download the free activities. You can register here.
Crucial upd8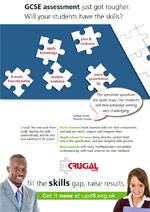 Many students will struggle with the demands of new GCSE assessment.
Crucial gives them the skills to guarantee the grades.
Crucial will adapt your existing course to the changes in content and assessment, with the minimum of effort and expense. There are 3 versions individually tailored to the new AQA A, OCR B and Edexcel 2011 specifications.
Crucial brochure
6 big benefits of Crucial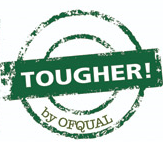 Covers all the main specifications: AQA A, OCR Twenty First and Gateway, Edexcel, and WJEC A.
GCSE assessment requires challenging skills –Crucial is scientifically designed to help students master them
GCSE content is changing – Crucial covers all the new statements in your specification, with brilliant and easy to use lessons
Lessons and exam questions drop into your existing AQA A, OCR B or Edexcel course
Targeting C/D students - how to emphasise grade C skills to maximise GCSE success
Motivating students - of all abilities, through upd8's winning formula to bring 'difficult & dull' topics alive
Take a look
View a snippet of a Crucial lesson online, and get all the sample material.
Compare the editions
Crucial Essentials – 20 lessons covering the essential skills, plus new content
Crucial Pro – 30 lessons covering ALL the assessed skills and new content
Crucial VLE – gives you the additional benefits of online learning, and fully integrated resources
See pricing and editions.
Get it now
To guarantee the grades, you'll want to start using Crucial lessons right from the beginning of your GCSE course. See pricing and editions.