My UPD8
You need to login before you download the free activities. You can register here.
The pack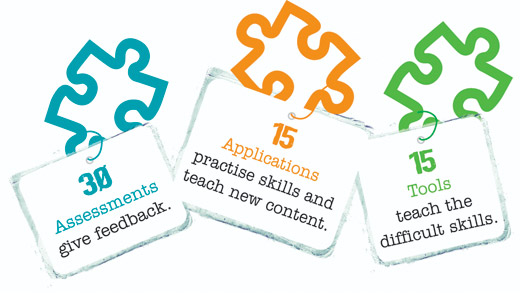 Crucial gives you the 3 big pieces you need for success with GCSE.
15 'Tools'
These are skill development lessons based on established pedagogy. They break down processes like writing explanations into their component skills, model their use, and scaffold students as they grow in competence. Each Tool is set within a GCSE topic, so it can be easily slotted into your scheme of work. It takes lots of practice to master a skill, so they are integrated into the next piece of the puzzle...
Examples:
'Communicator' uses mini-games and plenaries about metals to teach the skills for Quality of Written Communication:
analyse a question for its meaning
identify the key points in a good answer
organize the points logically
check the answer (including spelling, punctuation and grammar)
'Reasoner' uses the context of banning sun beds to teach students how to:
identify conflicting evidence and weaknesses in data.
decide how well evidence supports a claim or hypothesis.
suggest further tests to strengthen the conclusion
15 'Applications'
These lessons teach the new content in the specifications and will make even 'difficult and dull' topics fascinating. They challenge students to apply their understanding, using skills taught in the Tools, just as the new exams will. Naturally, these applications are completely different for the specifications supported: AQA A, OCR B and Edexcel.
Examples:
'U-Values' (AQA) uses the context of building a survival shelter to:
teach new content about insulating properties of materials
hone the skill of graph interpretation, using the 'Analyser' Tool
'Accepting Darwin' (Edexcel) uses the context of breaking Olympic records to:
teach new content about genetic and bacterial evidence for natural selection
practise the skills of critically questioning evidence, using the 'Interrogator' Tool
'Problems with oil' (OCR) uses the context of technology for cleaning up spills, to:
teach new content about the environmental issues of extracting oil and increasing demand
practise the skills of taking different perspectives for technology decisions, using the 'Decision maker' Tool
30 'Assessments'
These are exam-style questions. There's one with each Tool and Application. They are perfect for assessment for learning because the marking guides use typical student responses to provide clear feedback on performance.
We're raising the bar to give you outstanding lesson materials. All our resources go through several stages of classroom testing, so they are easier than ever to use. You can just download and go.
Sign up to the list to make sure you receive samples and special offers.