My UPD8
You need to login before you download the free activities. You can register here.
Crucial Essentials Offer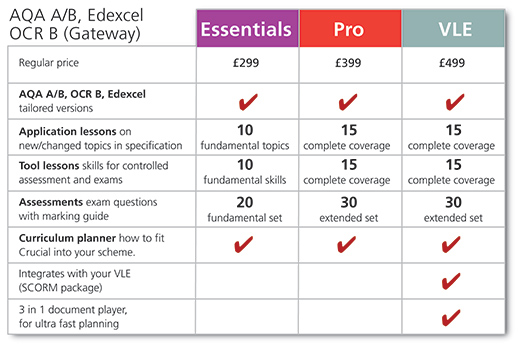 Need to persuade someone?
Download a 1 page letter for Heads of Science or Head Teachers. It describes the implications of GCSE assessment changes for C/D students, and how Crucial's systematic approach to developing skills, prepares students for success.
The Essentials edition
This edition contains
10 Tools lessons to teach fundamental skills for success in new GCSE assessment
10 Applications to teach new content statements in your specification.
The Pro edition
This contains all the lessons and exam questions you need to prepare students for the changes in assessment and content. Each lesson consists of a PowerPoint presentation, with Student Sheets and a Teacher's Guide – all customisable.
Twenty First Century & WJEC versions
These two versions contain 15 Tools designed to teach the underlying skills for the written papers and for the new style controlled assessments:
case studies and practical data analysis, for Twenty First Century
3 exercises – research skills, practical work, and experimental techniques, for WJEC A.
Each lesson is set within a subject context from the new specification. Exam questions are based on the Awarding Body's criteria. See details of the VLE edition below.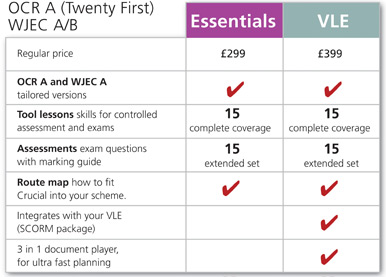 The VLE edition
The VLE has the same content but is designed so you can use Crucial effectively for online, home and blended learning. We give you all the SCORM files, so you can embed Crucial into your Virtual Learning Environment, such as Moodle.
The VLE edition also contains a Flash lesson planner and player. This combines the presentation, student sheets and teachers notes into 1 interface, so you can see all the material together, at a glance. The navigation system also makes playing the lesson and accessing online links more efficient – see screenshot below.
Special Schools Offer
As a Special School, you can purchase Crucial Pro at the reduced price of £199. You need to be able to verify your status.
How will you access the units?
You will receive an invoice by email or post, according to your choice on the order form. On receipt of payment we send login details to the lead teacher so that you can download the lesson materials, once published. However, if the payment is likely to be delayed through the school system, we are happy to accept faxed authorisation from the Headteacher/Bursar that the payment will be made. Fax the authorization to 01707 266532. On receipt of your payment or fax authorisation we email the lead teacher the login details and instructions on how to access the upd8 download area. Read the terms and conditions here.
Do you need to contact us?
For order enquiries, email: [email protected]