My UPD8
You need to login before you download the free activities. You can register here.
Solar roadways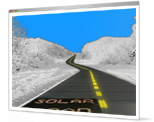 Type: Activity
Learning Strategy: Case study
Topic: Light
These revolutionary roads, claim the developers, will remain snow-free, and, at the click of a switch, can be transformed into car parks or even sports pitches. In this activity students consider whether solar roadways are worth funding. They critique claims using reasoning and evidence, and apply what they know about generating electricity in solar cells, to make a decision.

The Solar roadways activity comes from ENGAGE, the EU-wide project from the upd8 team.
Visit the ENGAGE website to download the materials.
Published: 25th November 2014
Reviews & Comments: 0
Try the activity
You will need Acrobat Reader installed to open the activity sheets.
Reviews & Comments
Write your online review to share your feedback and classroom tips with other teachers. How well does it work, how engaging is it, how did you use it, and how could it be improved?


200 lessons and assessments from as little as £4.95
Related Activities
Physics / Energy transfer
Physics / Light
Difficult & Dull / Waves
Ideas about Science / Interpreting evidence
Learning Strategy / Case study