My UPD8
You need to login before you download the free activities. You can register here.
Is it terminal for Teflon?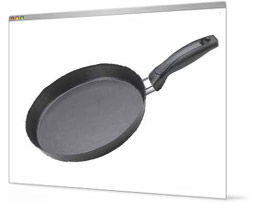 Type: Activity
Learning Strategy: Case study
Topic: Polymers
This week, we have a new departure for upd8 - an activity designed as a preliminary activity for coursework such as the Twenty First Century Science Case Study. Please use the Comments box to tell us what you think!

According to a recent scientific report, the chemical PFOA (perflurooctanoic acid), which is used in Teflon manufacture, could increase the risk of allergies. In this activity students examine some of the evidence surrounding PFOA and consider a range of viewpoints. You can run the activity as a 'standalone' or as an introduction to researching the issue in more depth and writing a case study or report for coursework.
14-16 How Science Works:
14 – 16 How science works:
Practical and enquiry skills
2d evaluate [methods of collection of] data and consider their validity and reliability as evidence

Published: 2nd July 2007
Reviews & Comments: 10
Learning objectives
Students will:
• understand about the scientific controversy surrounding the chemical PFOA
• critically evaluate evidence gathered from a wide variety of sources before presenting their own views about the issue
• be able to critically discuss and present their ideas about a scientific controversy

Try the activity
You will need Acrobat Reader installed to open the activity sheets.
Curriculum link
14 – 16 Chemical and material behaviour
6c new materials are made from natural resources by chemical reactions
Please see downloadable teachers notes for details of individual GCSE specifications.
Running the activity
Display page 1 then quickly introduce the scientific controversy surrounding PFOA and Teflon. Explain that PFOA is used to manufacture non-stick plastics like Teflon and that PFOA can also detected in the environment. You may wish to display items which contain Teflon – or even fry up bacon and eggs in a non-stick frying pan and ask them what the dangers are… (CARE – risk assessment required)!

Get students into groups and display page 2. Ask students to select the opinion they most agree with now, before seeing more evidence. Go through the card sort activity instructions.

Give each group a copy of page 3 and a set of cards made from pages 4 and 5. Get students to read each evidence card carefully before discussing it and deciding which pile to place it in. You may wish to further consolidate understanding by asking questions e.g. What is the controversy about? Where is PFOA used? Where is PFOA found? What is the link between PFOA and Teflon? Which piece of evidence would you trust the most? The least? Which pieces of evidence are likely to be more reliable, more accurate, have more bias? etc.

Finally, give students a copy of page 6 which allows them to state the character from page 2 that they most agree with, along with one piece of evidence to support the point of view, as well as the character they most disagree with.

You could ask some students to feedback their answers to the class or even get students with opposing views together in order to argue their point of view. You may also wish students to consider whether their final viewpoint has changed after completing the activity.

Differentiation – select only a few evidence cards for students to sort.

Reviews & Comments
Write your online review to share your feedback and classroom tips with other teachers. How well does it work, how engaging is it, how did you use it, and how could it be improved?
Designer Materials
Mar 26th, 2009

I used this with a top set year 10 class and they enjoyed it - it opened up an area for group discussions that was thoroughly enjoyed by my pupils.
Reviewer: Melissa Baines

Although not exhaustive in addressing the diverse curricula in the UK, UPD8 is a refreshing resource for teachers who want to extend pupils beyond a mundane syllabus or scheme of work. It is practical, trendy and relevant to students. Thus generating for lower ability pupils interesting alternatives to skills they would find it hard tio master in the lab.
Reviewer: andrew timberlake

great idea gets the students to realise the impact of hidden chemicals
Reviewer: julie ramsey
Is it terminal for Teflon?
May 13th, 2008

Eggs and bacon. What a multi-sensory starter!
Got me a job at a great school. Thanks for the lesson team upd8!
Reviewer: john eyre
Is it terminal for Teflon? review
Nov 5th, 2007

Very useful exercise for showing 'How science works' and related to AQA core 'C1b'.
Reviewer: Julian McDonnell

I found the activity very useful and motivating. I'm even planning to run a similar one with a different topic. THANKS!!!
Reviewer: Elida Raña
Is it terminal for Teflon?
Jul 11th, 2007

Tried this activity with a less able year 9 set. They really enjoyed it and raised some really interesting points. They were able to make links with another topic we had been looking at the previous week. Thank you!
Reviewer: Jo Christopher
Is It Terminal For Teflon
Jul 10th, 2007

Excellent content and easily adapted for various ability ranges. Appropriate for our needs at KS4 with the Ed Excel 360 coursework. Good activity for provoking debate. Addresses current health issues. A very useful activity.
Reviewer: philip prill
Is Teflon terminal?
Jul 9th, 2007

I wish i had this resource earlier in the year! I wil certainly trial it in September, it looks like it will meet the needs of my year 10 studying 21st Century science - Thank You.
Ann Plumpton
Reviewer: ann plumpton
Is it terminal for teflon
Jul 8th, 2007

What an excellent activity. It can be used at all levels of abilities, making differentiation automatic.
I like the cards of evidence and facts. This is a great activity for teaching pupils about arguments and debates- can be used even if the topic is not being taught.
Thank you!
Reviewer: Samia El-Ali


200 lessons and assessments from as little as £4.95
Related Activities
Chemistry / Polymers
How Science Works / Evaluation
AQA / C1b Oils, Earth & atmosphere
Gateway / C1 Carbon chemistry
21st Century / C2 Material choices
Learning Strategy / Case study