My UPD8
You need to login before you download the free activities. You can register here.
Art Attack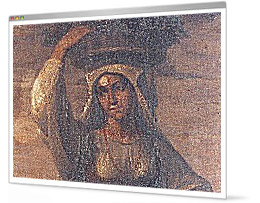 Type: Activity
Learning Strategy: Case study
Topic: Feeding relationships
Tiny vandals – bacteria, fungi and insects - are destroying documents and works of art all over the world. Scientists are fighting back by developing new ways of identifying and destroying the culprits. This 20 minute activity gets students to learn about different extermination techniques and respond to FAQ'S about pest control in museums and art galleries.
Published: 21st April 2005
Reviews & Comments: 2
Learning objectives
Students will analyse data and determine the best way to eliminate populations of bacteria, fungi and insects.
Try the activity
Please login to download activities
Curriculum link
Microbes and disease [QCA 8c] – bacteria and fungi are micro organisms.
Running the activity
Page 1 sets the scene and puts students in charge of the BugBuster.com help desk. They need to respond to FAQ's about pest control in museums and art galleries. The information they need is on page 3 and there is a template on page 2 where they can record their decisions.

Suggested solutions:

Q HELP - Termites are destroying historic documents in the Kenyan national museum. What is the best way to save them?
A Fumigate with Vikane to poison the termites. Don't allow humans to come into contact with the poison.

Q Wood boring beetles are turning this famous Venezuelan statue to sawdust. How can I stop this vicious attack?
A Inject the statue with bacteria. They will infect the larvae and produce a toxin that kills them. Different species of beetle larvae are attacked by different bacteria, so you must identify them accurately. You may need to sequence their DNA to check.

Q Something is ruining my paintings. Suffocation doesn't work in the humid Brazilian climate. What else can I do?
A Cook the pests by heating the artwork. This kills insects, bacteria and fungi but it is risky. You could damage the paint.

Q That known museum wrecker - the black carpet beetle is destroying important documents. What can we do to eradicate it?
A Use suffocation – it will not damage the documents.

Q A fungus has made grey and black stains on one of our 19th century drawings. How can we stop this infestation spreading?
A Cook the pests by heating the artwork. It's a cheap method and the drawings will not be damaged.

Q Bacteria are eating away at the carved stone blocks of our ancient Mexican ruins. How can we kill them? A Fumigate the stone with poison. The stone can't easily be put in a container, so you can't cook or suffocate the bacteria.


Web links
News links
Comprehensive article describing issues, treatments and the beetle larvae infection of the Venezuelan statue in particular.
Lots of fun information about microbes.
Lots of fun information about microbes.
Reviews & Comments
Write your online review to share your feedback and classroom tips with other teachers. How well does it work, how engaging is it, how did you use it, and how could it be improved?
Art Attack review
Mar 11th, 2008

This activity was carried out with a top set year 8. Pupils enjoyed working together to find a solution for each problem. I would use this activity again.
Reviewer: sue kennedy
Art attack
Jul 10th, 2007

I used this with my bottom set year 8 the week after our arts week. (Our school is an arts college.) I used it to fill in a gap after doing a hand washing practical with the class that they missed out on during the diet and disease unit due to problems in the prep room.
The activity worked very well and they enjoyed it. It was simple enough for them to grasp what to do and they worked very well. The timing was fine and we finished off by thinking where else microbes and bugs may be a problem in the home and they were inspired!
My only criticism is that because of the colours used on the student worksheet, photocopying on black and white made reading some of the text difficult.
Reviewer: Caroline Knight


200 lessons and assessments from as little as £4.95
Related Activities
QCA / 8C Microbes & disease
Biology / Feeding relationships
Learning Strategy / Case study