My UPD8
You need to login before you download the free activities. You can register here.
In the limelight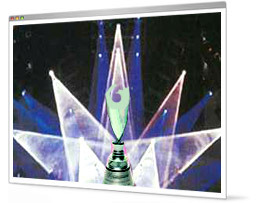 Type: Activity
Learning Strategy: Case study
Topic: Light
Students become lighting experts, who are designing a set for the 'The International Music Awards.' It is based on the real work of the British design agency Universal Everything for the MTV awards show. This activity looks at practical applications of colour mixing and shows students various career routes in the industry.

Get involved: Bespoke STEM careers CPD workshops are available in school – please contact the STEM Careers project at: [email protected]
Published: 14th April 2010
Reviews & Comments: 1
Learning objectives
Students:
- practice using ideas about energy transfer in context
- understand how colours add together.
Try the activity
You will need Acrobat Reader installed to open the activity sheets.
Curriculum link
KS3 National Curriculum
Key Processes: Communication
2.3 (a) Use appropriate methods, including ICT, to communicate scientific information and contribute to presentations and discussions about scientific issues.
Range and content
3.1 Energy, electricity and forces
(a) (light) energy can be transferred usefully, stored, or dissipated, but cannot be created or destroyed
Running the activity
Approach:
Teacher led colour mixing demonstration. Pupils are challenged to re-apply their knowledge of colour mixing and heat transfer in liquids in a new context.

Context:
Pupils take the role of technical support for stage lighting at an International Music Award Show. They are asked a number of questions by James in charge of stage direction.

Introducing the task
Pupils are given pages 1 and 2 of the activity.
It would be good at this stage to set things in context, to show the online streamed video from Universal Everything.

Following viewing the clip pupils discuss the task in hand with their teacher.
There are two routes to investigating colour mixing. [Allow 20-30 minutes for either teacher led demonstration or pupil investigation].
· Pupils investigate colour mixing using light boxes and coloured filters in pairs or small groups.

· The activity also offers the opportunity for a teacher led demonstration. Excellent guidance on all aspects of running such a demonstration is offered on the Nuffield Foundations Practical Physics website

As part of the teacher demo or their own investigations pupils work through the activities on pages 3 and 4 related to colour mixing.

Pages 5 and 6 offer a separate activity that can be used as an assessment of learning activity in pupils reapplying their knowledge of heat transfer to a glitter tower scenario. The glitter tower works on the same principles of a lava lamp.

Web links
News links
This describes Kate's work in a theatre.
Do a search for lighting designer - you get 2 job families: Lighting Technician and Set Designer - both have links to other associated careers.
Media links
Watch the clip to find out how much he earns and how he got to be a lighting designer.
Watch the clip to find out about this career.
Reviews & Comments
Write your online review to share your feedback and classroom tips with other teachers. How well does it work, how engaging is it, how did you use it, and how could it be improved?
In the limelight review
Sep 8th, 2015

You have good resources and interesting activities on upd8. It would be better if youcan include more of them.
Reviewer: Arunthathi Ajith


200 lessons and assessments from as little as £4.95
Related Activities
Ideas about Science / Communicating science
Ideas about Science / Doing enquiry
QCA / 8K Light
Physics / Light
Learning Strategy / Case study