My UPD8
You need to login before you download the free activities. You can register here.
Javelin jeopardy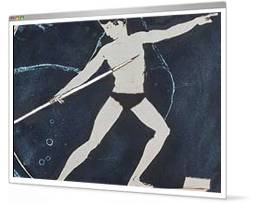 Type: Activity
Learning Strategy: Practical work
Topic: Pressure & moments
Olympic records get better and better, but javelin throwers were getting so good they were in danger of stabbing a spectator or skewering a steeplechaser! Students examine moments and centre of mass to find out why the javelin world record of 1986 was less than that set two years earlier.

They then use paper darts and paperclips to see for themselves how the centre of mass affects flight paths. This activity has been produced in collaboration with the Institute of Physics to coincide with its schools' lecture 'Sport vs. Physics', which examines the role of physics in sport. Linked to the national curriculum and aimed at 11 - 16 year olds, this hour-long lecture examines the science and technology of various Olympic events.
Published: 5th January 2005
Reviews & Comments: 14
Learning objectives
Pupils will learn to predict the direction of the turning effect of a pair of forces.
Try the activity
You will need Acrobat Reader installed to open the activity sheets.
Curriculum link
11 - 14 (KS3)
Pressure and moments QCA 9L - forces can make objects turn about a pivot; the turning effect of a force is called its moment.
Running the activity
Timing: 10 - 15 minutes without the practical investigation; a whole lesson if students do the investigation.

Suggested starter: Show students page 1 - either projected or as an OHP transparency. Ask them to suggest reasons for the sudden decrease in the javelin world record in the mid 1980s.

Main activity: Show students pages 2 and 3. These pages explain why the javelin design had to change. Diagrams and words show why - in terms of moments and centre of mass - the new javelin doesn't travel so far. They also show why the new javelin sticks in the ground at the end of nearly every throw, so fewer throws are disqualified.

Then give each group of students a copy of page 4. This includes a quick experiment using a ruler and a small piece of plasticine - students see how the centre of mass moves towards one end of the ruler (the 'tip of the javelin') when mass is added there. There is also a quick matching exercise - force diagrams show that the centre of mass of a new javelin is nearer to the tip than is the centre of mass of an old javelin.

Page 5 gives instructions for a mini investigation - students make and throw paper darts to model javelin flight paths. They move a paper clip on the dart to change the position of the centre of mass.

Possible plenary: Students use their posters to report on their investigation results. Focus on how the centre of mass affects flight path, and how they made their investigations fair and reliable.
Web links
News links
For information on the IoP lectures, see:
Reviews & Comments
Write your online review to share your feedback and classroom tips with other teachers. How well does it work, how engaging is it, how did you use it, and how could it be improved?
olympics linked science
Mar 21st, 2013

a good ready to use with minimal prep lesson which appealed to all abilities
Reviewer: kathryn bye
KS3 Physics
May 13th, 2012

was easy and simple to use as a non-physicist.
Extremely useful!

Thanks for designing a wonderful resource!!!
Reviewer: Thomas Shorrock
Javelin jeopardy
May 28th, 2010

Really useful activity. Used it for an interview lesson with year 9 and it went down really well. The pupils understood the concept and enjoyed the real life aspect.
The practical section was fun and accessible to even the lowest ability students in the group
Reviewer: Jessica Wright

This activity went down very well with my Year 9 group. They are a very kinaesthetic group so being able to practically apply their knowledge worked really well with them - Just make sure you have good control before you let the planes fly!! Also the poster plenary task can be more useful if you make it more directed towards a particular purpose. e.g. a literacy linked task to 'explain' an aspect of the investigation. Overall, superb!
Reviewer: Joanna Leonard
Javelin jeopardy review
Sep 5th, 2009

Interesting activity. I used it with middle ability yr 9 and they really enjoyed it, especially the boys.
Reviewer: Ursula Miles
Javelin activity
Jun 8th, 2009

Used this for an interview and got great feedback. Low ability group all understood concept of moments by end of lesson
Reviewer: Jessica Wright
sounds good
Jul 22nd, 2008

unable to download
Reviewer: Gerald Rea
Javelin Jeopardy
Oct 15th, 2007

All students were actively engaged and the topic brought a reasonbly dull topic to life. All students now have a good idea about what moments are.
Reviewer: Iain Hickman
Javelin jeopardy
Jun 15th, 2007

pupils enjoyed it and were easy to keep on task. However in the expt it was difficult to keep launch force on plane the same, so it was suggested that a launch system was needed as the only other way was to keep throwing the planes as hard as possible which was very much enjoyed. Generally very well received in all with some useful scientific ideas brought up.
Tauseef Khan St Andrews Leatherhead
Reviewer: t khan
Javelin Jeopardy
Dec 20th, 2005

I am in the middle of planning a unit of work on the Commonwealth Games for next February. This activity will fit in well. Thankyou
Reviewer: Maureen Trotter
Javelin Jeopardy
Nov 26th, 2005

I used this with a class of accelerated year 8's; working at level 6/7. They loved it - we extended it to compare different plane designs as well as centre of mass. I had a great time teaching it, made for very interesting and accurate discussions about what and why; forces, moments etc.

I used it as an enquiry lesson following a test on forces; they hadn't done too well on the moments question. I think the activities helped reenforce the ideas about the topic, next year I'll use it before the test as it really helped understanding!

Makes a challenging concept (moments other than those in seesaws) more accessable through a relevant, fun practical activity. Thanks for an excellent activity.

Alex Flynn, Wildern School
Reviewer: Alex Flynn
Javelin jeopardy review
Oct 7th, 2005

Excellent. I used this with a year 9 all boys group with challenging behaviour and they were superb. It held their attention for the whole lesson and they made some valid conclusions at the end. Behaviour was good and they all used their brains without realising it!!!

I will use this with a lower group next week and hope for similary results with some small modifications.
Reviewer: Gillian Fox
Javelin's in Jeopardy UPD8 activity
Jun 19th, 2005

This is an excellent investigation activity with a great context with the pupils getting alot out of this lesson. I used this activity with both my High and Low ability Y9 sets the same week. I had to differentiate the opening tasks but the investigation was differentiated by outcome. They really enjoyed modelling the javelin to consider the dynamics of how it worked and actually see how a sporting problem was solved and then being able to see the effects on the world record data.

I used it in the Forces topic to teach moments, which is always a difficult concept to teach. I projected the stimulus sheet and had a discussion about the data. I challenged pupils to see if they could explain the drop in the world record. They had a number of good ideas about this. The dynamic modelling exercise really helped them to understand exactly how a javelin works in flight and how moments are involved.

The class carried out the investigation using paper planes during the rest of the lesson and generated some very interesting results which backed up the evidenc ethat they had already considered.

Many thanks UPD8 for this excellent activity!!

Richard Waller, Comberton Village College, Cambridge
Reviewer: Richard Waller
javelin jeopardy
Jan 28th, 2005

i used the first sheets as a starter activity using a data projector. as it was initially published to coincide with the olympics, it was topical and engaging. the first concepts made the middle set y9 think and analyse information. there were kinaesthetic activities built into the starter which also helped the students to envisage the ideas being discussed.
moments are a difficult concept for some students and this definitely helped them to "get" the basics.
the timing was ideal too as we had just done the SATs exams and this was used as a teacher assessment for Sc1 skills. we all went outside and played with paper airplanes in the summer sun,
students didn't even know they were working!
Reviewer: margaret jordan


200 lessons and assessments from as little as £4.95
Related Activities
Physics / Pressure & moments
Difficult & Dull / Pressure & Moments
QCA / 9L Pressure & moments
Ideas about Science / Doing enquiry
Learning Strategy / Practical work