My UPD8
You need to login before you download the free activities. You can register here.
Food for Thought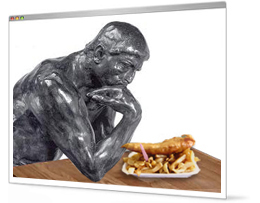 Type: Activity
Learning Strategy: Communication
Topic: Human impacts
Customers increasingly demand food that has been produced with minimal damage to the environment. In this activity, students work out how to make a fish and chip shop as environmentally friendly as possibly. They then highlight their decisions in an online advertisement for the takeaway shop.

This is a Climate Futures activity
Published: 21st May 2008
Reviews & Comments: 2
Learning objectives
Personal Capability Objectives:
Creativity – coming up with novel solutions to problems
Communication – to justify opinions.
Science Objectives:
To use scientific information and ideas to inform discussion and decisions.

Try the activity
Please login to download activities
Curriculum link
Ages 11-14
KS3 Science National Curriculum (from September 2008)
Key concepts: Applications and implications of science
1.2a – Exploring how the creative application of scientific ideas can bring about technological developments and consequent changes in the way people think and behave.
Key processes: Communication
2.3a – Use appropriate methods to communicate scientific information and contribute to presentations and discussions about scientific issues.
Range and content
3.4c – Human activity and natural processes can lead to changes in the environment.
Running the activity
Introducing the Task
• Use page 1 to introduce the context. Get students' immediate reactions about how to make the takeaway shop as 'green' as possible
• Display page 2, and tell students they will be making decisions about the issues listed in the left column of the table. Give each small group a copy of this page.
• Give each small group copies of the planning cards cut from pages 3 and 4. Students use these to make decisions about the issues in the table on page 2. They then fill in the empty boxes – in pencil – on page 2. Display page 5 whilst students are working on this task.
• Next, display page 6. Groups use this to give themselves an 'eco-friendly' score. They look back over the planning cards and – if they wish – make changes to their decisions recorded in the table on page 2.
• Give each group – or individual – a copy of page 7. Get students to write an advert for the fish and chip shop, highlighting its eco-friendly attributes.

Reviewing the Task
• Discuss with the students how they formed and then justified their opinions during the task. Ask for instances where scientific information and ideas were used to inform the discussion and decisions.
• Get students to review the task using the assessment for learning Smart Grid.

Dilemmas
The dilemmas sheet (page 8) could be used as a basis for discussion about situations where individuals or organisations have to make decisions and possibly compromises about environmental issues. Individual 'dilemmas' could be allocated firstly to pairs, then to teams of 4 to 6 and then fed back to the whole class. The class could be encouraged to set up a dilemmas board to extend those shown on the sheet. Students would add additional dilemmas and their suggested responses.

Make a Difference
The task is completed by a making a difference activity that gives pupils a focus as to where and how they can explore things further. The make a difference activity is in effect a stimulus to further extended work and proactive involvement in engaging with the issues of climate change.

Web links
News links
Provides lots of very useful background information on eating sustainably.
Lists accredited sources of sustainable fish
Lists 'at risk' fish species that it would like consumers to stop buying
This web site suggests how schools can grow vegetables
Reviews & Comments
Write your online review to share your feedback and classroom tips with other teachers. How well does it work, how engaging is it, how did you use it, and how could it be improved?

Awesome activities!!! Love them!
Reviewer: Nadia Serú
Food for Thought review
Jul 10th, 2009

I used this to plan a lesson for an Ofsted observation. The pupils responded amazingly and I got great feedback from Osted.
Reviewer: kate follett


200 lessons and assessments from as little as £4.95
Related Activities
Ideas about Science / Communicating science
Biology / Human impacts
Earth Science / Atmosphere & climate change
Learning Strategy / Communication