My UPD8
You need to login before you download the free activities. You can register here.
Green cars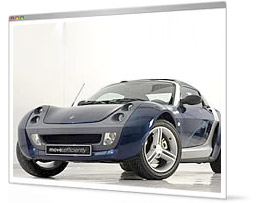 Type: Activity
Learning Strategy: Communication
Topic: Magnetism
Electric cars have a lot going for them. They're clean, silent and pollution free. But are they any fun to drive. Brad Pitt and Cameron Diaz certainly think so, and they aren't the only ones. Electric cars are getting a makeover. The latest models are fast, cool and convenient. In this activity, students consider their benefits and work out how they operate.

Published: 12th May 2005
Reviews & Comments: 6

Learning objectives
Students explain how electric cars work and describe the benefits they bring to cities.
Try the activity
You will need Acrobat Reader installed to open the activity sheets.
Curriculum link
Magnets and electromagnets [QCA 8J]
• that wires carrying an electric current produce a magnetic field.
• that the current in a coil produces a magnetic field pattern
similar to that of a bar magnet.
• that the strength of an electromagnet is increased by
the presence of an iron core.
Running the activity
The first two pages are designed to be projected. Page 1 showcases fast, well designed and convenient electric cars, and the stars that drive them. Page 2 highlights the environmental benefits they bring to city streets, and sets the task. Individuals or small groups will need copies of page 3 which is a collection of facts about how electric cars operate. They need to pick out details to include in a 60 second voice-over for a video to promote electric car ownership.
Web links
News links
An excellent summary of the issues surrounding electric car development.
A close-up photographic tour of the inside of an electric motor.
An interactive on-line booklet about electric motors and how they work with text, questions and interactive pictures.
Reviews & Comments
Write your online review to share your feedback and classroom tips with other teachers. How well does it work, how engaging is it, how did you use it, and how could it be improved?
Green cars review
Jan 13th, 2013

could not get the worksheets to download
Reviewer: alison moss
pump wars - fuels of the future
Nov 18th, 2007

A great way to show them how they wil be influencing various fuel types in the future
Reviewer: Shaz Shaikh
Green Cars
Jun 17th, 2005

Thanks, this created a lot of interest in Y8 and coincided with an advert on TV.
E Coker
Caistor Yarborough School
Lincs.
Reviewer: Elaine Coker
green cars
May 24th, 2005

This generated lots of discussion, but my y9 set didn't spot the problem of how the electricity is generated.
Reviewer: Sue Whelan
green cars
May 22nd, 2005

I enjoyed using the electromagnets resources/green cars with my top year 8 group.... and my GCSE modular year 10 group.

I did of course try to get them to think where did the power come from to charge the electric cars.... it is not the answer forburning less fossil fuels globally.....while the electricity is still made from gas!

Thanks

Richard Sharp
Swanlea School
Tower Hamlets
Reviewer: Richard Sharo
Green cars review
May 20th, 2005

Yours resourses have given me lots of ideas to complete gap period after SAT`s with my year 9`s
thank you
jamila sarwar
Chorlton High School
Manchester
Reviewer: jamila sarwar


200 lessons and assessments from as little as £4.95
Related Activities
Ideas about Science / Communicating science
QCA / 8J Magnets & electromagnets
Difficult & Dull / Electricity & Magnetism
Physics / Magnetism
Learning Strategy / Communication