My UPD8
You need to login before you download the free activities. You can register here.
The future in your genes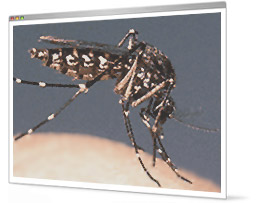 Type: Activity
Learning Strategy: Communication
Topic: Genetic engineering
Science changes fast in this area! We are developing a new activity for this context, as part of upd8 Crucial. Find out more. The original activity is no longer available.

Scientists have discovered genes linked to some of Britain's most common diseases. The implications of the research, funded by the Wellcome Trust, could be far-reaching. Through pitching for a slot on a TV news programme, students examine the benefits of knowing this information.
14-16 How Science Works:
How science works
Applications and implications of science
4a The use of contemporary scientific and technological developments
and their benefits, [drawbacks and risks].

Published: 14th June 2007
Reviews & Comments: 6

Learning objectives
Students will consider the benefits, drawbacks and risks of using GM mosquitoes and social, economic and environmental issues associated with this new technological development.


Try the activity
You will need Acrobat Reader installed to open the activity sheets.
Curriculum link
Organisms and health
c the ways in which organisms function are related to the genes in their cells
GCSE specifications
AQA Biology 1b: Evolution and Environment
Make informed judgments about the economic, social and ethical issues concerning cloning and genetic engineering, including GM crops.
Gateway MODULE B3: LIVING AND GROWING
Explain some potential advantages and risks of genetic engineering and selective breeding.
21st Century Science MODULE B7: FURTHER BIOLOGY
Understand that there are economic, social and ethical implications for the release of genetically modified organisms
Running the activity
Display page 1, to introduce the topic. Page 2, is a simple description of the mosquito's life-cycle and prompts students to consider how the cycle could be broken. Page 3 summarises possible ways of reducing mosquito numbers and asks what they have in common. The obvious answer is that they all involve genetic engineering. But students could also point out that none have been tested outside the lab. Page 4 presents some potential benefits and uncertainties associated with the technology and prompts students to prepare their role plays.

Reviews & Comments
Write your online review to share your feedback and classroom tips with other teachers. How well does it work, how engaging is it, how did you use it, and how could it be improved?

excellent!!
Reviewer: Hardial Singh Matharu

A great ethical discussion...
Also helped them understand the impacts of all living organisms on enviroments, control of species considered pests etc.
Great activity
Reviewer: Marianne Fernandes
The future in your genes review
Jan 20th, 2009

Some students didn't understand what a sketch was (they thought they had to draw something) until it was explained in context of sketch shows.

Discussing how adult education might occur in developing countries with low levels of literacy also helped students to think about what might be required.
Reviewer: Richard Joinson
The future in your genes review
Jun 8th, 2008

gdgdggdgddgdg
Reviewer: komal patel
Mosquitoes Vs Malaria
May 14th, 2008

The information was very interesting and it enagaed the pupils. Some of the pupils found the role play a little difficult.
Reviewer: Charlene Gayle

It was fantastic. Used it for my lesson when I was being observed. Got an outstanding
Reviewer: kannath ashton


200 lessons and assessments from as little as £4.95
Related Activities
Hot Topics / Genetics
How Science Works / Uncertainty & community
AQA / Science in society
21st Century / Making decisions
Learning Strategy / Communication