My UPD8
You need to login before you download the free activities. You can register here.
Perfect Pumpkins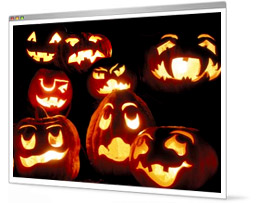 Type: Activity
Learning Strategy: Interactive teaching
Topic: Variation
It's Halloween, and time to get carving those pumpkins! Pumpkins come in dazzling variety and with a long and illustrious history. In this activity, students consider pumpkin characteristics and why they matter, as well as the causes of variation. They then use selective breeding principles to work out how to develop new pumpkin varieties, and tell supermarket managers why the process is not instant!

11 – 14 Variation; inheritance and selection

Published: 12th October 2005
Reviews & Comments: 25
Learning objectives
Students will:
· Identify the importance of pumpkin characteristics
· Identify the causes of variation in pumpkins
· Describe how to create a new pumpkin variety by selective breeding

Try the activity
You will need Acrobat Reader installed to open the activity sheets.
Curriculum link
7d Variation and classification
· Individual members of a species differ in many ways
· Some variations are inherited
· Environmental differences also cause variation within species
9a Inheritance and selection
· Cells have nuclei which contain information that is transferred from one generation to the next
· During fertilisation genetic information from male and female parents is combined
· Some characteristics are inherited
· Variations can arise from environmental differences
· The process of selective breeding, and how it results in offspring with particular characteristics
Running the activity
Show page 1 (either projected or as an OHT), and display a pumpkin if possible. Get students to read the information on this page. Further details about the origins of Halloween are given below.

Display page 2. This gives the context and sets the task. Year 9 students can prepare talks covering both bullet points; year 7 students should only cover the first bullet point. Before asking students to plan talks, get them to complete the tasks on pages 2 and 3 (year 9) or page 2 only (year 7).

Give each group a photocopy of page 3. Ask students to discuss and fill in column 2, and to stick an appropriate pumpkin sticker in column 3.

Give each group a photocopy of page 4. Ask them to cut up the cards and arrange them in a sensible order (a, f, e, j, I, c, g, h, d, b).

Web links
News links
This link gives information and pictures about different pumpkin varieties
For information on cooking pumpkins, and using their seeds, see this website.
Reviews & Comments
Write your online review to share your feedback and classroom tips with other teachers. How well does it work, how engaging is it, how did you use it, and how could it be improved?
Selective Breeding, Plant reproduction
Jun 22nd, 2015

A nice activity, the card sort at the end was particularly useful as students often struggle with plant reproduction.
Reviewer: Natalia Anandanayagam

Used it with nearly every group in some way, even led onto some recipes! :)
Reviewer: jenny greig

An excellent & fun lesson, the pupils really enjoyed this activity !

Thanks
Reviewer: Zahid Butt
Perfect Pumpkins
Nov 17th, 2011

I used the activity just after Halloween with Year 7 to review the past few weeks work on variation. Some brought in their pumpkins from the previous night and I supplied a few exotic looking specimens. They were facinated by the history. It was a good way for them to apply their knowledge to a novel situation and really made them think about the inherited vs environmental influences.
Reviewer: Lauren Hutchings
Bears in trouble
Dec 11th, 2010

PGCE trainee converted to upd8. Used in a mixed (lower-ish) ability year 7. Added a starter activity to list as many adaptations of a polar bear as possible (pervious knowledge recap). They loved the production assistant role and I referred back to starter slide during plenary. Good group work activity that the kids really engaged with. Good old Bloom's higher order thinking skills used (reasoning, synthesising, evaluating - nice peer assessment sheets in pack) which combined previous knowledge of topic as getting to the end of the topic before breaking up. Great graphics on powerpoint, scientific content could be easily differentiated with further questioning for the higher kids. All enjoyed activity. Decided to do on table groups. When marking work I used 'peer comments' from the peer marking sheets along with my own, which adds relevance to them. Copies of sheets currently being glued into each team members book, so all have a copy. Make sure they right their group names on, otherwise a nightmare matching up. Brill resource! Thank you
Reviewer: Chrissy Passey-Wyatt
Perfect Pumpkins review
Mar 1st, 2010

A nice activity for low ability year 9. It really gave them a good idea of how selective breeding is affecting them in everyday life.
Reviewer: Ben Ebrahim
perfect pumpkins
Oct 11th, 2009

Year 9 students were fully involved in preparing a presentation to the rest of the group and seemed to really understand the process of selective breeing, using this stimulating activity.
Reviewer: karen grunwald

Very low ability group in Yr 7 but they got to grips with the basics eventually. Luckily we were able to do this at the right time of year which engaged them more easily. Would be great for an older/more able group.
Reviewer: susan humphreys
perfect pumpkins
Feb 25th, 2009

great resource perfect for approaching halloween

year 9 loved it
Reviewer: neil fisher
Inheritance and selection
Oct 13th, 2008

I used the card sort activity as part of a lesson on selective breeding with both a top set year 9 and a middle ability set. It was really useful for both sets.
Thankyou
Reviewer: Melissa Baines
Perfect Pumpkins Activity
Oct 5th, 2008

I'm going to use this activity with my year 9 group on Tuesday. They are very low ability so I will see how well they get on. I will let you know.
Reviewer: Charlie Dean
Perfect Pumpkins review
Sep 28th, 2008

Only just downloaded materials but they look interesting and stimulating. Will add a 'used' review after I have tried them with my Y9 middle ability group this week.
Reviewer: Richard Linnett

Tried this pre SATS with bottom set year 9 they found the the sequencing too complex and had to be led very carefully. i feel selective breeding maybe better modelled using animals.
Reviewer: michaela Fagelman
Adapting the activity
Jan 9th, 2007

I used this activity as a framework for a lesson on selective breeding with a SEN yr11 class. i made my own powerpoint and made the pupils 'design' a pumpkin, stating how each feature on the pumpkin could be achieved. (For example, some pupils wanted sqare pumpkins and decided they would put their pumpkin in a sqare box to grow into a sqare.) they then had to list whether they could use the enviroment to affect the changes or whether they would have to selectivly breed the feature. after drawing their pumpkin they had to present their product to me as the supermarket manager. It worked really well with these difficult children, who throughly enjoyed the activity.
Reviewer: graham young
Perfect Pumpkins
Nov 4th, 2006

I used this activity with a mixed ability year 9 group, it was ideal for Halloween week. Even the usually more disruptive pupils were engaged. Some pupils found the card sort tricky but persevered. Will definitely use this again.
Reviewer: Mairead Ulamoleka

Autumn term 2005.
I have laminated the cards onto A4 sheets( not the original plan but that is what happened!) My year 9 top set were shown different gourds and pumpkins and after discussion on selection from different people's view, they had to sort out the cards in the right order. They did this amazingly quickly.

I then used the A4 laminated sheets one per pair,with my year 11s as a starter for the topic selective breeding and they enjoyed it. I then followed it with an exam question which looked at another plant and they used the information on these sheets to answer the question.

I look forward to using them again next autumn or when ever!
Reviewer: jane warwick
perfect pumpkins
Feb 9th, 2006

but as it stands only for the MA able. I used it with Triple scientists so university potential (eventually) as a revision exercise at the end of Module 2 and they were able to cope with the scenario and the detailed sorting activity. will need differentiating for other abilities but idea excellent Spent two lessons as we listened to all the reports It helped giving them a particualr time allocation
thanks
Reviewer: jan lloyd
Practically Perfect Pumpkins
Feb 3rd, 2006

My top set year nine group really enjoyed this activity. It injected a bit of fun and relevance into a usually dry topic. I agree that the card sort is pretty tricky, but with the notes from other reviewers we got the hang of it.
Reviewer: Helen Connor
Perfect Pumpkins review
Jan 7th, 2006

I used the activity as a poster for the wall when pupils entered the lab. Now living in America, it was much more relevant than in the UK. 'Godzila' is now up, and they are enjoying that too.
Reviewer: Sarah Dolan
Perfect Pumkins
Dec 2nd, 2005

I used this with a standard grade Biology class year 4 at Halloween as it fortunately fitted in well with the timing of my course. Class attention was caught with the pumpkins and the information. They had like others a bit of a problem with the card sort but the acitivity certainly helped to get the idea of selective breeding across to them. I like the idea of giving a seasonal flavour to a topic - the only problem is that you are not always on the relevant topic at the time but I suppose you can't please everyone all of the time! Thanks and keep up the good work!
Reviewer: Jennifer Offord
Special pumpkins for special measures!
Nov 10th, 2005

I just wanted to thank you for the 'Perfect pumpkins' lesson.
My school is in Special Measures and we've had an inspection every term for the last two years. We're now on the same 'two days notice' regime as everyone else, but were lucky to be warned the day before half term that they were coming 1st and 2nd of November.
I immediately got onto your site and downloaded perfect pumkins for my top-set Y9 selective breeding lesson and rushed off to Waitrose for some exotic varieties.
My lovely, but usually quite rowdy class were absorbed from the start and really got a lot from the activity. We even used the slightly ambiguous card sort as a learning point.
So, anyway - the inspector liked it and the lesson got a 'good', (great praise in HMI language!) so thankyou for giving us ready made, interesting and unusual lessons.
(One minor suggestion would be either an extra black and white version of the activity sheets or not such dark backgrounds for those of us without interactive wizzy technology who still have to photocopy sheets or print expensive colour OHT's at home because school doesn't provide colour printing facilities!?)
Reviewer: ingrid brooke
halloween pumpkins
Nov 6th, 2005

I carried out this exercise on Halloween with a middle ability year 9 group. They grasped the idea of selective breeding but found it difficult to know where to start with the card sort - once started they got along with it well. The rest of the exercise ran smoothly and was an interesting way to cover the topic
Reviewer: Elizabeth Bowler
Perfect Pumpkins
Nov 2nd, 2005

I carried out this exercise with my Y8s, as they are studying 'Variation & Adaption' and it was Halloween. I had a real Pumpkin on show and produced the sheets for each group in colour and lminated them - wipe and clean for next time.
They found the introduction fascinating ie the potted history about Halloween.
I felt the majority of students got a great deal from this exercise and really got to grips with environmental variation and the idea of selective breeding. The card sort caused a few problems, but highlighted some interesting points, that were discussed in the plenary.
Some students addressed their ideas to the others effecitvely and follow up discussion involved recipes and the whole range of available Squashes.
This could be taken much further and I felt it was a wothwhile activity that got the learning points accross well.

Gary Elms - Weald School
Reviewer: Gary Elms
A good way to tackle selective breeding
Oct 28th, 2005

After reading the other review by Pamela, I would have to agree. I did this with a C/D GCSE group and they struggled with the card sort. The pictures from the site are a little small, however turning them into a powerpoint presentation made these more useable.
Perhaps the task they could be given is as the supermarkets product researchers, and they have to report to the manager about how they could increase the variety of pumpkins in the store.
Reviewer: Paul Andrew
A confusing mistake
Oct 25th, 2005

Selective breeding - putting the cards in order.
D. The caption states " Wait for the seeds to grow into plants". The picture shows some tomato plants, it should show the seedlings in the greenhouse.

G. The caption states " Wait for seeds to develop". The picture shows seedlings in the greenhouse, it should show some tomato plants.

Even with the correction made a low ability class found the exercise difficult. I think the idea is good but I would simplify it further next time.
Reviewer: Pamela Atherton


200 lessons and assessments from as little as £4.95
Related Activities
Biology / Variation
Biology / Inheritance of characteristics
Hot Topics / Genetics
QCA / 9A Inheritance & selection
Learning Strategy / Interactive teaching