My UPD8
You need to login before you download the free activities. You can register here.
Urine combats acid rain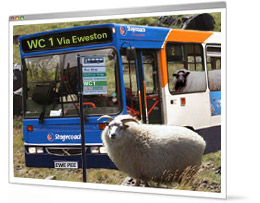 Type: Activity
Learning Strategy: Communication
Topic: Fuels
A British bus company claims to be testing a new weapon in the fight against pollution – sheep urine! A squirt of urea transforms toxic exhaust fumes to harmless steam. It sounds pretty smelly, but it seems to work. This is just as well. The EU is introducing tough new pollution limits for diesel vehicles. So, how does it work? That's what everyone wants to know. The activity gets students to prepare responses to FAQ's, and reinforces their understanding of reactions and equations.

Published: 23rd June 2005
Reviews & Comments: 7

Learning objectives
Pupils will improve their communication skills and reinforce their work on chemical reactions and equations.

Try the activity
You will need Acrobat Reader installed to open the activity sheets.
Curriculum link
9g environmental chemistry
How acid rain arises
How air pollution might be controlled
9h Using chemistry
Describe how chemical reactions are used
Represent chemical reactions by word equations
Running the activity
Page 1 introduces the topic and page 2 presents the stimulus material. Students have to answer questions about the role of urea in pollution control. Pages 3 and 4 provide the information they need to complete the task.

Background Notes

Euro IV and Euro V are standards set by the EU, to control emission of NOx, particulate matter (PM), hydrocarbons (HC) and carbon monoxide (CO) from diesel-powered vehicles. The Euro IV standard will be implemented from Oct. 2005 to Oct. 2006 and Euro V from Oct. 2008 to Oct. 2009.

The buses are using SCR (Selective Catalytic Reduction) technology. Most major heavy-duty vehicles manufacturers will use this method to meet the new emission legislation. The urea solution it depends on is already available across mainland Europe under the trade name 'AdBlue'.

Able students may have tried simple symbol equations but be warned: the reactions involved in SCR are not easy to balance. The full equations are shown on the downloadable version of the teacher's notes.

Urea can be extracted from urine, (yours or the sheep's), but it's cheaper to manufacture it. And its no good just peeing into the car's fuel tank. It only works for diesel engines fitted with specialised exhausts. Pure urea has to be injected into the hot exhaust fumes.


Web links
News links
The original story from the Guardian.
Details of the SCR technology from Nissan Australia.
A useful overview of pollution control techniques.
Reviews & Comments
Write your online review to share your feedback and classroom tips with other teachers. How well does it work, how engaging is it, how did you use it, and how could it be improved?

very good
Reviewer: chris walters
Urine combats acid rain
Apr 11th, 2009

Pupils loved the concept and were very interested. It was a very challenging activity for them, but they managed to answer the easier questions in their own words.
Reviewer: Karen Riley

used as post sats activity before starting AQA core. My group loved it, they were fascinated and did a lot of background research to back up their writing
Reviewer: Jennifer Mayer

I used this activity as the plenary following my lesson on making acid rain. We are in the middle of a space and environment week so the concepts were very relevant.

The students were fascinated by the use of sheeps urine and were all for starting their own flock! It also gave excellent extension oppoortunities with the chemistry behind the whole process.
Reviewer: jenny bashford
What real pee?
Jun 21st, 2006

Used this with my Year 10, worked really well, They especially liked the replys to the newspaper letter. A good way to review their knowledge.
Reviewer: Emma Thomas
The Day after Tomorrow
Feb 9th, 2006

I have used this with SEN year 9s and 10 and top sets, all found the activity challenging but accessible.Really great activity, a good way of making students think about the consequences of Global warming. I started with dramatising the issue with the DAT website- showing the present and future situations, this was great at reinforcing the seriousness of the issue and making it real and relevant to the kids. The kids all loved the lesson and were really keen to know and find out more for themselves.
Reviewer: Bec Hockley
Euugh I'm not touching anything to do with sheep pee
Dec 22nd, 2005

I used this activity with my top set Y9 as a homework after the 'What are the Effects of Acid Rain & How Can They Be Reduced?'lesson in the 'Environmental Chemistry' unit of work. Apart from initial reluctance to touch anything to do with sheep pee the activity really allowed me to assess whether pupils understood how acidic oxides of nitrogen are produced by vehicles and introduced pupils to a real life example of how technology is being used to combat air pollution.
Reviewer: STEVE NIXON


200 lessons and assessments from as little as £4.95
Related Activities
QCA / 9G Environmental chemistry
Chemistry / Fuels
Learning Strategy / Communication