My UPD8
You need to login before you download the free activities. You can register here.
SpaceShipOne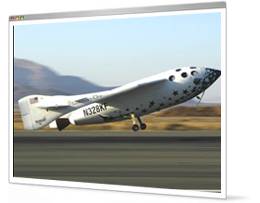 Type: Activity
Learning Strategy: Communication
Topic: Forces
SpaceShipOne blasted into space twice in two weeks. It won a massive $10 million prize. A bigger prize is still to come. The technology could kick-start a boom in space tourism.

Virgin Galactic plans to make space flights a commercial success. There is massive interest, even at £115,000 per seat. But should thrill seekers make their booking? Will the flights be safe? This discussion activity prompts pupils to consider the thrills and risks such a trip would incur.
Published: 5th January 2005
Reviews & Comments: 5
Learning objectives
Pupils should recognise the effects of unbalanced forces on the speed and direction of SpaceShipOne and be aware of the frictional forces it experiences. They should also recognise that a journey to the edge of space involves hazards and that the risks involved can be minimised by good design.
Try the activity
You will need Acrobat Reader installed to open the activity sheets.
Curriculum link
Health and Safety, QCA unit 9K
At KS3, pupils should be taught about forces and their effects.
Running the activity
Timing: starter - 5 minutes; main 20 minutes; plenary 5 minutes.

Starter activity: Project page 1, which shows an image of SpaceShipOne, and encourage students to reflect on the possibilities of space travel. Page 1 also presents the pupil tasks. They consider the excitement and the hazards at each stage of a flight and storyboard an advert to encourage ticket sales.

Main Activity: Page 2 outlines the itinerary for a flight aboard SpaceShipOne. Pupils are asked to reflect on the excitement, and potential hazards, at 6 different stages of the flight. Groups of three or four pupils could work as a team to encourage speaking and listening. They summarise their ideas by completing "Wow!" and "What if..." thought bubbles on the "flight outline", which is page 3. Page 3 could be enlarged to A3 to make this easier. Then they apply these ideas by designing a TV advert. The storyboard for the advert could be completed individually. Page 4 provides a template for this. It also has a fact sheet on SpaceShipOne's safety features, so they can judge which hazards the designers have addressed.

Plenary: The flight outlines and adverts could be displayed and pupils asked to compare other ideas with their own.
Web links
News links
A clear and easy to understand summary of the SpaceShipOne trials and of Richard Bransons vision for Virgin Galactic.
Comprehensive and lively accounts of all aspects of the SpaceShipOne story.
A very detailed timeline of the altitudes speeds and other figures for the flight.
A wealth of images.
Reviews & Comments
Write your online review to share your feedback and classroom tips with other teachers. How well does it work, how engaging is it, how did you use it, and how could it be improved?

My Year 8 students enjoyed the fact that this was about 'real' Science.
It took up about half a lesson (1 hour lesson). Most of the students decided that they would not be brave enough to take the flight!
Reviewer: Simone Lively
Misleading Physics!
Feb 7th, 2010

Nice idea.....but I have concerns about the diagram which states that after a magical point on the journey upwards, you become weightless. This surely leads to difficulties in understanding how gravity acts. For this reason, I had to ditch the lesson at last minute! Please remove this label on the diagram.
Reviewer: Dean Riley
SpaceShipOne review
May 4th, 2006

This is a great activity. I have used it with my year nines after their SATS. If you go to the Virgin Galactic website you can watch an advert for the space flights. There is also lots more information about how the space flight will work.
Reviewer: Laura Lamble
Space Ship One Review
Jun 11th, 2005

My Y10 foundation GCSE set enjoyed this activity and and learnt aalot of Physics in the process too. They really liked the idea of a trip into Space as it captured their imaginations and they enjoyed thinking about the possibilities of a Space-related holiday one day for them in the future!

The activity sheets are well presented and the title page has a great photograph on it which was extremely helpful as a lesson starter to grab their attention.

My Y10s also enjoyed making and designing an advertising story board and presenting their ideas to the class. It is a great activity to engage pupils and to improve their analysis and communication skills.

Richard Waller, Comberton Village College, Cambridge.
Reviewer: Richard Waller
SpaceShipOne review
May 26th, 2005

Great activity, which really engaged the students. I used this in a Yr 9 lesson at interview & got the job! They all did the Flight outline and I used the TV advert as extension work. The professional layout of the sheets really helps - they are of a standard that kids have come to expect from media, internet etc... which teachers just dont have the time to match!
I combined it with falling objects, the hammer & feather video on the moon and the multimedia science school animations on terminal velocity. The students loved the idea that 'anyone' (with loads of money - which was pointed out as unfair by some students!) could go up into space and seemed genuinely interested in the ideas of weightlessness & the belly flop into the atmosphere. The fact that this is what they often do to film space movies (eg Apollo 13) could be explored.
Reviewer: Jonathan Barker


200 lessons and assessments from as little as £4.95
Related Activities
Ideas about Science / Risk & safety
QCA / 9K Speeding up
Hot Topics / Space
Physics / Forces
Learning Strategy / Communication