My UPD8
You need to login before you download the free activities. You can register here.
When will women overtake men?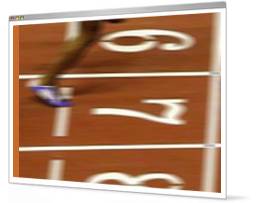 Type: Activity
Learning Strategy: Data work
Topic: Graphing motion
Men run faster than women, but will that always be the case? Athletes keep getting faster and new world records continue to be set. In the 100m sprint, men's times have dropped an average of 0.01 seconds per year, and there is no sign of any levelling off in this improvement. Women's lighter frames and lower muscle mass make their average speeds slower, but the gap between men's and women's times seems to be closing. This activity focuses on numeracy. Pupils extrapolate graphs to predict when women could outrun men and work out the speed they'll reach 50 years from now. But how certain can they be about their predictions?
Published: 23rd January 2005
Reviews & Comments: 7
Learning objectives
QCA Unit 9K
Pupils should be taught that speed can be determined by measuring distance travelled and time taken; the units in which speed is measured; how to calculate speed and how to describe trends or relationships in graphs.
Try the activity
You will need Acrobat Reader installed to open the activity sheets.
Curriculum link
Pupils will be able to calculate speeds.
Pupils will consider the extent to which extrapolation of graphs allows reliable predictions to be made.
Running the activity
Timing starter - 5 minutes; main 10 minutes; plenary 5 minutes

Suggested starter activity - Project page 1 to set the task and give pupils time to consider why modern runners can produce higher speeds than the sporting heroes of the past. This gives them a chance to discuss what they know about improvements in clothing, running shoes, track surfaces, diet and training methods. They can also articulate their response to the suggestion that women may eventually be able to run faster than men.
Main Activity: Page 2 provides graphs of record times for the 100m sprint, between 1932 and 1996, for both men and women. Pupils add results for 2004 and extrapolate the graphs to find out when their times could equalize. Perfect lines of best fit would show women overtaking men in 2050 and pupils should come up with dates between 2035 and 2050. Results from the extrapolated graphs are then used to calculate what the top sprint speeds could be 50 years from now.

Suggested plenary:
Pupils results could be compared with those from a similar study by zoologists from Oxford University, which have been widely reported in the press. The Oxford academics based their predictions on results from successive Olympic games rather than world records. They found that women could not hope to overtake men before the 2156 games. Pupils could suggest why records are not always broken in the Olympics. They could also consider the reliability of their predictions in view of the very different results obtained when similar sets of data are extrapolated.

Web links
News links
News story based on the Oxford academics predictions.
100m Sprint: Is there a limit?
A very detailed summary of all the issues surrounding the trends seen in top athletes race times.
An analysis of the importance of taking wind speeds and air density into account when deciding if a new record has been set.
Reviews & Comments
Write your online review to share your feedback and classroom tips with other teachers. How well does it work, how engaging is it, how did you use it, and how could it be improved?
9K Speeding up
Mar 9th, 2010

I showed pupils a clip of Usain Bolt breaking the record last year as an intro. This lead to a discussion on the build/height of sprinters, eventually onto the male/female debate.
Took about 25 minutes.
They were SHOCKING bad at drawing lines of best fit, but they enjoyed the activity and the discussion was great!
Reviewer: Rachel Mosses
when will women overtake men
Oct 19th, 2007

Since I teach in a selective girls school this was an excellent activity. We are currently doing the topic 'forces and movement' and found the calulation part very useful as an application of the ideas. It was also interesting to discuss the wider ideas about the biuld of men and women and use of technology in development of sports wear. a really good all round activity for a good year 9 group.
Reviewer: Gaynor Burke
when will women overtake men
Oct 19th, 2007

i used the graph as a plenary only and it was great to see them involved in this. initially they had thought that women could never overtake men, but i was pleased to see the scientific brain take over the sexist feelings and they based their opinions in the end on the evidence.
Reviewer: debra johnson
Men V. Women
Jul 11th, 2007

Very useful activity for use on 'Speeding Up' Y9. Trend analysis, and extrapolation for lower level pupils.
Reviewer: Michael Corbett

This actvity was great - I used it for a job interview where I had to teach a lesson on analysis and/or evaluation for 25 minutes to a top set Year 9 group.

It worked well and lasted the 25 minutes, with some consideration of the limitations of the data and procedure. The pupils enjoyed the lesson and it must have been good as I was offered a job!
Reviewer: Sharon Davey
When will women overtake men
Jul 6th, 2005

I did this with my lower set Year 9. It fitted in well with sports day, and with the announcement of the Olympics for 2012. It took 40 minutes for this group to do it, but it generated interesting discussion. I've passed it on to colleagues to use with the higher groups, and they seem enthusiastic.
Helen Gourlay
Camden School for Girls
Reviewer: Helen Gourlay
When will women overtake men upd8 activity review
Jun 19th, 2005

This is a nice activity.

I used it with my Y10 middle ability class who are foundation level. I was teaching our Physics Y10 Forces Module and needed something which was up to date and gave a different perspective with regards to speed calculations. I am not a physics teacher and this activity gave me plenty of confidence.

These pupils enjoyed analysiing the data and plotting their graphs. Many of them were amazed at the result they got and some even double checked the data.

It lead to a great discussion about why women sprinters are improving at such a fast rate. As you would expect it was Boys verses Girls. One up for the Girls I think!

Richard Waller, Comberton Villlage College, Cambridge.
Reviewer: Richard Waller


200 lessons and assessments from as little as £4.95
Related Activities
QCA / 9K Speeding up
Physics / Graphing motion
Ideas about Science / Data collection & analysis
Learning Strategy / Data work