My UPD8
You need to login before you download the free activities. You can register here.
Inside Easter Eggs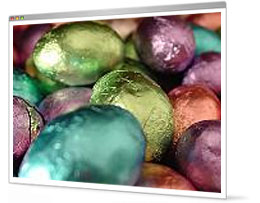 Type: Activity
Learning Strategy: Data work
Topic: Food & digestion
Chocolate Easter eggs are everywhere, but what is hidden beneath those shiny wrappings? This 20 minute activity gets students to explore the science of chocolate. Why does it make you feel good? How nutritious is it? How much would you need to eat if it was your only energy source?
Published: 9th March 2005
Reviews & Comments: 11
Learning objectives
Students will interpret nutritional data.
Try the activity
You will need Acrobat Reader installed to open the activity sheets.
Curriculum link
8A food and digestion
Identify examples of foods in which different nutrients are found.
The roles of the main nutrients in the body.
Running the activity
Students use the 'chocolate report' information on page 2 to complete a leaflet, for which there is a template on page 3. Students could be encouraged to process data for some of the fact boxes. The smallest boxed eggs contain around 100g of chocolate. The data supplied is for a typical 12 year old weighing 45 kg. Chocolate contains over 300 chemicals, and these are more concentrated in dark chocolate. Some are similar to the 'cannabinoids' found in recreational drugs and some are stimulants like caffeine.
Web links
News links
Lots of fascinating chocolate facts with a scientific bias, a 'Choccy trivia' quiz and a nice animation showing how chocolate affects brain cells to make us feel good.
NutriWizard in the 'Kitchen and Lifestyle' section will show you the nutritional value of loads of products. The 'Fun and Stuff' section is not very scientific, but good fun for the end of term if you have an interactive whiteboard!
Massive web site with all sorts of information and educational materials. There is a page about the nutritional requirements of school children under 'Nutrition through Life.'
Reviews & Comments
Write your online review to share your feedback and classroom tips with other teachers. How well does it work, how engaging is it, how did you use it, and how could it be improved?
Inside Easter Eggs review
Oct 21st, 2012

Very good
Reviewer: Sarfraz Shah
Y8 materials
May 3rd, 2011

Since it was the easter break, and finishing up materials (making easter bonnets) i included this nutritional supplement which the girls were quite enlightend by (but didn't stop any from eating more chocolate)
Reviewer: brenda goodwill

A good idea for core GCSE to get them practising how to read food labels and review foos groups.
Reviewer: Jaime Lewell
Inside Easter Eggs review
Nov 5th, 2008

Students enjoyed working
Reviewer: Diane Porter
Inside Easter Eggs
Apr 20th, 2007

Excellent activity but like Sarah said it could have done with a video about chocolate or somthing like that
Reviewer: Jordan Troops
Inside Easter Eggs review
Apr 3rd, 2007

Used this to finish food and digestion just before Easter with a high ability year 8 class. Although they enjoyed it as something different some finished within 10 minutes.
Reviewer: Alison Maslen
Easter Eggs
Feb 16th, 2007

I did this activity on Valentine's day with my year 9 group as part of the revision for the topic. They liked the idea and it worked well as a part of the lesson but you would need to add other atcivities to this if you were to do it for the whole lesson!
Reviewer: Nneka Uchea
Inside Easter Eggs review
Mar 1st, 2006

This activity engaged my year 8 set 1 as a starter activity for the food and digestion module. All students participated and due to enthusiam the activity took a lot longer than the 20 mins i planned
Reviewer: Penny Nash
Easter Eggs
Jun 11th, 2005

I used this as an end of term topic with a bottom year 7 group, while on supply. They were engaged in the activity, including some pupils who rarely put pen to paper and worked well on it. It was great for this group.
Reviewer: Tanya Dempster
Inside Easter Eggs
Apr 3rd, 2005

I used this to complete the work on food and digestion with my year 8 group. The group is composed of 8 mixed ability SEBD pupils. The one difficulty most pupils had was getting through the reading, but once this was accomplished they complete the facts sheets well and gave then to the Key Stage 2 class. The links to other sites went down very well.
Reviewer: Lesley Duckworth
Inside Easter Eggs
Mar 22nd, 2005

Information was good. Kids enjoyed the topic. Some video footage would have been a good addition.
Reviewer: Sarah Kennedy


200 lessons and assessments from as little as £4.95
Related Activities
Ideas about Science / Data collection & analysis
QCA / 8A Food & digestion
Biology / Food & digestion
Learning Strategy / Data work