My UPD8
You need to login before you download the free activities. You can register here.
Brain power booster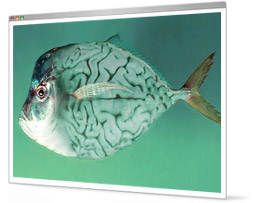 Type: Activity
Learning Strategy: Planning
Topic: Food & digestion
This activity was published in 2005 amid schools and manufacturers claiming that taking fish oil every day boosts pupils' school performance, As of 2007 there is still no valid evidence. The original study had no control and the yearly increase in results since taking the fish oil is lower than thaat before the experiment started. See the Badscience weblink for more details. Before parents and headteachers rush to stock up, we clearly need more evidence. In this activity, students plan how to get it.



Published: 7th June 2005
Reviews & Comments: 7
Learning objectives
Students will plan an investigation see whether fish oil would benefit the students in their school. They will identify the variables; decide how to measure the input variable's effect, and consider how the results can be made reliable enough to support conclusions.

Try the activity
You will need Acrobat Reader installed to open the activity sheets.
Curriculum link
Investigative Skills
• Know how evidence may be collected in contexts where variables cannot be controlled.
• Use scientific knowledge and understanding to turn ideas into a form that can be investigated.
Running the activity
Page 1 introduces the topic. Page 2 sets the first task and provides a template to structure students' responses. They need to plan an investigation to see if daily doses of fish oil, for all Year 11s, could improve the school's GCSE results.

Background Notes

Developmental coordination disorder (DCD) – sometimes known as developmental dyspraxia - affects around 5% of school age children. They show specific difficulties with motor coordination, and often have associated difficulties in learning, behaviour and social or psychological adjustment. There is speculation that nutrition could play a role in the condition. Omega-3 and omega-6 fatty acids, which are found in fish oil, are essential for brain development and function. So supplementing children's diet with these might be beneficial in some cases.

Web links
News links
Summary of the story, including the perspective of the head teacher at one of the trial schools.
Summary of the story with a slightly different focus to the BBC version.
A longer article with some useful background information, including case studies, and links.
Chemical structures of different fatty acid to show what a difference a double bond makes.
A well written explanation of the terminology surrounding fatty acids – find out what omega 3 really means.
There are still no controlled trials to show that fish oil increases school performance. This article discusses why.
Reviews & Comments
Write your online review to share your feedback and classroom tips with other teachers. How well does it work, how engaging is it, how did you use it, and how could it be improved?

great brain food
Reviewer: prishilla nalliah
monster crab invasion
Oct 12th, 2007

having only recently been introduced to upd8 "Monster Crab Invasion" is the first that i have tried. It was easy to deliver , actively engaged the pupils and clearly highlighted how feeding relationships work. A fantastic resource and allows a refreshing change in teaching methods.
Reviewer: Nick Jones
Food for thought
Dec 31st, 2006

I tried this activity with two different year 9 groups, a middle ability and a top set. They enjoyed it and had a lot to say about the fish oil, although some of them did struggle with filling in the activity sheet as the wording is different to the vocab I usually use when teaching Sc1 skills. Really gets their brains working though and I think I definitely encouraged some of them to try supplementing their diets. This activity could definitely be used for KS4 too.
Reviewer: Kim Whiddett
Year 10 was really into it!
Dec 12th, 2005

I did this activity with a mixed ability year 10 group as starter activity in pairs. The usually quite unsettled class was involved right away. Recommend that one for a bit older groups too - planning skills with regards to coursework can be practiced with this activity.

This activity influenced me to feed my sons with fish oil supplement now - much to the older one's disgust. I don't know how subjective this is, but he does seem to be able to concentrate for longer...

Really recommend this one.
Reviewer: Anita Schultschik
Brain power booster
Jul 15th, 2005

We involved the child who took fish oil at home. He described in detail his behaviour before and after receiving this treatment. This really made the year 8 class listen. They did not find the activity too easy but were motivated to complete it. I have downloaded all the activities to put into schemes of work. I haven't yet used an activity that hasn't motivated and involved a class and developed excellent discussions. These activities take the 'geek' image out of science and make it relevant to our lives. At the same time they teach wide- ranging skills that fit with the curriculum. The teaching notes are excellent and the materials are adaptable to use in a variety of ways. The excellent presentation would take a long time to achieve individually. Even useful at KS4!
Reviewer: Margaret Hughes
Very intersting upd8!
Jun 24th, 2005

I really liked the look of this upd8 and I tried it with my Year 9s. It got them thinking about the difficulties of carrying out scienticic tests. They were very interested in the bbc web links with the video recorded interviews.

My 6 year old son has been recieving a daily dose of fish oils for three months now to help him with his school work, concentration and behaviour.

His teacher and I have both noticed an improvement in him during the last few weeks. More importantly he has noticed the improvements as well! He now has quite a liking for meals containing oily fish as he says it helps him to feel more intelligent.

Luckily, he hasnt asked for kippers at breakfast time yet!

Richard Waller
Comberton Village College, Cambridge.
Reviewer: Richard Waller
Brain Booster
Jun 13th, 2005

This looks useful with judicious use of the links I think can use this with both my AS (!) Biology and Psychology groups next year and will feedback.
Reviewer: Chris Evans


200 lessons and assessments from as little as £4.95
Related Activities
Biology / Food & digestion
Hot Topics / Diet
QCA / 8A Food & digestion
Ideas about Science / Scientific methods
Learning Strategy / Planning