My UPD8
You need to login before you download the free activities. You can register here.
The future in your genes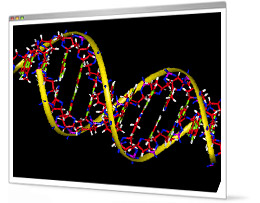 Type: Activity
Learning Strategy: Communication
Topic: Inheritance of characteristics
Scientists have discovered genes linked to some of Britain's most common diseases. The implications of the research, funded by the Wellcome Trust, could be far-reaching. Through pitching for a slot on a TV news programme, students examine the benefits of knowing this information.
14-16 How Science Works:
How science works
Applications and implications of science
4a The use of contemporary scientific and technological developments
and their benefits, [drawbacks and risks].

Published: 19th June 2007
Reviews & Comments: 5

Learning objectives
Students will examine the benefits of knowing how genes are linked to diseases.
Try the activity
You will need Acrobat Reader installed to open the activity sheets.
Curriculum link
Organisms and health
5c The ways in which organisms function are related to the genes in their cells
5e Human health is affected by a range of environmental and inherited factors,
Please see downloadable teachers' notes for details of links to GCSE specifications.
Running the activity
Display page 1 to set the scene. This article covers only positive implications of the research. Ask students for their reactions to the question at the bottom of the page.

Give each group a copy of page 2, a template for the activity. Tell students that the news editor must select items to broadcast in today's news. Students must prepare an exciting news package that the editor cannot ignore!

Pages 3 and 4 include information about the study and paraphrases of quotes from people involved in – or potentially affected by – the study. Students need this information to complete the task on page 2.

Groups should present their package to the class after a set time. The packages could be peer reviewed using objectives decided by the class or those below:
• The "hook" that grabs the viewer in the first few seconds
• Range of views presented
• Explanation of the science
• Creativity
• Filling the time

Possible ICT opportunity: use PowerPoint for the news feature/ background etc. Cross-curricular links are possible with English and Performing Arts.

Reviews & Comments
Write your online review to share your feedback and classroom tips with other teachers. How well does it work, how engaging is it, how did you use it, and how could it be improved?
The future in your genes review
Oct 29th, 2008

Excellent activity that my top set pupils really enjoyed. I used this in conjuction with other news articles to provide a wider source of activties and to link in with how this is reported in the media.

The class of year 9 pupils have just began the triple science course.
Reviewer: Beth Harrop
The future in your genes review
Jun 23rd, 2008

Really useful activity to extend G+T year 9 students.
Reviewer: Lisa Hays
Interesting
Jun 8th, 2008

had good key info
Reviewer: komal patel

Simple and straightforward - good value
Reviewer: Chris Higgs
The future in your genes
Jul 9th, 2007

Tried this as an activity at the end of a topic on inheritance and variation with top set Year 7. They found it difficult to put material together to produce a TV interview, but when we changed the goal to producing some info posters to use next term for jeans for genes dat they got involved and produced some good work.
Reviewer: jane Griffin


200 lessons and assessments from as little as £4.95
Related Activities
Biology / Inheritance of characteristics
How Science Works / Benefits & risks
Edexcel / B1a Genes
Gateway / B1 Ourselves
21st Century / B1 Your genes
Learning Strategy / Communication