My UPD8
You need to login before you download the free activities. You can register here.
Poo power or nuclear power?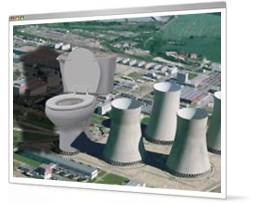 Type: Activity
Learning Strategy: Information retrieval
Topic: Generating electricity
Poo is always of interest to the school population - and here it is as a potential renewable energy resource! In this activity students advise the government how to cope with diminishing fossil fuel supplies - should the UK build a few enormous nuclear power stations, or should we go for thousands of small renewable energy generators?

The two information pages have been designed to look good on your noticeboard, too, to promote discussion and further enquiry.

This activity has been produced in partnership with the Novartis and The Daily Telegraph Visions of Science Photographic Awards.
Published: 22nd January 2005
Reviews & Comments: 39
Learning objectives
Students will
find out how nuclear power and 'poo power' generate electricity
decide whether Britain should generate future electricity in nuclear power stations or renewable energy generators

Try the activity
You will need Acrobat Reader installed to open the activity sheets.
Curriculum link
Energy - pros and cons of generating electricity from nuclear and renewable resources.
11 – 14(KS3)
Energy and Electricity QCA 9I
• Know that fossil fuels, nuclear fuels and renewable energy drive electrical generators.
• Use secondary sources to find out about an environmental aspect of electrical generation
• Examine conflicting evidence and arrive at a considered viewpoint.
GCSE specifications
AQA Core Science
Unit P1a Energy and Electricity: 13.4 How should we generate the electricity we need?
• The advantages and disadvantages of using fossil fuels, nuclear fuels and renewable. energy sources to generate electricity.
Edexcel Additional Science
Unit P2 Topic 12: Power of the Atom
• Discuss the benefits and drawbacks of nuclear power for generating electricity, including carbon dioxide emissions and safety issues.
• Describe the environmental and social impact of a nuclear power station on a locality.
Gateway Additional Science
Module P4 Radiation for life: P4h Fission
• Describe how domestic electricity is generated at a nuclear power station.
Twenty First Century Core Science
Module P3: Radioactive materials: 3.3 How can electricity be generated? What can be done with nuclear waste?
• Recall two examples to show that we can use renewable energy sources instead of fuels to generate electricity.
• Interpret and evaluate information about different energy sources for generating electricity.
Running the activity
Possible starter: Ask students what happens to their poo when they flush it down the loo. Can they think of anything to use it for?

Page 1 sets the scene and outlines the task. It includes a high quality photograph image from 'Visions of Science'. This page can be projected or printed onto transparency.

Pages 2 and 3 are information pages about nuclear power and poo power. They state - in simple terms - how the two power sources generate electricity, and include energy transfer diagrams. Some advantages and disadvantages are also given. These pages ideally need to be photocopied - one of each sheet for each group.

Page 4 is a template for groups to fill in - which option do they advise the government to take, and why?

Suggested plenary: groups present their advice and reasons to the class.

Web links
News links
Good news coverage, and a clear diagram of the microbial fuel cell, with links to other articles. Students can also sign up to subscribe to a free weekly e-letter from Science News.
If you are inspired, this is a site telling you about a microbial fuel cell which you can purchase for use in UK schools, with links to papers describing its educational use.
If you are inspired, this is a site telling you about a microbial fuel cell which you can purchase for use in UK schools, with links to papers describing its educational use.
Information on how it works, the advantages and disadvantages and what's in store for the future, with links to information about other renewable sources.
This site asks you to choose how you would like your electricity generated and then calculates the possible impact in terms of carbon emissions, whether you managed to keep the lights on and how it will affect people's annual bills.
Which Energy?
The Institute of Ideas: Nuclear power topic guide, which has links to sources of background reading and links to other sites with strong arguments for or against nuclear power.
Reviews & Comments
Write your online review to share your feedback and classroom tips with other teachers. How well does it work, how engaging is it, how did you use it, and how could it be improved?
Very engaging!
Oct 28th, 2013

Used this with Year 9 (12-14 years) with much success. Students were engaged in this activity from the outset and everyone had an opinion to share. Very enjoyable lesson promoting critical thinking skills and lots of discussion.
Reviewer: Renee Raroa

Promotes group work and communication skills
Reviewer: jenny greig
Poo Power vs. Nuclear Power
Dec 15th, 2012

A really enjoyable lesson that got pupils engaged from the off. It also showed how after learning about poo power, pupil's initial opinions of it changed!
Reviewer: Ad Tom
Poo power or nuclear power? review
Nov 29th, 2012

Would love to use it, but unfortunately nothing downloads when I hit the button for downloading the activity. The word document works fine.
Reviewer: K B
Speedy sperm = happy teacher
Jul 8th, 2011

Love it!
Introduces bias, is collaborative and excellent for lower ability.
Reviewer: seema gaur
Really Good
May 3rd, 2011

Great resource, the Kids love it and really gets them thinking!
Reviewer: Neil Jeram-Croft

The class really engaged with the resources and were quite surprised a their own responses as they had quite firm preconceived ideas about
Reviewer: Helen James

Have used this before and will use it again. Excellent resource
Reviewer: Wanda Renham
Alternative resources
Aug 24th, 2010

This particular activity provided an interesting and alternative viewpoint to environmental issues. I was able to encourage the students to find out for themselves the pros and cons of the two areas under discussion.

The students consisted of a mixed ability year 9 group. They found this topic very interesting and generated various presentations in order to argue for or against their particular subject and debate the subject as a whole.
Reviewer: Audrey Minks
poo power or nuclear power
Jun 29th, 2010

I used this at job interview, bizarrely teaching a gcse lesson to 6th form as younger students had left for the summer. It worked really well and we got a good discussion going on ethics, I would only use it with students who are capable of participating in a discussion though.
Reviewer: E Kebbell

An excellent, engaging and thought provoking activity. Promotes group work and communication skills.... Well worth using.
Reviewer: Charlotte Evans
energy transfer -yr8
Apr 28th, 2010

great resource. used it in two of my PGCE placment school so far. A great way to introduce discusion
Reviewer: isaac oru
Poo Power or nuclear power?
Mar 9th, 2010

I used this activity with year 11 pupils in a special school. They were fascinated by the idea of poo power but discussed it sensibly and worked well in groups to come up with ideas for and against nuclear and poo power.
Reviewer: Mairead Ulamoleka
7I Energy Resources
Nov 23rd, 2009

The pupils were fully engaged and interested in this activity and their responses when reporting back to the class was informed and considered. This is a really good resource.
Reviewer: Jennifer Kennedy
Poo power or nuclear power? review
Jul 18th, 2009

Very useful resources to get students thinking about the energy crisis and how it impacts on society. Definitely would use it again for future classes!!
Reviewer: Samiara Begum
Poo power or nuclear power?
May 14th, 2009

Good set of slides to kick-start a debate - especially for lower ability pupils. I think it could be even better if there were more scope for the more able as well.
Reviewer: Malcolm DAncy
Renewable Energy
May 10th, 2009

This activity is a good literacy activity for a low ability group. However, it needs adapting to be more challenging for high attaining GCSE students.
Reviewer: Niamh O' Neill

I think the upd8 gets the students thinking and motivates their learning the name is interesting
Reviewer: palmira Joao
Poo power or nuclear power? review
Nov 8th, 2008

I have used this activity with different year 8 classes and have always got an enthusiastic response. Thanks upd8
Reviewer: James Browne
Poo power or nuclear power? review
Aug 24th, 2008

My year 7s found this a very enjoyable acitivity as part of 7I energy resources. The idea of creating electricity from poo certainly caught their interest and it was good to see the difference in opinions formed. I now have a lovely display about poo power on my wall
Reviewer: Alison Pearson

Tried this with a year 8 class who presented their results in groups at the end.
They loved it and gave some very thoughtful short presentations. A very successful activity
Reviewer: Anne marie heath
Catchy Title
Apr 16th, 2008

I used this activity for a middle set year 10 class. They were engaged fully by the title alone (of course anything to do with disgusting bodily functions!!). Once I had their attention the rest was easy, they really enjoyed this activity and used the interesting facts to support their arguements. I found that my class were eager for more information, I was lucky because we have access to a computer suite. If it is possible maybe more information could be added into the activity?!?
Reviewer: sam neish
Poo power or nuclear power
Dec 17th, 2007

great activity to do as part of AQA core C1a. I did it with a very small group who enjoyed it, it generated great discussions and encouraged sharing of ideas.
Reviewer: Jennifer Mayer
Friday last lesson after a wet lunch time
Dec 1st, 2007

I am a trainee teacher 6 weeks in to the training. I gave this activity to my 2nd set year 9s to do last thing on a friday afternoon. They loved it.

All the class were engaged in argument and discussion about the topic. I was especially pleases to see there was about a 50/50 split in the options creating real discussion.

Look forward to using the activity again, with extension work for higher groups.
Reviewer: Chris Clay
Poo or Nuclear
Nov 1st, 2007

Really helped my lower ability group to develop team work and debate skills. It was gross and they loved it!
I used it at the end of the grenerating energy topic to reinforce info.
For the more able, I got them to include a comparison with a fossil fuel of their choice.
Reviewer: Radha Jaipersad
Science becomes "interesting" with poo
Jun 20th, 2007

I used this lesson with a class of enthusiastic top set year 8 pupils. They really enjoyed the poo factor...but also gained some insight into how government gets its information. I found that using the "P.O.S.T" website as a source of example as to how "real" reports are written helped put the work in context.
Reviewer: Daniel Hicks
28 March 2007
Mar 28th, 2007

Excellent activity. I used the activity for a cover period in which no work was set. Pupils thoroughly enjoyed the activity and produced excellent arguements in support of both ideas. Interestingly for a non-nuclear country (NZ) there was a large majority in support of the nuclear option (Helen Clarke take note!).

One annoyance was that I couldn't change the Title page to read New Zealand rather than Britain - this touched a nerve with a few pupils.
Reviewer: Paul M

Tried this activity with low ability year 9 set and they were engaged the whole lesson. They were also amazed human waste could be used for energy.
Reviewer: Rebecca england england
Poo Power Indeed
Dec 31st, 2006

The kids really got to grips with this activity as they had to think about the whole topic we had completed so it was a good summary piece. They all had good ideas and reasons and they all wanted to share them with the group afterwards.
Reviewer: Kim Whiddett
The more disgusting the better!
Dec 3rd, 2006

I used only the poo pwer section with my very low ability year 9 students. It was easy for them to read, set out really well and it kept them entertained for the whole lesson. For thier poster to be on poo, they were absoultly delighted.
Reviewer: Beth Harrop
Poo power or nuclear power? review
Nov 30th, 2006

Used this with several groups of varying ability. They all enjoyed it immensly.
It stimulated some very heated debate - interestingly, most students were not keen on living close to a Poo-powered power station even though they live in the shadow of a nuclear plant!
Reviewer: Michael Proudman
Discussions about poo!
Oct 17th, 2006

I used this activity with a challenging year 9 class in the afternoon when they are prone to being too loud. This activity was perfect for them. It allowed them to discuss, learn and debate about issues they found interesting and relevent. The layout of the worksheets is brilliant which gets the kids going even more. This resource is very easy to deliver too.
Reviewer: Hannah Kwaszenko
Poo Power!
May 22nd, 2006

I thought that this idea was very good. The start of the lesson had the pupils engaged and we had some good suggestions. However, this lesson was done with a very low ability Year 7 class, so the information sheets were a bit too 'wordy'. I also devised my own writing frame for the end task, in which the students had to write a letter to Tony Blair, explaining which type of power they thought he should use in the UK!

Would work really well with a top set class.
Reviewer: Rysia Kaminski
Poo Power! March 2006
Mar 28th, 2006

My Year 7 class really got into this activity. The disgust factor motivated them at the start, but then as they were reading, they found the topic fasinating that you could actually use poo as an energy source. The record sheet was a good way to get pupils to write down their thoughts and we had a thoughful discussion at the end.
Reviewer: Zoe Loveridge
What is it with Poo?
Mar 21st, 2006

I was told the day before that 16 American visitors were touring our school and were popping in to see my Year 9 boys lesson 1 the following day. What I had planned was a run of the mill lesson on alternative energy resources. After searching the net I came across this activity and to my relief (no pun intended) it was the Americans that were developing this technology of getting energy from poo!
My Year 9 boys really enjoyed argueing over Nuclear power or poo power and they impressed me with the arguements and ideas that they came up with.
A good resource to use to generate open discussion and debate!
My one complaint was that I really wanted the picture of the toilet as a power station, rather than the one provided with the resources.
Reviewer: Michael Cook
Poo power in renewable energy sources
Feb 12th, 2006

It was a big success with my Y10. I gave them cards of the different renewable energy sources and included some on poo power. They had to make posters of their selected sources.
The most disruptive child in the class was well engaged and he did things on that poster I thought he wasn't capable of doing, which will be of great help on my assessment of his work.
In fact, he even volunteer to come to the board and write down advantages and disadvantages himself when normally he doesn't write a single word on his book.
It was a big help!
Reviewer: Aurora Gutierrez-Sosa
Poo Rules!
Dec 15th, 2005

My mixed ability year 7 class loved this!! (although they kept saying 'Yuk' a lot!) To make it effective, it took a bit of tweeking - the information sheets were far too cluttered - I modified them into 2 DARTS style missing words sheets which seemed to work really well. The news paper activiy was well recieved by all and was easily differentated as the questions could be answered in any amount of detail.

This is a great activity that got the whole class involved, regardless if ability. It really helped them to develop their analytical and comparison skills. It was also useful in correcting some of the misconseptions the class had about nuclear power from the media - some even though it created greenhouse gasses!

Looking through their articles, there was about a 50/50 split in the recomendations - I was pleased to see that the students who opted for poo power used the lack of waisted energy in transfer as a main reason for using it - good scientfic thinking there!!

Helen Shepherd, Sir Charles Lucas Arts College, Essex
Reviewer: Helen Shepherd
Poo or not Poo!
Nov 2nd, 2005

Carried this out with a low ability Standard Grade Science class. It kept them entertained for the lesson, led to interesting discussions. Followed it up with a presentation of their chosen method.
Reviewer: Katie Hanson
You can't beat discussions about Poo!!
Jun 19th, 2005

The absolute grossness of this activity about poo was apparent when I put up the stimulus page for my low ability Y9s to look at. At the start they were shocked at the thought of collecting human waste to make energy. Then as the discussion started, so it dawned on them that animal waste is used like this in a number of processes aleady. One girl suggested the idea of Composted toilets for human waste to be turned turned into compost for the garden. She said that she had seen this during a family visit to the Centre for Alternative Technology in Wales.

For the activity It was very interesting to compare nuclear power which most pupils seemed against with the ideas for biogeradeable energy sources. The activity sheet was easy for pupils to use and suggest their ideas with arguments and evidence to support their views. Most favoured Poo!

This is a great activity to get pupils to consider the evidence carefully and keep their writing factual and evidence based. It improved their analysis skills as they understood the need to back up opinion with evidence.

Richard Waller, Comberton Village College, Cambridge
Reviewer: Richard Waller


200 lessons and assessments from as little as £4.95
Related Activities
Physics / Generating electricity
Difficult & Dull / Electricity & Magnetism
How Science Works / Benefits & risks
AQA / P1a energy & electricity
21st Century / P3 Radioactive materials
QCA / 9I Energy & electricity
Ideas about Science / Benefits/drawbacks
Learning Strategy / Information retrieval