My UPD8
You need to login before you download the free activities. You can register here.
Ricin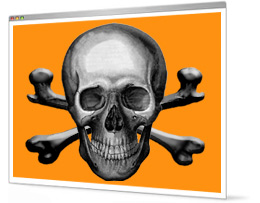 Type: Activity
Learning Strategy: Information retrieval
Topic: Purifying materials
Ricin is one of the most deadly poisons known – 12,000 times more toxic than rattlesnake venom – and there is no antidote. It is most famous for its role in the 1978 'Umbrella Assassination'. Bulgarian dissident Georgi Markov had been waiting for a bus when he felt something sharp jab him in the leg. Three days later he was dead. A specially adapted umbrella had been used to push a pellet of poison beneath his skin. As the wound reddened, a lethal dose of ricin was leaking into Markov's blood. The assassin's identity has long been a mystery. But now he can be brought to trial. In this activity, students prepare a brief on ricin for the prosecution barrister.

Published: 14th June 2005
Reviews & Comments: 7
Learning objectives
Students will consolidate work on the separation of mixtures, by looking at how ricin is extracted from seeds, and pick out relevant information for a report.

Try the activity
Please login to download activities
Curriculum link
7H Solutions
• Classify solids as insoluble or soluble
• Describe how mixtures can be separated
Running the activity
Page 1 introduces the topic and sets the task. Page 2 is a sorting activity and provides the data they need. The 16 cards contain information about ricin. They need to be cut out and sorted into four groups to show:
1. How to make ricin
2. How to poison someone with it
3. Its effect on the body
4. The amount needed to kill
The class needs to be split into small groups to promote discussion. Students need to pick out the information most relevant to the 'Umbrella Assassination' of Georgi Markov. They use it to prepare a brief for the prosecution barrister in the suspect's trial. Each group could report back to the rest of the class or other examples of ricin's use in bioterrorism could be discussed – see web links below.

Web links
News links
The story of Markov's 'umbrella assassin'.
Detailed, but readable, account of the assassination of Georgi Markov. Links to potted info on ricin at end of article.
Historical Overview of Biological Warfare - including good diagram of 'the umbrella' and the lethal pellet.
Details about ricin's affects on the body.
Facts about ricin from the US government.
Good photos of the Castor Oil plant.
Good image of a Castor Oil seed stored in the Millennium Seed Bank.
Reviews & Comments
Write your online review to share your feedback and classroom tips with other teachers. How well does it work, how engaging is it, how did you use it, and how could it be improved?
replica watches
Feb 16th, 2011

<A href="http://www.good-replica-watch.com">replica wathces</A>
Reviewer: yigeban geban
Ricin review
Jul 23rd, 2010

Excellent for consolidating work on separating mixtures. Makes pupils think about what they are doing and why. Used with high ablity pupils.
Reviewer: Jackie Ellender

The Boys thoroughly enjoyed learning about poisons etc.
All Good, thanks
:)
Reviewer: Garry Bryson
Ricin - The Umbrella Assassination
Jun 13th, 2008

I used the activity with a small group of able year 8 pupils who were in the middle of their Elements, Compounds and Mixtures topic, and they loved it. "Much more fun than a normal science lesson". That we did compounds, mixtures, solutions, chromatography, filtering etc, did not dissuade them. They liked the use of a story in a lesson, and that it was a murder investigation was a bonus. We looked at a map of Europe to find Bulgaria, and discussed how to get seeds from a plant, as well as the activities themselves, and finished off with a role play in which I was (or tried to be) the prosecution barrister and they were the expert witnesses. A full and succesful lesson.
Reviewer: Maria Turkenburg

Great activity to use in the middle of quite a boring topic. Students loved the idea that this was based on a real historical event (it took me a while to convince them - the weblinks included helped!). I had to extend the activity a bit as the class was so into it it took me a while to answer all their questions!

The class enjoyed it and I'd definitely use it again.
Reviewer: Amie Heaton
ricin - the umbrella assassination
Jun 19th, 2005

sounds realy good - can't wait to try this one out next year
Reviewer: sue wilkinson
football sheet bend it like beckham (forces)
Jun 18th, 2005

worked really well for lower ability, pupils all engaged in task and even named their own football teams.
Reviewer: rachel gibson


200 lessons and assessments from as little as £4.95
Related Activities
Ideas about Science / Scientific methods
QCA / 7H Solutions
Learning Strategy / Information retrieval