My UPD8
You need to login before you download the free activities. You can register here.
Parched Summer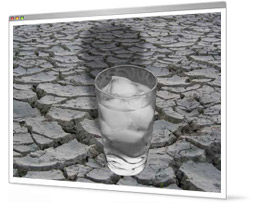 Type: Activity
Learning Strategy: Information retrieval
Topic: Photosynthesis
Water companies in the South of England are worried. Two dry winters in a row have left water reserves way below seasonal averages. Economies will have to be made. Hosepipes are banned and further restrictions may be on the way. Gardeners won't be happy if their plants suffer. So how can they best use their limited supplies? Students take a look at the science behind some water-saving tips and revise key aspects of plant biology.


Published: 8th March 2006
Reviews & Comments: 7
Learning objectives
Students will:
-know what plants need water for
-recognise root hair cells and stomata
-appreciate that plants compete for resources
-understand that pests limit plant growth



Try the activity
You will need Acrobat Reader installed to open the activity sheets.
Curriculum link
11 - 14 (KS3)
Plants and photosynthesis QCA 9C:
What are the roles of the leaves and roots in photosynthesis?
Plants and food QCA 9D:
How do fertilizers, competition and pests affect plant growth?
Running the activity
Page 1 sets the context. The key points are that water needs to be conserved to avoid serious shortages later in the year. During the last drought, reduced photosynthesis upset the balance between photosynthesis and respiration, and forest fires made the situation worse. Europe's overall production of carbon dioxide tripled. But most plants can survive drought. The students' task is to match water-saving tips to the reasons why they work. Pairs or small groups will need card copies of Page 2 to cut out and sort. They use what they learn to draft text for the advice page of a water company's web site. Page 3 provides a template for this.

Expected Answers
Cover soil….. / Less water will evaporate…
Get rid of weeds….. / Weeds compete for…
Move pot plants….. / Their leaves won't need to evaporate water….
Add NPK fertilizer ….. / When plants manage with less water…..
Save water for …. / Growing plants need…..
Don't water…. / Plants close stomata…..

The template illustrates other water saving strategies: saving rainwater, not using sprinklers or hoses and spiking the ground to ensure that any water gets to plant roots instead of running over the surface.


Web links
News links
Drought news.
Records of water levels in the South of England's reservoirs.
A general overview of the distribution of the Earth's water.
Explains why we have a drought at the moment.
A water-usage calculator.
Advice on avoiding waste in the garden.
Reviews & Comments
Write your online review to share your feedback and classroom tips with other teachers. How well does it work, how engaging is it, how did you use it, and how could it be improved?
Parched Summer review
Mar 2nd, 2010

parched summer was a very good way of making the students think about plants and organic farming
Reviewer: nick coleman
Parched summer
Jan 10th, 2010

Good activity. Used it for my Y9 class. Adapted the activity slightly, but the information was interesting for them to think about.
Reviewer: sophie brickland
Parched summer
Jun 17th, 2008

Linked photosynthesis topic to environmental issues well. Very useful as part of a post SATs project on plants. All materials excellent as always.
Reviewer: kantha choudhury
Parched Summer
Jan 6th, 2008

The link that the students are meant to follow is no longer active...
Reviewer: Susan Rodwell

Used this with my year 9 as part of their pre KS4. Pairing exercise good, led on to some good IT work. Some decided to make a working website as soon as they realised the web address on the worksheet was made up!
Reviewer: David Cole
Parched Summer
Jun 6th, 2006

I ran this activity with a mixed ability year 8 class. The matching activity was good but because the boxes are different shapes it took some of the class ages to cut them out. Very few got onto the text for the web page. Thiose that did tended to just copy out the text in the boxes.

I will use this again but I will follow the sorting activity with questions or scenarios to test understanding.
Reviewer: Ruth Whitehouse
UPD8 is fantastic
Apr 27th, 2006

I just wanted to take time to say how throughly impressed I have been with all the UPD8 activities that I have tried.
Reviewer: beverley jessiman


200 lessons and assessments from as little as £4.95
Related Activities
QCA / 9C Plants & photosynthesis
Ideas about Science / Communicating science
Difficult & Dull / Plants
Biology / Photosynthesis
Learning Strategy / Information retrieval