My UPD8
You need to login before you download the free activities. You can register here.
Can Science catch a bomber?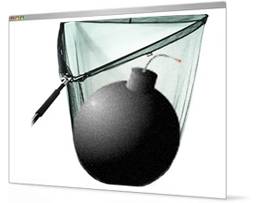 Type: Activity
Learning Strategy: Construction
Topic: Identifying materials
The tragedy in Madrid reminded us once again of the vital work done by those who investigate terrorist attacks. This activity introduces a new forensic technique to expose bombers - using chromatography to detect traces of explosives in body hair. Students use diagrams and sequence cards to explain the technique in a magazine.
Published: 20th January 2005
Reviews & Comments: 16
Learning objectives
Students will learn how to use chromatography to detect explosives in body hair

Try the activity
Please login to download activities
Curriculum link
11 - 14 (KS3)
solutions QCA 7h: describe the use of chromatography to separate mixtures; interpret data from chromatograms
particles 7g: use the particle model to explain a range of phenomena
Running the activity
Time: 15 - 20 minutes

Starter: ask students to suggest ways of catching the Madrid bombers. Show page 1 and tell them that scientists may have discovered a way of using chromatography to detect traces of explosives in bombers' hair.
Page 1 introduces the technique and sets the tasks. It can be projected or printed onto transparency.
On page 2 are 8 cards to cut out. Four cards are illustrated; students are asked to illustrate the other four. Students then sequence the cards to show the process.
The correct order is:
The bomber opens the bottle and particles of TNT evaporate and diffuse; some particles of TNT bind to the bombers' hair; some TNT stays in the hair even after washing and brushing; a scientist dips a comb in solvent and uses it to comb the bombers hair; some TNT particles dissolve in the solvent on the comb; the scientist puts a drop of the solution onto chromatography paper; the solvent moves up the paper; later the scientist examines the chromatogram.

Plenary:
tell students that, in reality, a more sophisticated chromatography technique is used. Ask them to suggest why. Discuss, too, what you would see on the chromatogram if the bomber's hair were exposed to several different explosives.
Web links
News links
A New Scientist article describing the technique in more detail
This article describes how archaeologists used chromatography to find traces of chocolate in ancient Mayan pots
How to use chromatography to find out about peoples drinking habits:
An article on Planet Sciences Whodunit?
Reviews & Comments
Write your online review to share your feedback and classroom tips with other teachers. How well does it work, how engaging is it, how did you use it, and how could it be improved?

Reviewer: moses otunga
Chromatography
Dec 12th, 2012

Linked the activity to reading articles about science in the news. A good activity that had students engaged and revising separating techniques. Thanks
Reviewer: H Mould
chromatography
Mar 31st, 2012

Great activity to put some real life application to simple chromatography activity in class. Pupils were very switched on by the 'terrorist' element as it's so relevant to their lives sadly.
Reviewer: nigel graham

Hiya,

Can anyone help, I cannot open the Activity Sheet and unsure why.

With thanks.
Reviewer: Michelle Kelly
Can Science catch a bomber? review
Jul 24th, 2010

Absolutely an excellent resource. Well done and a big thank you to its inventor. Need to teach a lesson on chromatography first and use a standard seperation of inks practical.
Reviewer: Helen Franklin
can science catch a bomber
Jan 3rd, 2010

Fabulous - thankyou just what I need to capture their attention 1st lesson back after the holidays
Reviewer: toni dolan
Can Science catch a bomber? review
Nov 2nd, 2009

can anyone help me open the activity powerpoint? sounds awesome but i cant get in.
Reviewer: charlotte alston
Can Science catch a bomber? review
May 13th, 2008

Great - my year 7's loved this activity and it raised some interesting questions. Used this activity alongside running a bog standard chromatography practical so helped bring some real life relevance to chromatography.
Reviewer: Natalie Chapman
Chromatography
Mar 24th, 2008

I used this exercise for a low ability year 7. Whilst they needed some support in relating the procedure to what they learned in lesson, it was an excellent activity to bring 'How Science Works' to life
Reviewer: Laura McSharry
Can Science catch a bomber? review
Sep 23rd, 2007

I used this activity with my year 7 class, the lesson after they performed the classic ink chromatography experiment. They all enjoyed it, but I did notice some who were lower ability struggling to complete it in the time given
Reviewer: Teresa Anderson
Can science catch a bomber?
Feb 13th, 2007

I work in a PRU and the students here sometimes find it very ard to focus. I had taught chromatography as a separation technique in a previous lesson so I used this as part of a lesson on application of skills. I carried out a mystery solving task whereby the students had to identify a criminal by the pen they had used. I then used this activity as a further application of the process. It went down very well and the students were able to carry out the task of organising the cards with a minimum of fuss.
Reviewer: Eileen Shears
Can Science catch a bomber? review
Jul 12th, 2005

I attempted this activity with a high ability year 7 group. 20 minutes was sufficient time and included miming of the different stages involved in detecting the bomber. All remembered that chromatography could be used to detect a bomber in their end of topic test. Most if not all enjoyed the activity.
Reviewer: Nerys Rolfs
CAN SCIENCE CATCH A BOMBER
May 15th, 2005

I tried this activity with 2 different yr 7 groups after a practical lesson on chromatography. my low ability class enjoyed the activity but did find it difficult, requiring prompting as to how they should draw the pictures in the sequencing activity. My high ability yr 7 group loved it and had no difficulities completing the activity. It was GREAT to see in both groups that pupils were linking there practical chromatography lesson with a real use for chromatography and pupils were engaged and asked questions about bomb incidents which have been on the news. Ace!
Reviewer: joanne brunyee
Can you catch the bomber?
Apr 24th, 2005

I really liked the activity, all pupils were really engaged and worked well. Although some pupils especially those working below level 3 did need some help with some of the words. I have also tried setting the flip book for homework and the results were excellent.
Reviewer: Tracey Hall
Can Science catch a bomber? review
Mar 25th, 2005

This was used as an introduction to solutions, revising the chromatography that had been done in KS2. The pupils were interested by the context of the work and enjoyed sorting and completing the cards "completing the cards made you think for yourself". The task was easy to complete and was followed in the same lesson by practical chromatography. The art work was appreciated by students who had not used UPD8 before with their regular teacher( I was on supply).
Reviewer: Tanya Dempster
can science catch a bomber?
Jan 30th, 2005

This upd8 activity is used in our scheme of work for 'solutions' in year7.
Following a practical lesson on chromatography we started by reviewing key words and ideas followed by pupils presenting some of their chromatograms. This was followed by a discussion on 'uses' of chromatography. Most pupils saw applications largely involving 'colours'. The science of chromatography was dealt with using the colourful molecular model in 'Catalyst'. This took 30 minutes in all.Then we projected the upd8 onto a whiteboard for all to see. The techniques and sequencing activity were disussed so that all knew what to do. Each pupil was supplied with a paper copy of the 'cartoon' that needed to be completed. The pupils were well engaged in the activity and it allowed a broader view of the applications of chromatography rather than focussing on the usual mixtures of colours. We used a brief discussion plenary as suggested in the activity.20 minutes is about right for the activity but it depends on the class of course. They certainly enjoyed it and several went on to redraft their work and even make flip books for homework. An idea that came from one student.

Overall a useful upd8 activity for this age group and allowing some creativity whilst also developing important sequencing skills.

Tony Stevens
Trinity School
Reviewer: Tony Stevens


200 lessons and assessments from as little as £4.95
Related Activities
QCA / 7H Solutions
Difficult & Dull / Particles
Ideas about Science / Communicating science
Learning Strategy / Construction