My UPD8
You need to login before you download the free activities. You can register here.
Carbon Control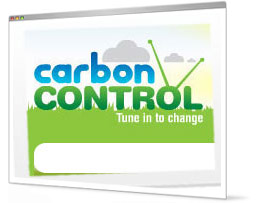 Type: Activity
Learning Strategy: Demonstration
Topic: Atmospheric pollution
Do you know your carbon footprint? This activity gets students using a straightforward online 'carbonator' to calculate their carbon footprints. They then compare their footprints to those of others and discuss ways of making them smaller. There's even the chance to enter a competition!

UPD8 has developed this activity in collaboration with the RSA (Royal Society for the encouragement of Arts, Manufactures and Commerce), DEFRA (Department for Environment, Food and Rural Affairs) and Tesco. The RSA-led project aims to get 7-14 year-olds working together to reduce their CO2 emissions at home, through transport and through the food they eat.

Please see www.carboncontrol.org.uk for detailed activities on carbon control, including comprehensive guidance for students.

Published: 6th June 2007
Reviews & Comments: 6

Learning objectives
Students will
• Consider some impacts of global warming
• Learn what a carbon footprint is
• Calculate their own carbon footprint and consider how to reduce it

Try the activity
Please login to download activities
Curriculum link
11-14 QCA unit 9G environmental chemistry
• Environmental problems – global warming
Running the activity
If you wish – and have time - ask students to complete the attitudinal survey (please download the separate word document). This is an excellent opportunity for your students – and you – to learn about their prior knowledge and attitudes to climate change. By taking part in this survey students will also be helping to generate better understanding on what can be done to tackle climate change. The address for completed forms is at the end of the form.

Display page 1, which shows some likely impacts of climate change. Have a brief class discussion on the impacts of climate change – which groups of people will be affected most, and why?

Display page 2. This defines the term 'carbon footprint' and gives values of typical annual carbon footprints for different lifestyles. It also shows the amount of carbon dioxide generated from different behaviours such as travel, energy use in the home, and food choices.

Give each student a copy of page 3. Ask students to use the program at www.carboncontrol.org.uk
to calculate their own annual carbon footprint. Then get them to use the value for their own carbon footprint – and those of others in the class – to fill in the white boxes. You will need to get students to rank order the size of their carbon footprints to fill in the box 'My carbon footprint is the first/second/third/fourth etc biggest in the class'. They need a piece of data from page 2 to fill in the final box. Then ask small groups to decide what they will do as individuals to reduce their own carbon footprints.

Finally, direct students to the RSA competition (see web link below).

Reviews & Comments
Write your online review to share your feedback and classroom tips with other teachers. How well does it work, how engaging is it, how did you use it, and how could it be improved?
renewable sources
Dec 2nd, 2008

got them thinkin about renwable energy.
Reviewer: amma nkansah
carbon or carbon dioxide?
Sep 24th, 2007

I rather hoped, as teachers, that upd8 wouldn't fall into the misconception trap of referring to this as "carbon" when it should be "carbon dioxide".
Because of this media thing with carbon footprints etc, , we now have kids at both key stage 3 and 4 who are struggling with elements and compounds, and are referring to "carbon" when it should be "carbon dioxide".
It's slightly annoying....
Reviewer: Margaret Evans
RSA Carbon Control
Jul 18th, 2007

This does look great but I too am having problems accessing the calculator, once I have entered my details.
Reviewer: Jacqueline Birks
Carbon control
Jun 18th, 2007

My class has calculated their individual carbon footprints and for some it was a real eye-opener. It was a great activity
Reviewer: Jane Treston
Carbon Control 8 June 2007
Jun 8th, 2007

You are not doing anything wrong Louise, we have contacted the RSA and this issue is now bieng fixed.
Reviewer: Karen Shoebottom
carbon control
Jun 8th, 2007

This looks like a great resource but to use the carbon footprint calculator you have to register. However, to register you have to enter a class average carbon footprint which you cannot calculate until you have registered... a chicken and egg situation, or am I doing something wrong?
Reviewer: Louise Wyllie


200 lessons and assessments from as little as £4.95
Related Activities
Chemistry / Atmospheric pollution
Hot Topics / Disaster
QCA / 9G Environmental chemistry
Ideas about Science / Data collection & analysis
Learning Strategy / Demonstration