My UPD8
You need to login before you download the free activities. You can register here.
Ban Wi-Fi?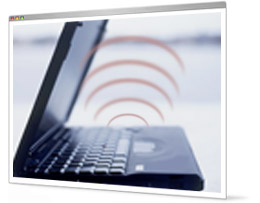 Type: Activity
Learning Strategy: Case study
Topic: Electromagnetic radiation
Wi-Fi is everywhere. A recent TV programme found the Wi-Fi radiation intensity in one classroom to be three times that from a mobile phone mast. Some people claim the radiation makes them ill, or that it has long-term health risks. In this activity students evaluate the validity of the TV experiment and the quality of other evidence about the health impacts of Wi-Fi.
14-16 How Science Works:
How science works
Practical and enquiry skills
2d Evaluate methods of collection of data and consider their validity and reliability as evidence.

Published: 6th June 2007
Reviews & Comments: 19
Learning objectives
Students will:
• Evaluate the validity of data from a TV experiment on Wi-Fi
• Evaluate evidence on the health risks of Wi-Fi
• Communicate their findings

Try the activity
You will need Acrobat Reader installed to open the activity sheets.
Curriculum link
Energy, electricity and radiations
7c Radiations, including ionizing radiations, can transfer energy.
7d Radiations in the form of waves can be used for communication.
Please see downloadable teachers notes for details of individual GCSE specifications
Running the activity
Display page 1, which is a sensationalised introduction to the issue. Tell students that the activity will guide them to finding answers to the questions posed.

Display and discuss page 2, which explains the science of Wi-Fi. Emphasise that Wi-Fi radiation is very similar to mobile phone and satellite TV radiation.

Next give each small group a set of cards cut from page 3 and a copy of page 4. Tell them to distribute the cards within their groups. Each group then does the tasks on page 4. There is no one 'right answer' to this task. One suggested outcome is card A – box 1 Yes, B-1Y, C-1Y, D– 4N, E– 4N, F-3N, G-aim, H-aim, I-3YorN, J-3N, K-3N, L-conclusion, M-1Y and 2Y, N-irrelevant, O-1N

Then display page 5, which sets the final tasks of the activity. Each group needs a set of cards cut from page 6 to complete these tasks. Again, there is no one 'right answer' – students will need to use their judgement to assign the cards sensibly.

Reviews & Comments
Write your online review to share your feedback and classroom tips with other teachers. How well does it work, how engaging is it, how did you use it, and how could it be improved?

Excellent resources.
Reviewer: YOMI OSOKOMAIYA

Not bad, a little dull, you really have to work hard to make it relevant to the pupils to engage them. The tasks are harder than you think too, so i'd recommend only attempting this with a top set, Y10 or above!
Reviewer: Daniel Ward

Used with a set 2 scienc class to good effect. Instead of the written report, as a plenary I asked the students to decide whetehr they though Wi-Fi was a potential health problem or not and to select the best evidence to suport their decision. They then had to stand on different sides of the room and offere their evidence to the rest of the class.
Reviewer: Danielle Pacey
Video for this activity
Sep 29th, 2010

Here is the youtube video for this

http://www.youtube.com/watch?v=IuNaDj6VLHw&feature=fvw
Reviewer: toni brodie
How science works- ISAs
Jul 1st, 2010

I like using this activity with the more able groups to get them to think about the key terms & reliability of data as part of the skills required for the AQA ISA assessments.
Also used this as part of an observed lesson & got a great feedback- the Deputy head pinched it off me for his lessons!
Reviewer: Jo Davison
Case study preparation - Twenty first century science
Jun 20th, 2009

Very good resource for higher attainers can be differetiated by simplifying the cards. Led to a good discussion about reliability of evidence.
Reviewer: BRENDA NEBURAGHO
OCR 21st century science Radiation and Life
Apr 19th, 2009

very good with high ability class.
Keeps pupils engaged
.
Reviewer: Sibongile Ngochi

Students really engaged with the activity which was particularly relevant as we were sat in a wi-fi enabled classroom while doing the activity.
Reviewer: Stan Pyle
Ban Wi-Fi? review
Sep 8th, 2008

Really good activity.

Class prefered the two card sorts and not the writing task to the schools minister. They found his name hilarious though, so I suppose they will remember the lesson!
Reviewer: Kelly Draper
Physics AQA
Jun 10th, 2008

I tried this out with one of my year 10 classes. They found it rather difficult in that they had a lot of reading to do.
Next time, I will try this with a higher ability group and see what happens.
Reviewer: Emma-Jane Bradbury

Very good resource that stimulates interest in a current issue
Reviewer: Paddy Conlon
Ban Wi-Fi? review
May 21st, 2008

Great with a top Y10 but problems found with those not so able. Some interesting comments made
Reviewer: Julie Brough
Ban Wi-Fi?
Jan 18th, 2008

This is an excellent resource. I used it with my top set y10 with the focus on "who do you believe?" and "How scientists work".
I was able to access clips from the Panorama broadcast via Y**t*be to enhance my lesson and the students found the whole thing hugely engaging.
Reviewer: Michael Proudman

Excellent resource. It was tried with a group of Year 10 students. It promoted lively discussion about what is 'safe' evidence that could be used to draw conclusions.
The card activities suited the learning styles of the students.
Reviewer: maureen Gordon

Used this lesson over 3 lessons with a group of year 10 BESD boys as an introduction to science in the news coursework. They were very interested and spent time evaluating the evidence quite thoughtfully. They are finishing the work by writing a report on their findings. First time I've done 3 non-practical lessons in a row but I've not had a single complaint!
Reviewer: Adele Neil
Wi-Fi Resource
Jun 15th, 2007

We are using this with our Year 9 students as an introduction to their science in the news work. It appears to be working well to make them actually consider quality of evidence.
Reviewer: Duncan Somers
Wi Fi Resource
Jun 15th, 2007

This is great, not only can we use this for KS3, but I also utilised the BBC resources for the P3 unit too. Good case study support material.
Thanks again UPD8!
Reviewer: Kerray Rawlinson
Alternative unit
Jun 14th, 2007

Excellent activity. Very good in P2 "Radiation & life" and for promoting discussion of ALARA principle for "Ideas & evidence".
Reviewer: n baker

very good sheets on WI FI and made brilliant 'current science affairs' poster. Activity worked OK.
Reviewer: James Mitchell


200 lessons and assessments from as little as £4.95
Related Activities
Physics / Electromagnetic radiation
How Science Works / Evaluation
AQA / P1b Radiation & Universe
Edexcel / P1b Now you see it
Gateway / P1 Energy for home
Learning Strategy / Case study