My UPD8
You need to login before you download the free activities. You can register here.
Asthma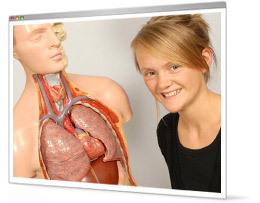 Type: Activity
Learning Strategy: Group discussion
Topic: Lungs & gas exchange
In this activity, students shadow Ceri Harrop, a researcher in respiratory medicine. She is helping Olympic hopeful Wayne Ashall investigate how he can overcome the obstacle of his asthma Students discover how the lungs work, and learn about cells, tissues and organs.

The activity is integrated with a specially made Teachers TV programme.

'Asthma' is part of the Live and Kicking unit from upd8's best-selling 11-14 course - Wikid. Find out more..




Published: 28th October 2009
Reviews & Comments: 1
Learning objectives
- how oxygen is delivered to cells, and what goes wrong in asthma
- how to manage variables to answer scientific questions

Try the activity
You will need Acrobat Reader installed to open the activity sheets.
Curriculum link
Cells – Life processes are supported by the organisation of cells into tissues, organs and systems (Strategy Framework 2.1).
Selecting and managing variables (Strategy Framework 1.2b)
Running the activity
Download the teachers guide for full details.

Web links
News links
Details of the science course for 11-14 year olds from which this sample came
Details of the Y9-GCSE transition course that follows on from Wikid.
To assess students' grasp of particles from this activity, or other objectives in the Wikid course. It is a booklet of assessment criteria at every level of understanding.
Reviews & Comments
Write your online review to share your feedback and classroom tips with other teachers. How well does it work, how engaging is it, how did you use it, and how could it be improved?
replica watches
Feb 16th, 2011

<A href="http://www.good-replica-watch.com">replica wathces</A>
Reviewer: yigeban geban


200 lessons and assessments from as little as £4.95
Related Activities
Ideas about Science / Doing enquiry
Ideas about Science / Scientific methods
Hot Topics / Health
Biology / Heart & lung disease
Biology / Tissues & organs
Learning Strategy / Group discussion