My UPD8
You need to login before you download the free activities. You can register here.
Mammoths extinct - Extinction activity from Wikid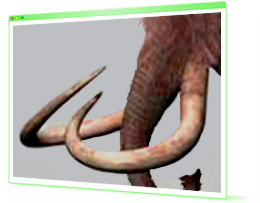 Type: Activity
Learning Strategy: Imaginative inquiry
Topic: Feeding relationships
This activity is a sample from the upd8 Wikid Y7 proghramme. Find out more about the course

Introduction to the Extinction unit
As the Arctic ice melts away, polar bears are sliding towards extinction. Climate change is radically altering many of the Earth's environments. Will other species be able to adapt? Earth's history also shows there have been many extinctions in the past. So should we be worried that species are dying out today? And which should we be trying to save? Students are trainee reporters for environmental awareness channel Planet TV. As part of their assignments they learn about the changing atmosphere, adaptation, variation and classification, behaviour, collaboration, developing argument and scientific communication.

About this activity
The students are on their first assignment as trainee reporters for Planet TV. They have been sent to Siberia where they helped Lauren, an experienced reporter, produce an 'on the spot' news report on the discovery of a frozen baby mammoth. They learned what Europe was like 15,000 years ago when mammoths were alive and suggested what might have changed to make Mammoths become extinct.
Now their editor thinks there's a bigger story so they are sent to Yakutsk to cover a Mammoth conference. They collect evidence from an international panel of experts to find out what changed when the mammoths became extinct. The experience shows scientists from different disciplines collaborating to gather evidence and come up with explanations.


11-14 How Science Works:
The unit focusses on 'Scientific Communication': (PoS 2.3, strategy 1.1a2)

Good communication captures attention, keeps the audience interested, and gets the message across with clarity and impact.

Published: 3rd June 2008
Reviews & Comments: 7
Learning objectives
- The composition of the atmosphere has changed continuously since Earth formed and so has the climate.
Try the activity
You will need Acrobat Reader installed to open the activity sheets.
Curriculum link
Changing atmosphere (PoS 3.4c, strategy 5.3)
Running the activity
Download the lesson plan for full details.


Web links
News links
Details of the science course for 11-14 year olds from which this sample came
Details of the Y9-GCSE transition course that follows on from Wikid.
To assess students' grasp of particles from this activity, or other objectives in the Wikid course. It is a booklet of assessment criteria at every level of understanding.
Reviews & Comments
Write your online review to share your feedback and classroom tips with other teachers. How well does it work, how engaging is it, how did you use it, and how could it be improved?

Thank You for this website. It is extremely useful and there are lots of activities. If possible does anyone have the Mammoths Assessment sheet where it lists all the grades and what you need to include to achieve it. Please as soon as possible help me, I'll be really grateful. Thanks once again.
Reviewer: Hirishika Rajasekaran
Pyrotechnics
Jun 2nd, 2012

Where is the pyrotechnics end of unit assessment paper???
Reviewer: qwer wery
website and student sheets
May 12th, 2012

I am encountering problems accessing the 'explore' website and students sheets
Reviewer: anita chaudhary
Mammoths`S activity
Apr 26th, 2010

I`m very glad that there is a web site like this. It is very useful for teachers to find resources for their lessons. in my case, I work in a very poor institution; here in Costa Rica, the entity managing public education is not able to provide all the tools required by teachers in order to work properly. Then, this year the high school where I work received 10 laptops in order to encourage teachers to use technology to teacher their lessons. As a result, all of us are tryng to find material to use it in the laptops and i just discovered this wonderful web. i will make use of the activity worksheet in two days so after seeing the reaction of my pupils i`ll comment more....thank u.
Reviewer: ELKINM FRAZER

I have used the resources and they are great for the pupils as they are engaging and creative activities for pupils to develop themselves.

Mohammed Khan
Handsworth Grange Community Sports College
Reviewer: Mohammed Khan
year 7 science
Jul 10th, 2009

The resources were excellent but required a lot of organising before the lesson. It required two lessons to really do the topic justice. Overall I was very impressed.
Reviewer: caroline morrison
Mammoths extinct - Extinction activity from Wikid review
Dec 9th, 2008

Good resource to use as part of the evolution topic in year 10
Reviewer: Sarah Brookes


200 lessons and assessments from as little as £4.95
Related Activities
Ideas about Science / Data collection & analysis
Ideas about Science / Interpreting evidence
QCA / 7C Environment & feeding relationships
Hot Topics / Disaster
Biology / Feeding relationships
Earth Science / Atmosphere & climate change
Learning Strategy / Imaginative inquiry