My UPD8
You need to login before you download the free activities. You can register here.
Bushtucker challenge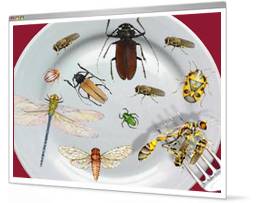 Type: Activity
Learning Strategy: Data work
Topic: Food & digestion
Bugs make a regular appearance on "I'm a celebrity - get me out of here". They have featured in some stomach-turning Bushtucker Challenges. Celebrities have even been forced to eat them alive. Surprisingly, this would not be such a bad thing. Many insects are high in protein and low in cholesterol. They are a valuable source of nutrients in Australia, Asia and Africa.

There are certainly plenty of them around. Australia is suffering its worst locust plague in years. The insects have been rebranded as 'sky prawns' in an effort to get more people eating them. In this numeracy activity, students devise a nutritionally balanced insect-and-rice menu for a day in the jungle.

Published: 4th January 2005
Reviews & Comments: 52

Learning objectives
Students will learn to analyse nutrition data to devise a balanced diet.
Try the activity
Please login to download activities
Curriculum link
11 - 14 (KS3)
Food and digestion QCA 8a - name the nutrients that are part of a balanced diet; use secondary sources of information to present information on diet
Fit and healthy QCA 9b - the components of a balanced diet; how diet affects health
Running the activity
Starter activity: Ask students if they have ever eaten insects or watched anyone else each them. What nutrients do they think insects are likely to contain?

Main activity: Page 1 sets the scene and describes the task, which is probably best done in small groups. They have to come up with a combination of rice and insects that represents a balanced diet for a day. The page can be projected or printed onto a transparency. Page 2 includes the information needed to do the task. It lists the mass of protein, fat and carbohydrate in different insect species, and in rice. It also specifies how much of each nutrient the celebrity should eat in one day. There are also 'meal ideas from around the world' to help students with the final part of the task, which is to decide how to cook and serve the insects. Page 2 can be projected or photocopied so that each group has a copy of the information they need. It is best if students have plenty of scrap paper available so they can try putting together100g portions of different insects and rice. If computers are available, the data can be put into an Excel spreadsheet to speed up the calculations.

Plenary: ask some groups to share their menus with the class. How did they calculate the amounts of each insect in the 2-day menu? What nutrients are not mentioned, and may well be missing from the insect-and-rice menu? The answer to this is vitamins and minerals, although many insects have a significant iron content.

Science UPD8 is a joint initiative from the Association for Science Education and the Centre for Science Education, Sheffield Hallam University. We are grateful for core support from NESTA and GlaxoSmithKline.
Web links
News links
This site contains detailed nutrition information about different insects, as well as mouth-watering(!) recipes
Locusts rebranded as sky prawns. A BBC article on an attempt to get Australians to eat away their plague of locusts.
Reviews & Comments
Write your online review to share your feedback and classroom tips with other teachers. How well does it work, how engaging is it, how did you use it, and how could it be improved?
Great activity!
Apr 21st, 2012

Used this as part of a level 3 physiology lesson on digestion which I was being observed in - great activity and really got the student thinking! Got outstanding too - bonus!
Reviewer: Daphne Hedley-George

I can't open the activity sheets even though I have updated Adobe etc.

Any suggestions??
Reviewer: Dani King

fantastic activity for VAK
Reviewer: prishilla nalliah
bush tucker
Jan 22nd, 2011

great activity, we bought some edible insects to go with this, pupils loved it
Reviewer: Duncan Allard
becoming an old fav
May 20th, 2010

I absolutely love this activity for all ages and abilities. have used this year after year. worth a go
Reviewer: Heather taylor
bush tucker challenge
May 11th, 2010

students just loved the challenge
Reviewer: Gail Hili
Bushtucker challenge review
Jan 21st, 2010

Easy to use and the kids enjoyed it. Used this with a top set year 9, was quick and a good start to 'balanced diets'
Reviewer: Rebecca Glover
science - nutrition
Nov 25th, 2009

excellent activity especially with I'm a celebrity on tv. A fun starter to food types
Reviewer: david chapman
Year 8 high ability
Sep 17th, 2009

The tasks requires a high level of maths skill, however my group really loved the concept and battled on to produce the balanced diet. Those that finished before the others could then write out the menu and discuss cooking methods. I used the students who found the task easy to help others in the class. Overall a success.
Reviewer: Georgina Motterham
Year 8's - NZ
Jul 19th, 2009

I carried this activity out with two sets of Year 8's - one higher and one lower ability. Firstly, I showed them a snippet from the TV programme, then introduced the activity [just as we started in earnest talking about the possible 'bugs' one could eat - I took out some locusts that I'd cooked earlier - the only shame was I couldn't allow the pupils try them out]. We then prepared menus for a Bush Tucker restuarant that used the bugs in the recipes - the idea the dishes being sold had to provide a balanced diet for the diners. Worked well with both sets - if anything better with the lower ability.
Reviewer: Paul M
Bushtucker challenge review
Jun 5th, 2009

This activity was good for the more able year 9s. They understood what was expected of the task using the instructions. My year 8s struggled with the concept of devising a meal & had trouble with the calculation aspect.
I would like to have seen some notes on differentiation for teachers. Overall, my students enjoyed the challenge.
Reviewer: Debbie Williamson
Nutrition and Health
Apr 26th, 2009

The activity sparked the students interest but the maths and the problemsolving skills of the class were too weak to complete it effectively.
Reviewer: Lizzie Watts
Bushtucker challenge review
Mar 10th, 2009

Worked really well with higher sets.
Idea worked well with lower ability pupils but they needed a lot of support with the maths.
Reviewer: Frances Morgan

We used this activity as a homework with a group of year 9 pupils. They really embraced the activity and we got some very inventive menus, comeplete with pictures and tissue paper leaves etc!

Thanks upd8!
Reviewer: angela parry

The activity is engaging, stimulating and challenging for children. it will help them increase their knowledge and understanding of the aspect of a balance diet and develop their critical thinking and decission making skills.
Reviewer: Salma Awath
Balanced diet
Dec 17th, 2008

Excellent context as always, beyond set one the kids in year 8 find it hard to get the idea that the nutrients are per 100g and don't quite grasp how to "scale up".
Reviewer: Andrew Fenton

This lesson is wonderful, it really gets the students involved and makes them think about the topic.

They found it fun and enjoyed taking part in the lesson.
Reviewer: Sarah-Jane Bigby
kS3 Biology
Oct 14th, 2008

Works very well with new KS3 especially if you incorporate a couple of 'You Tube' clips in the lesson from the programme itself.
Reviewer: chioma neville
Year 8 Food & Digestion
Oct 5th, 2008

I left this activity for a cover lesson
The cover assistant thought it was a lovely lesson idea and was greatfull for something different!!
The students responded to it very well and it linked nicely with the unit.
Thank you
Reviewer: Emma-Jane Bradbury
recent news
Oct 5th, 2008

just seen an article in the Japan Times 'Bug Cuisine not for the faint hearted', good link to his blog for lots of pictures of food containing bugs

http://search.japantimes.co.jp/cgi-bin/nn20081001f2.html
Reviewer: rachael tomkins
Food and Digestion
Sep 29th, 2008

Engaging for a low abilty set who enjoyed preparing the menus. Students required help with the maths.
Reviewer: Steven Davies
8A Digestion
Sep 9th, 2008

Very good idea for a resource as students could relate to the topic.
Can be differentiated by low ability students designing a meal up to higher ability giving amounts of protein / carbs and fats in grams and comparing to RDA's.
Best used when programme is on.
Reviewer: James Mitchell
Bushtucker challenge review
Jul 9th, 2008

I did this lesson with my year 7, the calculation of the food groups were very challenging but they perservered and were successful in the end. I have to say the chart was a bit vague. Maybe an example of the working out would be great?
Reviewer: Clare Mariner
bushtucker challenge
Jun 22nd, 2008

This was a great activity and fully engaged a year 8 top set. It was a timely activity as, 'I'm a celebrity......get me out of here was on at the time.' Great fun.
Reviewer: nicola randall
Bushtucker Challenge
Jun 12th, 2008

This is a really good resource, especially if run at the same time as 'I'm a celebrity...' I have used it with all abilities at KS3. Got some cracking menus!
Reviewer: Susan Benson
Bushtucker Challenge
Jun 11th, 2008

A fantastic activity for Year 8, they enjoy making menus, but lower ability groups struggle with the calculations for RDA for the main food types.
Reviewer: Gillian Whitmell
Bushtucker Challenge
Jul 4th, 2007

Great activity! The pupils enjoyed the activity but needed some help with the maths, but I had taken on board a previuos reviwers' comment and provided my lower ability group with a table to help them complete the task and it worked very well.

Thanks UPD8!!

C Richardson
Reviewer: Claire Richardson
Bushtucker challenge review
May 14th, 2007

I used this successfully with my high ability year 8 group. I made the rookie mistake (as did some of the other teachers I have spoken to) of not doing the activity myself first - I am lucky in that my group are very numerate and worked well with the task. On the whole they loved it and produced everything from grasshopper in a lemon butter (ensure to kill the grasshoppers first or frying may prove hazardous) to honey pot ant soup. They really loved it! I found a cookie recipe which contains locusts on the link to this site which contains info on Mg and Ca which was a perfect extension (some of my class are going to make the cookies!).
Reviewer: Michelle Oldham

My year 10s enjoyed this as a plenary during work on healthy eating but my year 9s struggled with the Maths
Reviewer: Maggie Ward
Used this for Xmas "Learning Skills for Science"
Dec 23rd, 2006

Slightly adapted worksheet so students had to design Xmas menu - engaged most of Year 10 - no mean feat on last lessons before Xmas. Would adapt acivity further if runnning again with groups who found Maths hard.
in context of Literacy Skills zfor Science -activity allowed students to appreciate the need to extract and make decisions on data - and the need foraccuracy - some saw relevance in other fields such as sports nutrition or control of diet for medical purposes. Love the idea of choccie insects for prizes suggested by another reviewer. Will definitely do again.
Reviewer: l brook
Bush Tucker Trial
Nov 20th, 2006

Remember to use this again this time of year !
Reviewer: toni brodie
bush tucker
Nov 10th, 2006

I used this activity yesterday in a yr 9 lesson and they all really enjoyed it. They found it quite challenging especially when doing the carbohydrate levels. Some groups came up with some excellent ideas and brilliant recipe ideas and names.
Reviewer: rachael dilcock
mmm....witchetty grubs
Sep 23rd, 2006

Excellent activity that helped my Y8 pupils to appreciate that diets from other parts of the world are not as wacky as they might seem and allowed them to understand that a diet shouls aim to meet certain requirements for the major constituents of food.
Reviewer: STEVE NIXON
Healthy Eating
Sep 7th, 2006

Used this following a discussion with a middle Y8 set. Discussion focused on the issue of the canteen's new healthy eating menu. I suggested we adopt the menus in this activity!

Class were then just given the basic information and asked to number crunch - whole activity probably took about half an hour, during which they all stayed on task. It showed how difficult it actually is to get the amounts of each correct and that the only way to ensure that they get a proper balanced meal in the few minutes they're allowed to choose their food in the canteen, is not to give them a choice at all!
Reviewer: Graham Perrin
Bushtucker Trial and Bug Club
Jul 7th, 2006

I run a Bug Club with a group of year 6 pupils at Spinfield school and am always on the lookout for ideas. The Bushtucker trial provided a springboard for a term of fun. We looked at edible insects around the World, found recipes and created a fantastic display in the entrance hall. We decided against cooking Samson, our favourite Giant LAnd Snail however!
Reviewer: Christina Stiddard
tasty treats
Jun 16th, 2006

I tried this with 2 groups The more able group were able to cope with the maths well the other group struggled. The group which produced the best presentation were given bugs for prizes. There is a good selection of edible bugs at selfridges. Barbacue mealy worms, Smoky bacon locusts, chocolate covered ants etc. The students remember the lesson well!
Reviewer: emma sanford
bustucker challenge...
Jun 4th, 2006

The pupils loved this lesson. As it relates to the TV programme they all watch ( but really they should be in bed !!), it gave them a new way of dealing with science. A fun and interactive way..
Reviewer: mahendra chauhan
Real-life Bush Tucker!
May 21st, 2006

I used this activity for a one off post-SATS lesson with my SEN Y9 group. I gave them a table to fill in with columns for each meal and the total protein, fat and carbs for that meal. I was amazed that this low ability group managed so well with the maths! I also observed it with a top set Y9 who did some good team working.

As a starter, I'd ordered some real bugs from trippyvibes.com - some cheese worms and salt and vinegar crickets and they loved them!! I need to go back for more...
Reviewer: Jane Taylor
Bushtucker challenge review
Jan 27th, 2006

I tried this as a starter with two groups of year 8
One of these was a second to bottom set who have difficulty in concentrating and again with a middle set year 8. The activity engaged the pupils well as it was culturally releveant and something different (with a definate 'yuck' factor).
However, for the lower ability group the maths was a little bit difficult to make as a starter activity (but after reading a review I may try placing it in an excel spreadheet activity). I would definately recommend this to 'spice' up a lesson to introduce a balanced diet.
Reviewer: Alexandra Edwards
Bushtucker Challenge
Jan 16th, 2006

This activity was really good. The students enjoyed the activity as the programme had just finished. Some of the students found the maths a little difficult but with the aid of a spreadsheet they were able to complete the tasks. This is one activity that will be used again and again.
Reviewer: Paul McCrossan
Bush Tucker January 9th 2006
Jan 9th, 2006

A stimulating way for year 8 to access diets.
I was concened of the "Yeuk!!!" causing squeals and drama queen performance but I shouldn't have worried as most of the children have already tried escargots, chocolate ants and other esoteric morsels!
Reviewer: RICHARD and HILARY ROWBERRY
Bush tucker
Dec 18th, 2005

An execellent numeracy activity and the context was interesting. All my lower set produced a poster with their ideal bush tucker diet. Reinforced balanced diet very well. Had to give the group a starting point of at least 1000g of rice and a calculator, then they were away. Thanks.
Reviewer: Deborah Bradley
bushtucker challenge
Nov 29th, 2005

Thanks for Damon's comment about Traditional Australian Aborigonals - I'll get this changed.

It's always good to know when we get things like this wrong!

Philippa (editorial team)
Reviewer: philippa Hulme
Choice of words
Nov 3rd, 2005

Great activity. There are a few cultural sensitivities here in Australia with terms for Indigenous Australians. The consensus here is that "Traditional Australian Aboriginals enjoyed" would be of better use than "Australian aborigines enjoy", especially considering most Indigenous Australians now live in cities and would rarely, if ever, eat witchetty (bardi) grubs.
Reviewer: Damon Angelatos
great for keeping easily distracted children on task
Oct 28th, 2005

I tried this with a rowdy year 8 class who usually needed at lot of chasing to keep them on task rather than chatting non stop! The yuck factor and the link to the TV programme meant they were much more motivated than usual and their chatting was actually about the topic they were doing. They produced some fantastic work at the end. thanks!
Reviewer: Elizabeth Bowler
Bushtucker Challenge
Jun 5th, 2005

I really liked this activity - it engaged even the least motivated pupils. Gave them a chance to put use some challenging science (and maths) in this everyday context.
Like the idea about the spreadsheet - and it is an excellent way to produce display materials.
Reviewer: Sarah Jagger
Bushtucker challenge
Apr 26th, 2005

The Students thoroughly enjoyed this activity. I used it as an introduction to healthy eating. The students enjoyed creating a menu but also what it entailed i.e. calculating the mass of the food, making sure that all the dietary requirements were met. They also found it informative as to the foods people from different countries ate.



B.Sandhu
Reviewer: bally sandhu
Sarah Ewers
Apr 26th, 2005

My year 10s throughly enjoyed this as an plenary - they left the room for lunch discussing it as they went!
Reviewer: Sarah Ewers
Bushtucker challenge
Mar 30th, 2005

Realy captured the imagination of the class! following the advice of a colleague, I set up a table for the students to fill in, including the correct amounts of rice - to make the number crunching a bit easier. Worked well - I will use this again, and make sure i get some good display work next time!!
Reviewer: Jennifer Wallington
bush tucker
Feb 15th, 2005

brilliant introduction to food and digestion used with a year 8 class. the students did this class as homework and designed a menu. the pictures and menus made great classroom decorations.

the students also liked reading about other cultures foods and recipies.
Reviewer: helen waters
Good for numeracy, citizenship, ofsted...
Jan 31st, 2005

So, Ofsted cometh. Quick let's do some display work with my mixed ability Y8 group. Hoorah! Doing 8A, which has the need for balanced diet on it. Use Bushtucker! Start the students off with 1000g rice. They bounce around with calculators, get some recipes, produce a menu for their homework, I make the display, they produce some amazing and fab work, and we're all happy.

Better still, because of the multicultural recipes at the bottom of the sheet, our citizenship coordinator says 'fab', so the kids have not only done 'science', but also part of 'citizenship' as well.

Thanks upd8!!

Graham Hartland
Reviewer: Graham Hartlande
A good one to do in the IT suite
Jan 18th, 2005

I used this, with a very numerate group of students, to kick off module 8A. The first time I tried it we got through masses of scrap paper. It takes quite a bit of juggling to meet the dietary requirements and get a juicy selection of bugs on the menu. With the second class, I put the insect and rice data into an Excel spreadsheet that students could open from the intranet. Then they just had to type in the number of portions they wanted of each to get the total protein, fat and carbohydrate to appear. That made the activity quicker and more satisfying. It was easier to come up with the nastiest possible menu that fitted the nutritional requirements. As part of their IT curriculum, our year 8 students have to learn to use Excel's 'Goal Seek' facilities. I haven't tried this myself but the activity would probably lend itself.
Reviewer: Pam Large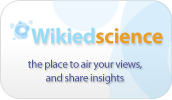 Related Activities
Biology / Food & digestion
QCA / 8A Food & digestion
Ideas about Science / Data collection & analysis
Learning Strategy / Data work