My UPD8
You need to login before you download the free activities. You can register here.
Solar Car Challenge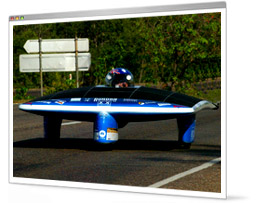 Type: Activity
Learning Strategy: Problem solving
Topic: Energy transfer
Young scientific talent from all over the world recently converged in Australia for a car rally with a difference: no fuel allowed! Competitors raced more than 3000 km in solar-powered cars; the winners clocked an amazing average speed of 100 km/h! Students study the cars' energy transfers. They then put themselves in the designer's chair to decide which features to spend most money on so as to create a winning car for the next World Solar Challenge!

11 – 14 Energy resources; forces
Published: 5th October 2005
Reviews & Comments: 12
Learning objectives
Students will:
· Learn about the energy transfers in solar cars
· Consider the design features that will maximise a solar car's speed

Try the activity
Please login to download activities
Curriculum link
7I Energy resources
· Renewable energy resources include sunlight
· How a device works using a renewable energy resource
· Renewable resources can be used to generate electricity
7K Forces
· Friction is a force which opposes motion
· How friction between two surfaces can be reduced using a lubricant
Running the activity
Show page 1 (either projected or as an OHT). Discuss the questions towards the bottom of the page: Are the cars pedal-powered? How did they do it? Get students to try to guess the cars' energy source. Then tell students that they are on the design team for the next race, and introduce the task.

Display page 2. Make sure students understand the Sankey diagram, mentioning energy transfer and conservation. You might like to reinforce learning here by asking pairs or groups to plan brief TV presentations to explain the diagram.

Finally, give each group a photocopy of page 3. Check students understand the two parts of the task. Possible answers for the first part include: body: streamlined shape, minimum mass; solar cells: maximum possible area, maximum efficiency of converting sunlight into electricity; motor: minimum mass, maximum efficiency for converting electricity into movement; batteries: minimum mass, maximum efficiency for electricity in/ electricity out; tyres: consider area on the road and how inflated they should be. There are no correct answers for the second part of the task – the value of this task is in the discussion. If you wish, run a plenary in which students share their ideas about which areas to invest most heavily in.

Web links
News links
The main web site for the World Solar Challenge is comprehensive and includes some great images.
The official media web site includes a selection of interesting articles, including one giving the race's winners.
This web site is a simulation in which students 'build' their own solar cars, considering the financial costs of different components. Great for reinforcing and developing understanding, but perhaps a little slow-moving for some students.
Reviews & Comments
Write your online review to share your feedback and classroom tips with other teachers. How well does it work, how engaging is it, how did you use it, and how could it be improved?
Solar Car Challenge
Feb 5th, 2012

Used with year 7 it was an opportunity to stretch my AGT as well as allow the less able to work on the task using basic knowledge.
Great results and positive attitude from students to task.
GREAT!
Reviewer: Tracey Holmes

On the average excellent as a differentiation tool - Extension activity for Year 9 and for lower ability KS4
Reviewer: OLUWATOYIN LADITI
world solar challenge 2009
Sep 17th, 2008

hi.we want to join to world solar challenge 2009 however we need to help for joining it.we looking for sponsors.we study osmangazi universty of Turkey.
became of sponsors can be contacts [email protected]
Reviewer: Serkan Ozdemir
Solar Car Challenge review
Jun 28th, 2008

a good intereasting activity to get pupils thinking.
Reviewer: Bernard Liversidge
BTEC Science
Nov 30th, 2007

Worked really well. Students were hooked from the word go, even though we didnt use the ICT resources
Reviewer: Glen Betts
solar challenge
Jun 9th, 2007

I have used this, with a few tweaks, in an observed lesson for an AST post - thelesson went brilliantly, I added a dvd clip and visual prompts (the solar lights from my garden and some model cars). The students loved it - all were engaged and I got the job.

I have since used the lesson with two Year 7 classes, very successfully. An excellent resource that provides great discussion and team work. Thank you!!
Reviewer: jenny bashford
energy resources year 7
May 6th, 2007

I gave this activity to a year 7 class who are normally quite quiet and de-motivated. I was delighted to find that this activity engaged the students and they came up with some great ideas. It is perhaps mre suited to boys than girls, though.
Reviewer: Holly Singleton

I used this with my year 9 class when covering energy and electricity. It worked well with them even though its designed for year 7's. My year 9 class are challenging so to have something that worked with them is brilliant. The way the activity is presented is brilliant. Pupils find the task interesting (especially the boys) and a sense of importance was felt by them as a result of their designing role. Highly recommended!
Reviewer: Hannah Kwaszenko
Science Instructional unit
Sep 7th, 2006

I loved this lesson plan idea. I needed to write up a 10 week Instructional Program and I based it around the use of Soalr energy. The Solar challenge has fitted in perfectly as a major project that brings the students learning back to personal level, hands on and collaborative.
Reviewer: Gwendolyn van west
Solar challenge
Jul 7th, 2006

First upd8 activity Ive used and I found it q.good. Children were engaged and we had really useful discussions. We then went on to attempt to build "models" of their designs - although these were a bit "rough" the kids had great fun and it was a lovely atmosphere.
Reviewer: PAUL BEDINGFIELD
Car Challenge!
May 22nd, 2006

Again, a very good idea. I liked the links to the website - good for inspiring pictures!
Reviewer: Rysia Kaminski
Pink and Fluffy?
Oct 10th, 2005

Just tried this with my Year 7 class. Went well. I used photos from the official race web site to help set the scene. The pupils needed some guidance about the two design features for each part and no-one came up with ideas of efficiency despite discussing the second sheet. I'm not sure if two girls who wanted to make their car pink and fluffy fully understood the task!!
Reviewer: John Pindar


200 lessons and assessments from as little as £4.95
Related Activities
Physics / Energy transfer
Physics / Generating electricity
QCA / 7I Energy resources
Learning Strategy / Problem solving