My UPD8
You need to login before you download the free activities. You can register here.
Rough Science 1: Find water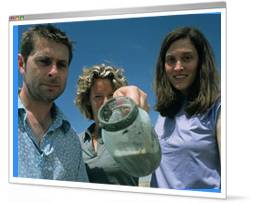 Type: Activity
Learning Strategy: Problem solving
Topic: Purifying materials
Students pick up on the excitement of reality TV by becoming back-up teams for the scientists challenged in the BBC/Open University Rough Science TV series. They are asked to make dirty water palatable and safe to drink - just as the Rough Scientists had to. The activity exploits students' knowledge of separation techniques, as well as their ingenuity - the equipment they have is basic and limited. You may like to inject an element of competition into the activity; students can score their clean water sample against those of their peer group and the Rough Scientists.
Published: 22nd January 2005
Reviews & Comments: 2
Try the activity
Please login to download activities
Curriculum link
11-14 (KS3) Scientific enquiry
Solvents and solutions QCA 7h - separating solvents from solutes
Microbes and disease QCA 8c - some microbes cause disease and can be transmitted through water
Running the activity
The best way to start all the Rough Science activities is to show the beginning of the Rough Science programme where Kate Humble sets the challenges, and the five scientists come up with ideas. Then you can set the same challenge to your students.

After they have completed the activity, you can compare the students' solutions with those of the TV scientists by showing the end of the programme. In this starter and main activity, pupils are challenged to make dirty water safe to drink using limited equipment.

Page 1 sets the context and the challenge. It also shows what equipment is available to the students. At this stage, encourage students to think of as wide a range of ideas as possible.

Page 2 allows groups of students to record their plans. Dialogue prompts from the scientists suggest ways of tacking the challenge. Each group will need a photocopy of this sheet.

Page 3 is to show students after they have cleaned their water. Each group will need a copy. This page graphically describes what the Rough Scientists did, and provides a simple scoring system for their own results.

Possible extension activities include:
Each group making a poster of their practical set-up, and later presenting their ideas to the class as if being interviewed/on TV.
Investigating what can be added to dirty water to clear it, eg chopped straw, crushed egg shells, clay, wine finings and so on
Internet research about water cleansing in situations where a water purification station is not possible, as well as statistics on water usage.
Web links
News links
Website for the new series of Rough Science
Reviews & Comments
Write your online review to share your feedback and classroom tips with other teachers. How well does it work, how engaging is it, how did you use it, and how could it be improved?

Found this really useful for a STEM lesson that is all about the PLTS skills and getting students to think through the problem themselves.
Reviewer: Hannah Jones
Rough Science 1: Find water review
Mar 23rd, 2009

a very good activity clear and well presented useful for the new curriculum if you do a module on survival
Reviewer: Caroline Maston


200 lessons and assessments from as little as £4.95
Related Activities
Difficult & Dull / Particles
QCA / 7H Solutions
Ideas about Science / Doing enquiry
Learning Strategy / Problem solving