My UPD8
You need to login before you download the free activities. You can register here.
Pirates treasure mystery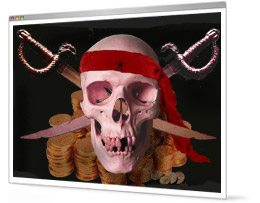 Type: Activity
Learning Strategy: Problem solving
Topic: Periodic table
This activity takes as its inspiration the summer blockbuster, Pirates of the Caribbean. It focuses on the mystery contents of the cursed treasure chest, as well as the all-important key. What metal is the key made of? What happened to the treasure after decades under the sea?

11-14 Reactivity of metals

Published: 10th July 2006
Reviews & Comments: 24
Learning objectives
Students will:
Use information about the reactivity of metals
• to predict what metal the key is made from
• to speculate about the appearance of treasure made from various metals after decades under the sea

Try the activity
Please login to download activities
Curriculum link
9f reactivity of metals
• That many metals are affected by air and water
• That different metals are affected in different ways
Running the activity
If possible, show the movie trailer, which is available on the website below. Then display page 1 to set the scene for the activity and show students the mysteries they will be trying to solve.

Give pairs or small groups copies of page 2, or display this page so it's as big as possible. Ask them to use the metal symbols to 'translate' the information page from a book written by a 'pirate alchemist'. Tell them they will need the information to solve the mysteries on page 1. This part of the activity is quite challenging, and can be omitted if you wish.

Give individuals, pairs or small groups copies of page 3. Ask them to use what they've learnt from page 2 to solve the mysteries and draw pictures of the treasure
Web links
News links
This official movie web site includes a trailer as well as pictures from the film.
Reviews & Comments
Write your online review to share your feedback and classroom tips with other teachers. How well does it work, how engaging is it, how did you use it, and how could it be improved?
Pirates treasure mystery review
Jul 21st, 2014

cant download student resources
Reviewer: gwyneth heald
Pirates treasure mystery review
Jun 12th, 2013

Teacher notes will download, the activity will not! Help...has the promise of being a real winner.
Reviewer: Abby Linton
Pirates treasure mystery review
Jul 2nd, 2012

will not load
Reviewer: c honey
Pirates treasure mystery review
Mar 16th, 2012

Very interesting activity, look forward to try it with my classes! :-)
Reviewer: amelie pira
Pirates treasure mystery
Aug 15th, 2010

Once again UPD8 has produced some fantastic resources. Shared this with the department and they are looking forward to teaching it in the new term.
Reviewer: Nosheen Aziz
Chemistry - properties of metals
Jun 10th, 2010

My Year 9 middle set pupils were engaged in this activity.
It was a useful revision tool for the Year 9 exams as it is a nice summary and good fun!
Reviewer: emer mc dermott
Reactivity Series
Mar 10th, 2010

Good consolidation exercise to end a lesson, gave worksheet out as a homework with very mixed results, those who "got it" did excellent and enjoyed it, you could tell who didn't spend 5 minutes thinking about it and rushed it however
Reviewer: Rob Ellison
pirates treasure
Jan 6th, 2010

an enjoyable fun lesson with a small group of EBD pupils.The pupils remained focused and engaged and enjoyed naming the metals . Some pupils needed help with their drawings
Reviewer: Nick Jones

I work with SEN pupils so the colourful resources helped the pupils engage in the activity which I could easily adapt. Many thanks!
Reviewer: Elaine Bush
Pirates treasure mystery review
Dec 25th, 2009

upd8 activities are very good for a teacher to see how science works using scientist profiles and HSW maps.Now Ifully understand how HSW skills can be fully incorporated in my lessons. My lesson plans are far more challenging and engaging for my pupils and i am even more motivated to try various approaches. Thank you.
Reviewer: brian caesar
Core Science
Jul 31st, 2009

My students enjoyed this different approach to learning about metals. A very good resource, the class was mostly girls and most of them like Jonny Depp so I was on to a winner straight away. Thanks UPD8.
Reviewer: Hazel Butterworth
Science Yr 9 Metals
Feb 27th, 2009

I used this with my SEBD Yr 9 pupils (boys).
They enjoyed the different approach and really engaged. My pupils enjoy researching and this allowed them the freedom to do so (metals page 2).
We had looked at the peroidic table in depth and had learnt most of the common symbols so they quickly recognised some of the metals and this motivated them to untangle the clues from page 2.
I got them to re-write page 2 in their own words and this helped them to understand the clues. It was also evidence that they had completed the work.
Drawing the items (page 3) gave the less academic pupils the chance to shine.
I really enjoyed this activity and so did my pupils.
Thank you very much.
Reviewer: Paula Inglis
Pirates treasure mystery review
Oct 14th, 2008

an attention getting method to have students learn symbols of chemicals and chenical properties through use of information presented to answer mystery questions and then illustrate their understanding of reactivity in water by their drawings
Reviewer: ron Hallock
Pirates treasure mystery review
Jul 16th, 2008

Worked really well 2 high abilty yr8 sets.
Reviewer: Isabel Wragg
Pirates treasure mystery
Jan 10th, 2008

Tried this on two separate year nine groups, one top set & one much lower ability.
Worked great for both groups (I made sure I gave the lower ability group more help and guidance).
Both sets really enjoyed it, too !
Reviewer: Stephen Clark

Fantastic activity. Pupils challenged and engaged.
Reviewer: Leon Rowland

I used this activity with my upper yr 9 science group ( mixed level 6 &7), after we had put together revision notes for the topic. It proved to be a great way to make use of their revision material. It was set as a competiton (golden merits as prizes), which appealed to the boys in the group. If using for a lwer group i would probably change some of the language to make it fully accessible for those with lower literacy skills.
Reviewer: rhona punter
pirates of caribean
Nov 27th, 2006

Great activity for my lower ability Year 8 Group - really enjoyed the art work and could relate to what happened to treasure, brining topic alive.
Reviewer: jane Griffin
Tony Smart
Nov 15th, 2006

Year 9 enjoyed the challenge of translating pirate speek into the modern and illustrating the treasure using information on the reactivity of metals. I have recommended it to our science team.
Reviewer: Tony Smart
Pirates of the Caribbean
Oct 7th, 2006

I used this resource as a revision exercise for a mixed ability year 9 group. The students really enjoyed it and i will be implementing it into our scheme of work.
Reviewer: lisa biddulph
Double Blind
Oct 6th, 2006

I used this resource on the IWB as an introduction to the main activity. Trialling drugs is one of the topics covered in the new GCSE and this was an invaluable discussion starter. It also introduced the students to the concept of the use of placebos and double blind trials and why they might be used.
Reviewer: allan hui
Pirates treasure mystery
Aug 30th, 2006

very popular with boys. Made the topic much more fun to learn.
Reviewer: lorraine nenguke
World Cup Science Challenge
Jul 20th, 2006

This activity was very popular with both year 9 and year 10 groups. Pupils really engaged with the work and the promise of a chocolate bar gave the competition an extra buzz. The idea that we were doing something on football grabbed the imagination of one group of boys in particular - the fact that there were no 'football' questions didn't seem to matter.
Reviewer: sarah Nhamo
Pirates of the Caribbean
Jul 19th, 2006

Went down well with my average ability Year 10 group in the last week of term. Those with an artisitic flair particularly liked presenting the "what happened to the treasure" as a poster.
Reviewer: Tracy Roofe


200 lessons and assessments from as little as £4.95
Related Activities
QCA / 9F Patterns of reactivity
Chemistry / Periodic table
Learning Strategy / Problem solving