My UPD8
You need to login before you download the free activities. You can register here.
New to upd8? Start here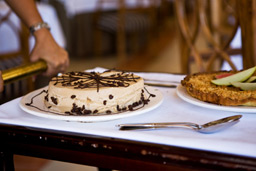 You've seen how our upd8 topical enrichment activities excite students. Why not go beyond the 'dessert trolley' and try the full menu we've produced for Year 9? It's a complete teaching programme designed to meet both KS3 and the new GCSE requirements.
Segue is highly flexible and can last from two to three terms. It is divided into four units, which are each approximately six weeks long. A unit, such as the Hollywood example shown below, is divided into a number of teaching sequences.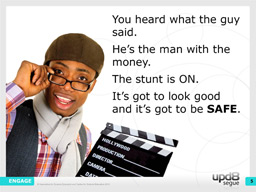 A teaching sequence like 'Stunt' is made up of 2-3 lessons, aiming at a specific topic and/or area of How Science Works. The upd8 style is to set each lesson in a scenario. For example, in the 'Stunt' sequence, students work out the details of a car chase to learn about speed and analysing graphs.
With upd8 resources behind you, great lessons become a little easier. Our recipe for quality is a set of research-based principles to promote motivation and deep understanding. The full teaching sequences are crafted around a '7E' structure, so each stage of learning is properly addressed.